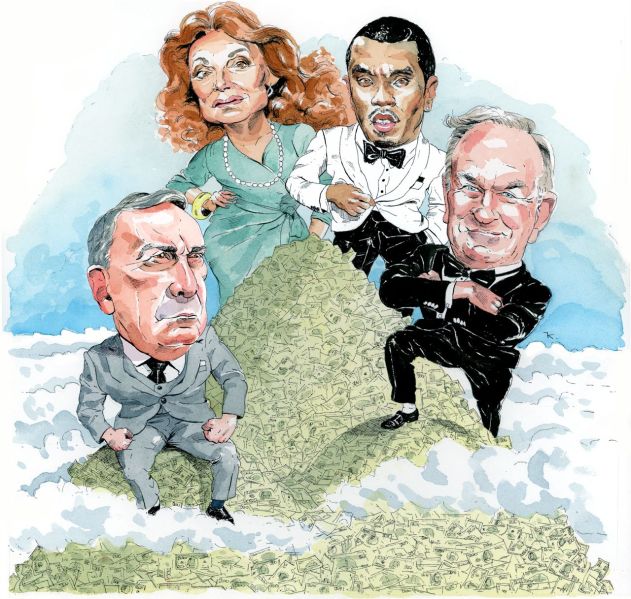 It is the best of times, it is the worst of times.
New York's wealthiest have never had it better—riding an asset bubble that saw a single Manhattan penthouse sell for $200 million in September, a national record—even as other Americans struggle to feed their families on a long-stagnant national minimum wage of $7.25.
But, inside the snow-globe of money that encapsulates the men and women of the Observer's annual Rich List, the daily challenges and satisfactions of life are very different than those of the average mortal—let alone the average New Yorker.
"New York is a city of a lot of one-percenters who feel middle class," says CNBC's Robert Frank, editor and host of Secret Lives of the Super Rich. "And that is because the biggest wealth gap right now in the economic ladder is between those at the bottom and the middle of the 1 percent, and the top .01 percent."
Mr. Frank estimates that the wealth of the top 1 percent has grown about 4 percent a year since the 2000s.
This year that has had the super-rich listening nervously for the clatter of approaching tumbrils.
"But the top one-hundredth of 1 percent has seen its wealth grow twice that amount," he noted. "So it really is the super-wealth gap—that no one will ever shed a tear for—that affects the psyches of the everyday multimillionaires in New York City, who find themselves looking up all the time, and feeling at the bottom."
God may help those who help themselves—but, God also knows, the rich often don't. A smoldering mood of national resentment at the super-wealthy has been fueled by news stories that depict a kind of class warfare, waged downward from the top.
The capitalist villain of the year is arguably Turing Pharmaceuticals CEO Martin Shkreli—a hedge fund manager turned healthcare entrepreneur—who made headlines in September for raising the price of a vital AIDS drug he acquired by 5,000 percent. The "pharma-bro" (so-called for the frat-boy mop of hair he has kept, long after it suits him) is now the target of a United States Senate investigation into price gouging.
But that wasn't the only episode; this year that has had the super-rich listening nervously for the clatter of approaching tumbrils.
In June, Mayor Bill de Blasio banned "poor doors"—separate entrances for affordable units in new residential buildings that also offer market-rate, luxury housing—which had become a controversial symbol of inequality.
And a grassroots organization called New Yorkers for a Human-Scale City has formed to protest luxury developments by the likes of billionaire Stephen M. Ross, whose global real estate powerhouse, Related Companies, is one of the partners building the Hudson Yards.
Some billionaires have responded to the grumbling masses by taking ill-advised shots. Last year, venture capitalist Tom Perkins wrote to The Wall Street Journal likening popular attitudes toward the 1% percent with Nazi Germany's persecution of the Jews. His fellow billionaires, Wilbur Ross and Sam Zell, voiced their agreement, igniting a national firestorm of condemnation of the super-wealthy.
Amid such headlines, tech entrepreneur and early Amazon investor, Nick Hanauer, warned his "fellow zillionaires" in a public memo, "the pitchforks are coming…for us plutocrats."
So is it even worth the bother to be super-wealthy anymore?
"I don't think it's ever not fun to be rich," says Alexandra Lebenthal, CEO of Lebenthal Wealth Advisors, whom Fortune magazine dubbed "the new queen of Wall Street."
"There are all of the wonderful aspects that go along with being wealthy, whether it's real estate or whether it's having chefs and drivers and all of that," she says. "Living on the Upper East Side, it's fascinating to me as I drive down from 96th Street to 46th Street every morning, just seeing the number of workmen outside townhouses … And the prices of real estate that just keep skyrocketing."
Not to mention the philanthropy that such wealth enables—which is one reason why many people on the Observer's Rich List don't stop at a hundred million dollars, if a billion is within their grasp. Ms. Lebenthal cited one friend who regretted being unable to donate a building to his alma mater, because he had chosen a career track that allowed him more time with his family.
"Being able to give massive amounts of money away, or to make investments in startups, are more possible if you're a billionaire versus if you're a hundred-millionaire," she says.
Of course, having all that money also allows them to just buy more stuff.
Hedge fund billionaire Ken Griffin, who bought that $200 million, multi-floor condo complex at 220 Central Park South, also holds three other real estate records.
"He bought the most expensive home in Chicago, the most expensive home in New York, and the most expensive home in Miami and the most expensive commercial lease in New York City, all in a two-year period," says Mr. Frank.
"His wife says that's because he makes $100 million a month, so, you know, all in a few months' work."
Mr. Franks notes that Griffin called the purchase an "investment."
"Whether it's a $150 million painting, or whether it's wine or Ferraris, the wealthy are now calling these 'investments,' rather than what they are, which are items of conspicuous consumption," he says. "In an age when excess is so roundly criticized, they want to keep their lifestyle, but they have rebranded it as 'investment' rather than just indulgence."
Mr. Frank detects a creeping paranoia among the ultra-rich—some of whom he says are hoarding gold, and identifying offshore private airstrips they can quickly escape to in a Gulfstream—that may not be justified by the political climate.
The "Million Mask March"—a worldwide day of leftist demonstration staged on Nov. 5 by the activist group Anonymous—cost the London police some overtime, but barely disturbed a pigeon in New York.
Even that most vigorous anti-inequality movement, Occupy Wall Street, only briefly coalesced in the streets; now it seems like merely another pressure group, and one that peaked long ago.
It's also unlikely the Koch brothers genuinely worry that Bernie Sanders is going to achieve the presidency and come to take their money away—although it's possible to imagine them, nursing their shotguns in rocking chairs by the back door, waiting for him to set foot on the porch.
Mr. Frank recalls running into the hedge fund billionaire Bill Ackman—who, this April, paid $91.5 million for a six-bedroom penthouse at One57 on West 57th Street—at the annual Robin Hood Foundation spring gala, which itself raised a record $101 million for poverty-fighting causes.
"He said, 'we're gonna do a massive renovation, but I'm not gonna live there, it's gonna be a great space for parties for me and my co-investors. And in a few years' time, we'll sell it for $500 million.'"
Mr. Frank paused. "I said, 'that's not likely,' and he said, 'you wait and see.' "
Read more from The Rich List:
GIRL POWER: THE BEST COMPENSATED WOMEN CEOs
THE FATTEST OF THE FAT CAT POLITICAL DONORS