Ten days traipsing through Paris with Nathan Englander, Zadie Smith and Colson Whitehead sound like a dream? It's a dream within reach—for grad students attending New York University's low-residency MFA writing program, which blends bursts of intense, short-term workshops with semester-long stretches of distance learning. Five Paris visits and four semesters add up to a graduate degree.
It's a commonplace of the digital landscape that "hybrid" learning—blending in-person and online instruction—is a creature of the Internet era. It's a commonplace, but it's wrong: the practice of low-residency higher education, where students converge for relatively brief gatherings and then disperse to real-life obligations, was invented a half-century ago, at Vermont's Goddard College. But creative low-residency programs now abound. On first glance, they make sense: writers and artists generally require time to develop and polish their work, and also benefit from periodic critiques from peers.
MBA programs, including Columbia and Pace, have also adopted the low-res model. The MBA programs in particular do not come cheap: Columbia's price tag is $170,000—before travel and a (required) new laptop. Pace is about half that—but comes with the apparent promise of earnings that will top $110,000, post-degree.
MOOCs (massive open online courses), once heralded as the future of distance learning, have generally proved disappointing, with student attrition rates mimicking sand in a sieve. Online "universities," meanwhile, distinguish themselves more as financial sinkholes than bastions of academe. Could low-residency master's programs could be the (semi-) digital option that harnesses the power of the binary universe—and gives students actual skills to advance their careers?
Atypical Programs, Atypical Students
Low-residency programs tend to attract different students from residential ones. John Valentini, for instance, who is about halfway through Pace's low-residency MBA program, works full-time at Altfest Personal Wealth Management in Manhattan (which is funding his tuition). He grabs time before and after his job to complete coursework. "I put in good hours in the office, come early and stay late, and I felt this was the right fit for me," he said. He also likes the fact that most "classmates" are not newly-minted grads, but people with real-world experience, which they're eager to share.
The cohort meets in person every 10 or 11 weeks, Mr. Valentini explained, but students connect informally much more often. For one module on operations management, he said, most of his cohort—except a student based in the Dominican Republic—met weekly at Pace or in someone's office. (They "remoted in" the student in the DR by phone.)
"It's not as easy as being in a classroom setting, where you can raise your hand and get the answer to a question," Mr. Valentini said. "It's not a super-interactive environment. You have to find a way to make it work for yourself. When you're remote, you have to figure it out—go online, do research, find an explanation on YouTube. But the good part is that you learn how to piece things together on your own."
Students in NYU's low-res creative writing master's program includes some older students like Rick Peters, a physician from La Jolla, Calif. Mr. Peters went to film school while working as an ER doctor; then, after years in the movie business, he moved into tech and real estate. He now divides his time between San Francisco (on weekdays) and La Jolla (weekends), but he spoke with the Observer from Jackson Hole, Wyo., where he is currently helping to develop high-end residential properties.
Mr. Peters turned to NYU to scratch a lifelong itch. "I've written all my life, and I've always wanted to go back and learn the craft." But the idea of giving up two years of his very full life to attend a master's program was a no-go. The low-res option meant life without much disruption—provided he could carve out 20-plus hours a week for the demanding reading and writing assignments that bracket the Paris excursions. It's a serious commitment, he said, but the fact that it can be woven in among all of life's strands makes it possible—and attractive.
"What I got out of the program was worth every penny I put in," noted Mr. Peters, who is working on a book of stories set in the Congo. "It changed me from writing as a hobby…to writing as a significant discipline."
"I didn't expect the level of attention that we got from the authors we worked with"—in person and online, Mr. Peters continued. "They really seemed to care about the work." Central to his success, he said, is self-motivation. "If you want to get something out of a non-residential program, you have to work," he said. Others echo Mr. Peters' assessment: without long stretches of focused, independent productive work, low-res students flounder.
Deborah Landau, who runs NYU's low-res creative writing program, says her program attracts students "who need to write in the interstices" of life—people who work or have young families, for example. "It's not for someone who needs the face-to-face structure of weekly classes. But it's great for someone busy, who has a life already—or who can't move to New York."
Real-World Benefits
"It's up to you to stay on track," said Ryan Weber, who chose a low-res program in Visual Narrative at the School of Visual Arts as a springboard to the next phase of his career. (Mr. Weber taught art for a few years after college and is aiming for an academic career, with the ability to produce his own work "on the side.") SVA toggles eight-week summer intensive sessions in NYC with online semesters of work. "Your professors check in once in a while—but it's not the same [as a traditional program], when they can walk into your studio at any moment."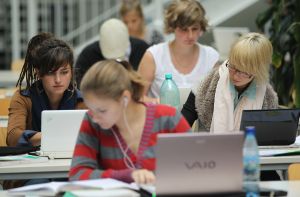 Mr. Weber noticed parallels between the on-campus sessions and reality TV. "In the summer, it was like being thrown into an episode of Project Runway," he said. "No one knew what to expect. We'd stay in the studio [in Chelsea] until really late, walk home to the dorm, get a couple of hours sleep, then get back to work. The late hours hanging out working, you get to know each other really well. That carries over into the fall and spring," when everyone scatters back home.
Growing Pains—and Pleasures
SVA's Visual Narrative program draws a broad mix: illustrators, writers, graphic artists, graphic creators and filmmakers populate the program. Sharing and critiquing work online requires a nimble platform with a huge capacity for storage—and the software program that's currently in use, Canvas, could use work, SVA students suggested. Big files (videos, images) often can't be uploaded without pulling down other, earlier work—and critiques that would happen in "real time" in a studio often spool out over days and weeks, as a student posts work and colleagues and teachers weigh in. Even basic communication can be challenging: email access evaporated for students in China, for example, when Google was shut down. (SVA found a workaround.)
Nathan Fox, who earned a traditional MFA at SVA in 2002, created SVA's Visual Narrative program to offer serious storytellers, working in an array of media, access to creative and artistic resources and practical skills that he and his peers had to learn on their own, hardscrabble, by experience. Professional practice essentials—how to establish a budget and how to run a studio, for instance—share priority with artistic pursuits. The program is not for dilettantes, Mr. Fox said, but for the serious storyteller looking to explore—and create—new forms in an intensely collaborative, less competitive setting.
"I didn't expect the program to see the light of day," Mr. Fox recalled. "I was shooting for something I had wanted as an undergrad—all the stuff that we did on our own, like professional practice in business. This isn't covered in [traditional] grad school—but it's a huge part of our program."
What all students share, Ms. Landau of NYU said, is seriousness. "They complained when sightseeing was part of the Paris program," Ms. Landau noted. "They complained that it wasn't day-and-night writing."
But once the residencies are done—the studio rags wiped clean, the last baguette crumbs swept away—people return to their writing tables, desks or studios. And their computers.
"Working online is the most challenging— and the most rewarding," said Jenny Goldstick, a recent graduate of SVA's Visual Narrative program and an infographics designer. "It's just you, you and your computer. It's where you learn the most, because you have to learn how to balance this thing with the rest of your life."