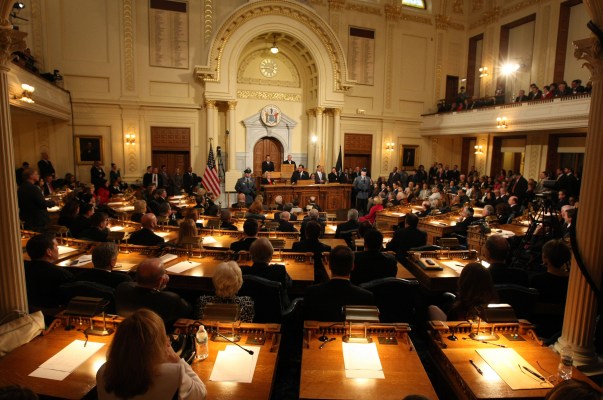 After Tuesday's wins in the Assembly elections, Democrats will be entering Lame Duck with the weight of the proposed gas tax on their shoulders and a strategic choice to make: to help fund the Transportation Trust Fund, or wait for the newly elected Assembly members to arrive and for Christie to return to Trenton from the campaign trail.
Even before the returns came in last night, the Senate Democrats sent a clear signal that they were willing to push back against the governor with last month's unprecedented override vote on a gun control bill from Senate President Steve Sweeney (D-3). Several Democratic insiders suggested that the Assembly and Senate could stand to push through a gas tax hike with their existing majority.
Christie and Assembly Minority Leader Jon Bramnick (R-21) have both insisted that a gas tax hike be accompanied by a reduction of the state inheritance tax, one that stands to take $200 million out of the budget. Several sources with the Democrats said that Bramnick may face an uphill battle selling his camp on the deal and on opposing an override because of Christie's notable lack of support for Republicans' 2015 Assembly candidates.
Reached for comment, Bramnick said that he would need to see a specific bill to offer an opinion on the Democrats' chances of an override.
With the Republicans in disarray, the Democrats would only need to sway one or two Republicans to override a veto on the tax, whether it passes in Lame Duck or in the spring. On the other hand, Republicans on their way out will be able to cast votes against a compromise with nothing to lose if Democrats choose to act sooner rather than later.
If the gas tax waits until spring, Democrats may see a slight disadvantage from needing to tread carefully to maintain the hard-won seats and not overplay their hand on pro-tax or progressive issues.
Rider University political scientist Ben Dworkin had his doubts about their ability to act in time to counteract a veto.
"So long as he's spending time in Iowa and New Hampshire and not in backrooms with the state legislature, there is going to be no agreement on the Transportation Trust Fund," said Dworkin.
Montclair State University political scientist Brigid Harrison echoed Dworkin's insistence that Christie's ability to weigh in will dictate Democrats' timing on the bill, adding "I can't imagine that this is something he would agree to before New Hampshire."
As for how the field will change after the new assemblymen and women are seated in January, the prevailing sentiment among Democrats Wednesday was that both the Democratic majorities and Christie will be hard-pressed to act on funding changes that are not directly written into the budget. After the state failed to live up to statutorily required payments into the Trust Fund, a sit-down deal between Christie, Prieto and Sweeney may inspire more confidence.