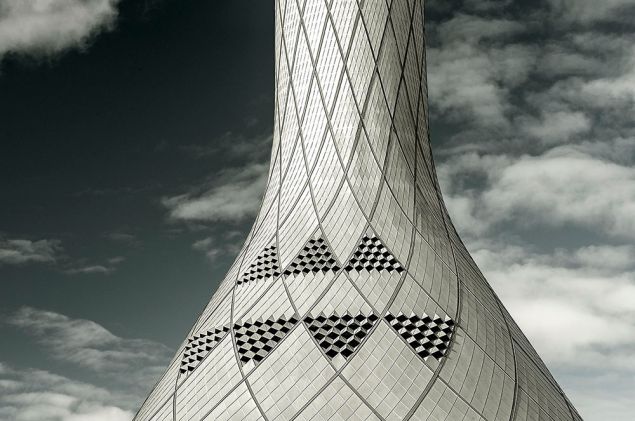 Airport towers are certainly an unlikely topic for a museum show. But that hasn't stopped the Smithsonian National Air and Space Museum.
On November 11, the museum presents "Art of the Airport Tower," an exhibition of photographs by the Institution's Carolyn Russo featuring images of control towers across the globe, from ones of historical significance to the architecturally innovative structures that signify the future of the aviation industry.
Ms. Russo includes no longer used sites such as Hawaii's Ford Island, which has been a National Historic Landmark since 1964, and is still damaged from the Japanese attack on Pearl Harbor on December 7, 1941. Ms. Russo's photograph of the tower shows it before its 2011 restoration, when it was still painted with the iconic red and white stripes that appear in the film Tora! Tora! Tora!. Images of the art deco tower of the Marine Terminal at New York's LaGuardia airport, which was designed by William Delano and once likened to a "giant ice cream cone" by The New York Times, will also be on view.
Ms. Russo also captures the boxy white control tower at California's Edwards Air Force Base. The base itself has been used for top-secret military aircraft testing over the years, as well as the preferred landing spot for NASA's Space Shuttle missions.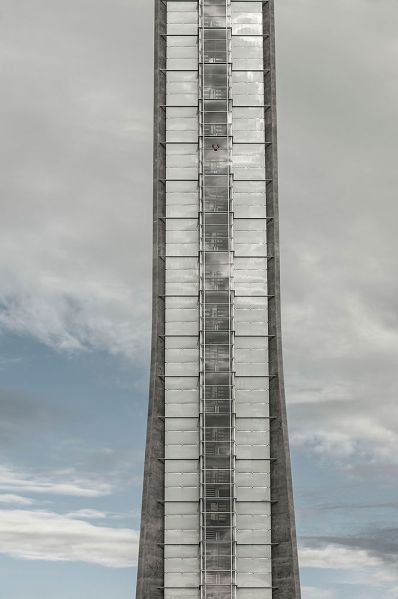 Some of the world's tallest, most environmentally friendly towers make an appearance. A former military airport, Edinburgh's soaring 187-foot-tall, hourglass-shaped control tower was completed in 2005 and the double-helix pattern on its facade serves as an intricate drainage system. The tower is the height of 12 stacked double-decker buses.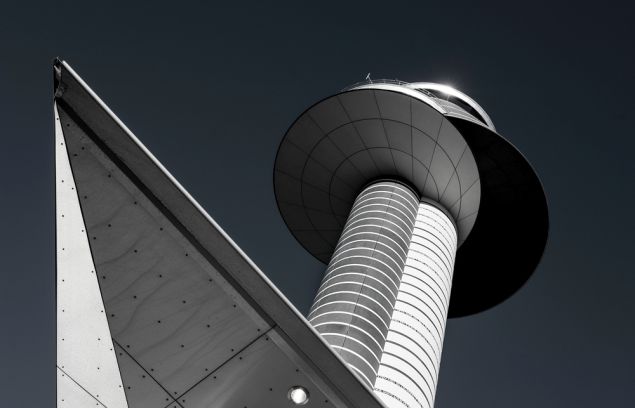 Even taller, is the tower at Olso's Gardermoen airport, which stands 302 feet tall. The airport houses an impressive amount of specially commissioned fine art by some of the country's leading artists: a work reminiscent of clouds by Carin Wessel and a glass etching and sound piece by Sidsel Wesbo can be found inside.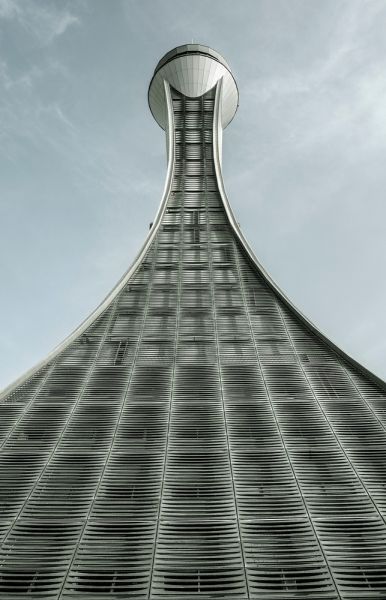 And as the first sight for many entering a country, it's only fitting that many towers feature the trappings of local cultural heritage. The twin control cabs at the top of Stockholm-Arlanda's tower represent Hugin and Minun, Odin's ravens, from the Norse mythology. Meanwhile, the 358-foot-tall tower at the center of Abu Dhabi's airport is the only crescent-shaped design in the world, and nods to the maritime history of the Arabian peninsula.
"Art of the Airport Tower" is open through November 2016.