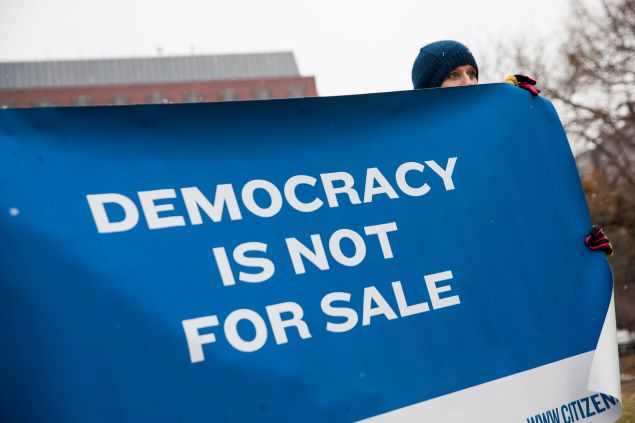 Since the U.S. Supreme Court's 2010 decision in Citizens United v. Federal Election Commission (FEC)–which gave corporations the green light to spend unlimited sums to influence elections–corporations and the wealthy have spent eye-popping amounts to influence elections.
A few years later, in April 2014, the Supreme Court dealt democracy another blow in McCutcheon v. FEC when it struck down limits on the total amount people can give directly to candidates, parties and party committees.
Bound by these rulings, on April 24, 2014, just weeks after the McCutcheon ruling, a federal judge reluctantly struck down New York's limits on contributions to independent political action committees as unconstitutional. This paved the way for an influx of political spending in the Empire State.
And more spending is exactly what we saw–in New York and throughout the country. An Oct. 10 New York Times analysis of the 2016 presidential election shows that to date, 156 families are responsible for more than half the money raised in the 2016 presidential campaign.When corporations, unions and the wealthy pour money into elections, they drown out the voices of average voters. Politicians cater to their benefactors rather than their constituents. Money encourages corruption.
Amending the U.S. Constitution is a clear, permanent solution to curbing the undue influence of money on our democracy.
And Americans across the political spectrum are protesting. A recent Bloomberg poll found that 78 percent of Americans and 80 percent of Republicans want to overturn Citizens United, while only 17 percent of Americans and 18 percent of Republicans support the ruling.
The solution: a constitutional amendment to overturn Citizens United. Considering the New York Legislature's recent ethics scandals and the looming presidential race, now is the time for New York to get on board and support an amendment.
The Citizens United and McCutcheon decisions had very real and negative impacts on the New York state election system. Spending by outside groups– those not affiliated with the candidates–has skyrocketed, with the majority of the funds coming from out-of-state organizations, some of which don't disclose their donors, and the rest coming from a very small pool of wealthy donors.
During the 2012 elections, 32 outside organizations spent $7.2 million on behalf of federal candidates in New York, 15 times higher than the amount spent in 2008 before Citizens United.
In the 2014 election cycle, outside groups–groups other than party or candidate committees–spent $17.8 million on elections for the state Legislature, with $14 million of that going to New York state Senate races.
Voters across party lines overwhelmingly oppose Citizens United and strongly support a constitutional amendment to overturn the decision.
It is especially crucial that influence-buying in politics be addressed in New York. This year saw the leaders of both the Assembly and the Senate indicted and forced to step down in the wake of accusations that they received bribes in exchange for political favors.
In light of these scandals, it is particularly disturbing that the Republican Senate leadership missed several opportunities to curb corruption in the state, ranging from attempts to pass public financing of elections to lowering astoundingly high campaign contribution limits ($62,500 per candidate or committee). Worse, Senate Republican leadership actively blocked efforts to close the "LLC loophole" that enables wealthy individuals to effectively avoid contribution limits by setting up multiple limited liability corporations and funneling money to candidates through them.
A Path to Supporting an Amendment
Despite the past year, the Legislature can take some steps to redeem itself.
A bipartisan majority of the state Assembly has signed a letter calling on Congress to pass and send to the states a constitutional amendment to overturn Citizens United. Thirty-one New York state senators, including Republicans and Democrats – just one short of a majority – have signed similar letters. Right now, Republican state Senator Phil Boyle is actively circulating to Republican senators a sign-on letter that he authored calling for a constitutional amendment. A majority in both houses will make New York the 17th state to call to overturn Citizens United.
Support for an Amendment Is Growing Nationally
Although the Citizens United ruling was extremely damaging, it brought about something positive: an impassioned, national grassroots movement that is determined to restore the people's place in this democracy.
More than 5 million people have signed petitions in support of a constitutional
amendment. Sixteen states (California, Colorado, Connecticut, Delaware, Hawaii, Illinois, Maine, Maryland, Massachusetts, Montana, New Jersey, New Mexico, Oregon, Rhode Island, Vermont and West Virginia) and the District of Columbia–and more than 650 cities and towns–have passed resolutions supporting an amendment.
In New York, 21 local municipalities, representing nearly 10 million people, have called for an amendment, with Syracuse becoming the 21st in June. The municipalities are: Albany, Allegany County, Brighton, Buffalo, Caroline, Corning, Cortlandt, Danby, Dryden, Essex County, Guilderland, Ithaca, Mount Kisco, Mount Vernon, New York City, Peekskill, Sullivan County, Syracuse, Tompkins County, Troy and Yonkers.  New York City Council members feel so strongly that although they have passed a resolution once, they are gearing up to pass a resolution for a second time this fall.
President Barack Obama also has indicated his support for a constitutional amendment, as have a growing number of presidential candidates, including U.S. Sen. Lindsay Graham (R-S.C.) and Democratic presidential candidate Hillary Clinton. More than 200 former and current members of Congress have declared their support, including both of the U.S. senators representing New York.
Voters across party lines overwhelmingly oppose Citizens United and strongly support a constitutional amendment to overturn the decision and curb the influence of money in politics, as the aforementioned Bloomberg poll demonstrates.
Amending the U.S. Constitution is a clear, permanent solution to curbing the undue influence of money on our democracy. A constitutional amendment would overturn the flawed decisions in Citizens United and McCutcheon and restore the right to protect the government from being captured by private wealthy interests, so it's truly a government "of the people, by the people, and for the people."