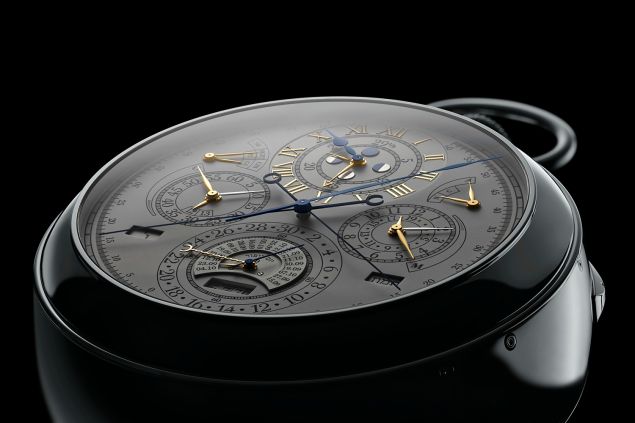 In normal life, a complication is a bad thing, but in the watch world, complications are sought after. And this year, Vacheron Constantin, to celebrate its 260th anniversary, has created the most complicated timepiece ever made, known as Ref. 57260.
This pocketwatch (a wristwatch wouldn't have the volume needed for all the complications) has a record 57 complications, some never seen before, like the eight Hebrew calendar functions. Made at the request of a collector, this watch was eight years in development.
"We had to deliver a minimum of 36 complications and the watch had to be smaller than the most complicated watch at the time on the market, which had 33 complications," explains Dominique Bernaz, the head of Atelier Cabinotiers, the bespoke arm of Vacheron Constantin. "From day one, the watchmakers had something else in mind. They originally wanted to include 45 or 46 complications, and then the collector requested the Hebrew calendar."
This is a unique piece, not available for sale, but don't despair—for that last-minute holiday gift for 2023, you too can commission a bespoke piece. vacheron-constantin.com
---
Ref. 57260 Key Numbers
Why Ref. 57260? Fifty-seven for the number of complications; 260 for the years of Vacheron Constantin's existence.
6 time measurement functions 
7 perpetual calendar functions
9 astronomical calendar functions
1 lunar calendar function
1 religious calendar function
8 Hebrew calendar functions
4 three-column wheel chronograph functions
7 alarm functions
8 Westminster carillon-striking functions
2,800 components
98 mm in diameter
50.55 mm thick
242 jewels
Estimates of the cost of Ref. 57260 are between $5 and $10 million. Vacheron Constantin did not release a price.

To read more of Observer Collector Watch Edition, click here.