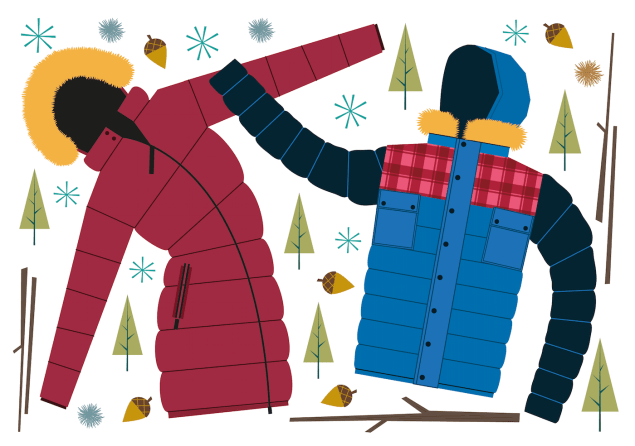 It started about three winters ago, when a Canadian friend complained about dropping over $600 dollars on a winter coat. The coat in question was a Canada Goose puffer, and her remarks focused on the need to buy this particular piece of outerwear extremely early in the season. We had this conversation in late August or early September and no, she reassured me, the jackets never go on sale.
Coincidentally, a few months later I noticed the streets of the West Village and Williamsburg were inundated with the utilitarian jacket, with a coyote fur-trimmed hood, loose silhouette and the most recognizable feature, a small red circle on the left bicep that spells out Canada Goose Arctic Program. Technically, there is no Arctic Program, but that doesn't really matter to city dwellers; this coat seems warm enough to make it through at least a day in the Arctic Circle.
Originally founded in 1957 under the name Metro Sportswear Ltd., Americans have been left out in the cold for years regarding Canada Goose's true warmth. In just 450 hours, and through 13 production stages, the heaviest of these cozy coats are stuffed with 625 fill-power white duck down. The jackets, which have an entry price of $645, seemed to appear out of nowhere, although the brand's CEO Dani Reiss assured us that wasn't necessarily true.
Movies, he pointed out, were the company's real breakthrough point. "Films like The Day After Tomorrow and National Treasure were some of the early ones Canada Goose appeared in," he told the Observer.
Another big moment for the company came when Sports Illustrated shot Kate Upton for their 2013 Swimsuit Issue. The buxom blonde was pictured on the cover wearing a little white puffer coat, a bikini bottom and whole lot of cleavage. "That was the first-ever fashion shoot in Antarctica," Mr. Reiss explained. "All of them, the entire crew wore our products, not just Kate."
Canada Goose has a strategic ally in a fellow Torontonian: Drake. This past October, Drake's OVO Sound record label dropped its fourth coat-focused collaboration with the brand, which included a particularly sleek baseball cap. How did this heritage company align forces with one of today's most beloved rappers? They go way back, Mr. Reiss explained: "We live in the same city and we've known each other for a long time. Before we did a collaboration with them, even before the OVO line, Drake and his crew wore our stuff."
The company has also collaborated with Levi's, Pendleton and the skate label Concepts, as well as smaller Canadian brands, including wings + horns and Uncle Otis.
Now sold in over 50 countries across the globe, with rapidly growing markets in Japan and Korea, Mr. Reiss told the Observer that Canada Goose expects its anticipated revenue to exceed $300 million this year. Growth in the United States alone is up 33 percent. The brand will produce over 500,000 jackets; all will be made entirely in Canada.
"We've tried to narrow down our customers, to create a profile from a marketing point of view and we've had a pretty hard time doing it," Mr. Reiss admitted. This confusion is no surprise, coming from a heritage adventure brand with firm roots in the rap, skate, entertainment and luxury communities, as well as a history stemming back over half a century.
Perhaps because of that, or in spite of it, Canada Goose hadn't done much advertising before this year; the company relied mostly on social media. This November, the brand released a video campaign, directed by Paul Haggis. Titled Out There, it shares stories of real people who depended on Canada Goose coats to keep them alive. It shows the plight of Paddy Doyle surviving a crash landing in the Canadian arctic and Laurie Skreslet, the first Canadian to summit Mount Everest.
While there is certainly nothing wrong with shrugging on this warm coat and donning New York's unofficial uniform this winter, the snowy slog will be more bearable in outerwear that stands out from the rest. For something warm, functional and not by Canada Goose, consider Moose Knuckles. Based on the name, which refers to a rather unfortunate male wardrobe malfunction, you can already tell that this company knows how to crack a joke.
However, Moose Knuckles CEO Ayal Twik insisted that there are two definitions for the brand name. "We always say moose is a Canadian animal and knuckles is the spirit of a hockey fight," he remarked over coffee at the café in Saks Fifth Avenue. He was in town from Toronto to celebrate the brand's arrival at the tony department store.
***
With a range that includes puffer jackets with leather details and real fur trim, they also have more fashion-focused products, including a multicolor fur coat exuding a cheerful and stylish vibe. "You'll notice that we don't sit on the outerwear floor here," Mr. Twik told us. "We sit in contemporary, because we're a fashion brand, not an outerwear exclusive brand."
Similar to a fashion brand, Moose Knuckles puts much focus on its ad campaigns. In 2013, the company took full responsibility for a heist of six million pounds of maple syrup that went missing in Canada, even though it had nothing to do with the theft. Once, the brand's ads featured a model wearing nothing but a white puffer jacket and a bikini bottom, accessorized with a very hairy bikini line, in a not-so-subtle jab at Ms. Upton's Sports Illustrated cover.
On occasion, magazines have been known to decline ad placement and the corresponding payment to Moose Knuckles, due to their offending content and images. Following the release of a video depicting a fictional terrorist group from Quebec under the moniker FUQ in 2012, a handful of sporting goods stores across Canada pulled Moose Knuckles product from their shelves. However, responses like that don't worry Mr. Twik.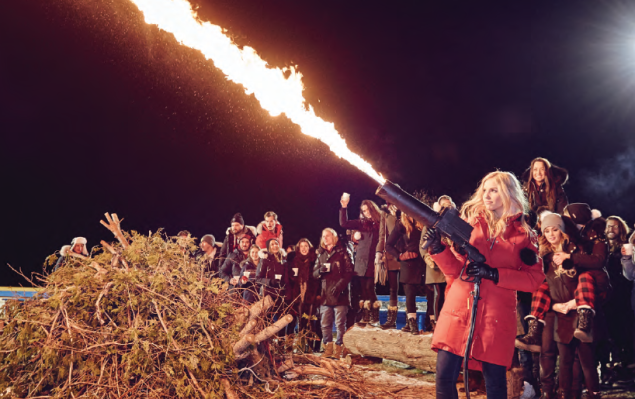 "There are people who are going to dig what we do, and there are people who won't. For the people who don't, who cares? We just like to have fun and sometimes we offend, but we do it democratically. We offend everybody evenly," he said, smirking.
Offensive content aside, Moose Knuckles does have a reason to brag: all of its core products are made in Canada, too, using ethically sourced fur and high-quality gray duck down for warmth. Expect to become more familiar with the sight of this label, as Revolve, Bloomingdale's and Nordstrom have picked up the range, whose parkas start at $850, for the winter season. Moose Knuckles also plans to have a presence at Sundance, so prepare to see the pages of Us Weekly and OK! splashed with images of celebrities donning the brand. And then? We're sure the rivalry with Canada Goose will spill onto the streets; it's going to be a cozy winter.