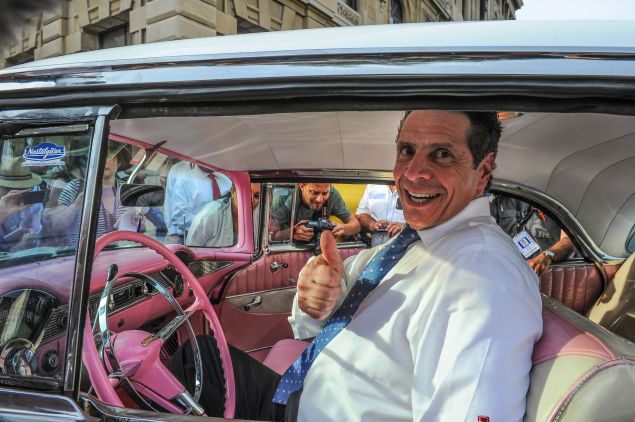 WHO HAD A GOOD WEEK?
1. Marco Rubio: The Florida senator again outshone his mentor, former Sunshine State governor and Republican wallpaper sheet Jeb Bush, in their party's primary debate Tuesday night. He also began to seriously grapple with Texas Sen. Ted Cruz, a Tea Party mascot and sleeper contender for the nomination, on the issue of immigration, that political hot potato the entire GOP field seems to want to eat this year (and an issue that once upon a time Mr. Rubio was moderate on). Plus, Long Island Congressman Peter King, a former Rubio critic, told the Observer on Thursday that he predicted the first term senator would emerge from the primary victorious.
2. Andrew Cuomo: The once fiscally conservative governor continued to get his Bernie Sanders on Tuesday, using his executive power to make another sweeping liberal reform: this time, setting the minimum wage for all state employees to $15 an hour. It follows a similar pay floor move for fast food industry workers, making Attorney General Eric Schneiderman the special prosecutor for cases where cops kill civilians and reinterpreting state law to extend anti-discrimination statutes to trans people—all done without that pesky legislative process. These moves do more than advance the Cuomo brand and consolidate his popularity among Democrats: they also sap the rationale liberal rivals like Mr. Schneiderman or Syracuse Mayor Stephanie Miner might have for challenging him in 2018. And even better, when people nationwide hear about a progressive from New York, it's not Bill de Blasio.
3. Illegal immigration opponents: The Fifth Circuit Court of Appeals gave border hawks what might be their definitive victory over the Obama administration on Tuesday: upholding a lower court's injunction against the president's executive order to grant legal status to some four million foreign nationals. The case may go next to the Supreme Court, but for now conservative forces have erected a wall of legal precedent between the nation's undocumenteds and a pathway to citizenship. Add to that Republicans tripping over themselves to appeal to the angry anti-amnesty crowd—once thought an all-but-moot political force—nobody will be climbing over it any time soon.
WHO HAD A BAD WEEK?
1. The New York City Council: The average person would probably prefer not to pay politicians at all. So word that some council members were plotting to boost their $112,500 salaries to $192,000 a year probably awakened a lot of New Yorkers to just how much we're compensating them already. The raise seems especially over the top when you consider that New York City government is a "strong mayor" system that leaves all but a few members of the local legislature with little real power. Even Speaker Melissa Mark-Viverito denounced the 71 percent increase as "ridiculous." One insider suggested to the Observer that the proposed pay bump might be somebody's ploy to secure their colleagues' votes to succeed Ms. Mark-Viverito after she's term-limited out after 2017.
2. Bill de Blasio: Ouch. Just ouch. After months of derision for his constant jetting out to Iowa and Washington, D.C. chasing visions of a bipartisan presidential forum on income inequality, Mayor Bill de Blasio's Progressive Action Committee announced on Tuesday the debate wouldn't be happening. The group attempted to spin it as a positive development, declaring it (and not, say, a certain senator from Vermont) had been so successful in moving the class divide into the political conversation that the forum had become unnecessary. Reality seemed to set in the next day, when the mayor confessed he'd called it off because of the lack of interest from candidates. But fear not: Mr. de Blasio declared no setback can keep him in New York City for long.
3. Sitting Republican governors who want to be president: In any other year, Ohio Gov. John Kasich would be an ideal GOP candidate: the leader of a crucial swing state who oversaw an economic boom after taking the reins from a Democrat; a moderate conservative with a working-class backstory and a down-to-earth demeanor; a contender combining executive experience with a strong resume in Congress. But he decided to run this year, the year of Ben Carson and Donald Trump and policy positions that don't necessarily need to make sense or even sound good, but just blow on the smoldering rage of the GOP base. And Mr. Kasich's desperation showed in the debate Tuesday night: on the verge falling off the edge of the main stage, he thrashed about wildly, constantly interrupting his rivals and struggling to land a decent punch against the front-runners.
New Jersey Gov. Chris Christie, on the other hand, entered the race as a tarnished star—his name mostly evocative of fat jokes, Bridgegate and credit downgrades. He had a good showing as the 16-year-old forced to sit at the kids table on Tuesday, but that doesn't make up for having to appear on a stage with Rick Santorum.
WHAT WAS THE WEEK'S BIGGEST STORYLINE?
The earliest primaries are still months away and the general a year off, but nobody can keep from watching the national contest for the White House like a bunch of rubberneckers passing a car crash. Even the governor's constant refrain of New York "leading the way" on progressive issues at the Fight for Fifteen rally seemed to hint at longings to return to Washington.
WHAT HAPPENS NEXT?
Break out the popcorn and the drinking game shot glasses: the Democratic primary debate is on Saturday night—this time, with less Jim Webb and Lincoln Chafee. It's one jigger every time somebody says "jobs," "wealth," "one percent," "progressive" and "experience," so best have your local ambulance company's number handy.
WHO WAS THE MOST WISTFUL?
Congressman Peter King, who weighed a bid for the White House himself, on watching his fellow party members wrestle in Wisconsin:
"No, you realize some of the answers they're giving you—jeez, I could've answered it this way, but, you know, I didn't and that's it, so I don't know."
WHAT ARE WE HOPING HAPPENS NEXT WEEK?
Mr. Cuomo declares he'll be hosting his own presidential forum on income inequality—and then does.
WHAT WILL ACTUALLY HAPPEN NEXT WEEK?
The Council will drop any talk of raising their pay and hope New Yorkers go back to forgetting they exist half the time.
Disclosure: Mr. Trump's son-in-law, Jared Kushner, is publisher of Observer Media.