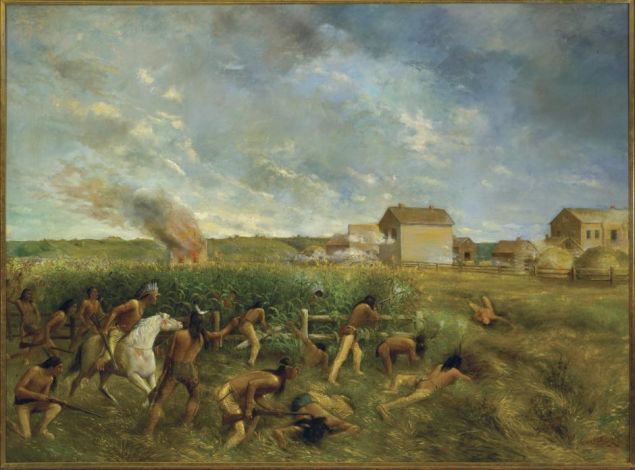 The state of Minnesota has been grappling with the issue of how to display historical but perhaps inadvertently racist paintings following the redevelopment of the state's capitol building. Now, the Minnesotan art subcommittee, tasked with resolving the thorny issue, has decided to leave it up to the public. Democracy is not dead!
Four pieces of art that depict Native Americans are set to reappear when the capitol building re-opens in 2017 following a $309 million renovation. But Father Hennepin at the Falls of St. Anthony, Attack on New Ulm, Eighth Minnesota at the Battle of Ta-Ha-Kouty and Treaty of Traverse des Sioux have come under fire for inaccurately depicting Native American culture and life, as the Observer has previously reported.
Democratic lawmakers in the state have criticized the broadly stereotypical depictions of Native Americans—such as topless women, men pointing guns at whites and feathered headdresses.
"Some are romanticized visions of Native Americans that portray them in ways that we don't believe the historical record supports them, in terms of dress and those sorts of things," Dianne Loeffler, a state legislator, told Minnesota Public Radio last month.
Of course, removing the pieces from the capitol means historical artworks from the early 20th century are no longer widely available and essentially fall out of the public record. Is it better to revise or to preserve history? As has become evident from the protracted Washington Redskins debate, the question can provoke many emotions for both sides.
Retired Minnesota Supreme Court Justice Paul Anderson, co-chair of the subcommittee, led the call for the public to be consulted on the matter, according to a new report from MPR.
"This state Capitol is really special to a lot of people in the state of Minnesota," Mr. Anderson told MPR. "…We want them invested in this whole restoration process. We're interested in their ideas and what they think about how we should go forward."
Here are the scheduled public meetings. The state's art subcommittee will determine the paintings' fate in January.