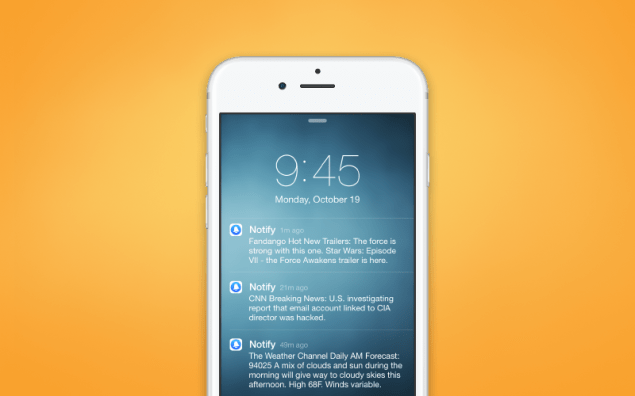 For all of those information apps that already send you push notifications, Facebook has created an app to send you notifications about your notifications.
Yes, really.
On Wednesday, Facebook released "Notify," an app available to IOS and iPhone users that lets you know what's happening from your favorite sources of information.
The Notify app "delivers timely notifications about the things that matter to you, from the sources you love, all in one place," product manager Julian Gutman wrote in a release on the company's blog.
Facebook has partnered with over 70 sources including CNN, Cosmopolitan and Hulu. None of the articles or videos come from Facebook; the app simply curates news from other sources. Users choose "stations" from which they want to receive information, and the app delivers notifications directly to the phone's lock screen. Then, the user can decide to view the full article through the app or view the source's website.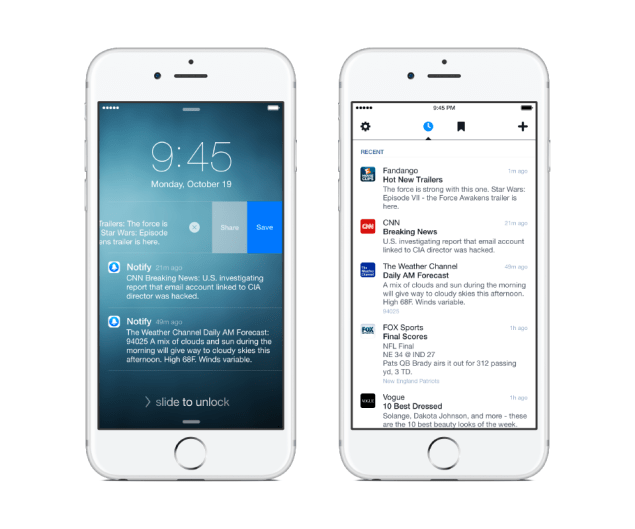 It wouldn't be a Facebook app if you couldn't share it. Swiping left on the screen allows the user to save or share the article, video or source. If the user does decide to save the update, they can open the app at a later time to read the article, and look at a list of recent updates from the past 24 hours. It looks very similar to a Twitter feed, minus your friends' musings and raging celebrity tweets—in fact, Notify  has been compared to Twitter's Moments, as well as Snapchat's Discover.
Mashable, one of Notify's sources or "stations," wrote that the app would litter your lock screen with news and weather, but it can actually fill your lock screen with so much more. Comedy Central, Good Housekeeping and Headspace (somewhat ironically), could also clutter your notifications, which are already filled with Tinder messages, emails and texts from your mom.
The release does not say how long the notifications will stay on the screen before disappearing, nor does it address the probable situation that the user will receive double notifications from apps that are already on the phone, like The New York Times or Fox News. Instead, Facebook markets the app as personal.
"Everyone has different interests, so whether you're into sports, celebrities, news, movies, music or shopping, Notify makes it easy to find notifications you're into with a broad selection of great 'stations' across a variety of categories," wrote Mr. Gutman.
So, whether you're looking for info on Syrian refugees or just want to know if it's going to rain today, Notify has you covered. Of course, you were already covered by other apps, but for Notify that's beside the point. Enjoy all those push notifications!