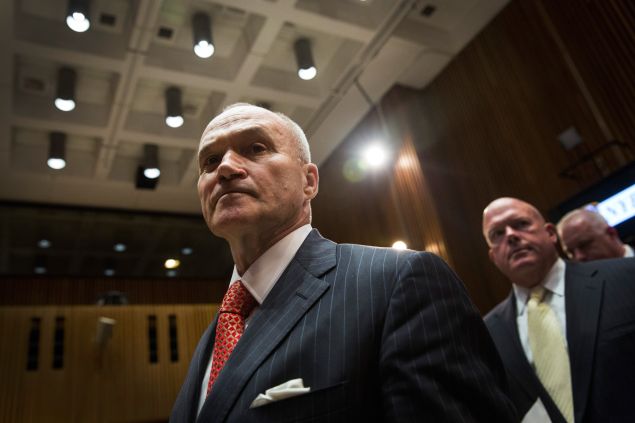 The Draft Kelly movement has begun anew.
Adele Malpass, the chairwoman of the Manhattan Republican Party, announced tonight that former Police Commissioner Ray Kelly will speak at an upcoming dinner for the GOP organization, and urged him to challenge Mayor Bill de Blasio, a liberal Democrat, in 2017.
"I think he'd be a great mayor of this city," Ms. Malpass told the Observer at the Metropolitan Republican Club on the Upper East Side. "You look at where we are with homelessness and panhandling and that was not a problem. We had 20 years of Republican mayors and Ray Kelly made sure we didn't have the panhandling, the homelessness, the crime and the city felt different."
Ms. Malpass said Mr. Kelly, the longest-serving NYPD commissioner in city history, had to "really want it." She said coming to her dinner, though, was indication that he might.
"The body language is pretty good, isn't it? To do our dinner, the idea is he wants to see the Republican Party in the five boroughs grow and be involved," she said.
Conservatives begged Mr. Kelly to run for mayor to replace his old boss, Michael Bloomberg, in 2013. Despite consistently high approval ratings, he passed, and Mr. de Blasio went on to rout his Republican opponent, Joe Lhota. Mr. Kelly, who published a memoir this fall, has emerged as a critic of Mr. de Blasio's mayoralty and warned that the city's quality-of-life is slipping.
A recent Quinnipiac University poll even measured Mr. Kelly's support against Mr. de Blasio. Despite his struggles, Mr. de Blasio still crushed Mr. Kelly in a hypothetical match-up, leading 48-28 percent. Mr. Kelly, who never held elected office, has maintained in past interviews he doesn't want to run for mayor.
Mr. de Blasio's campaign did not immediately return a request for comment.