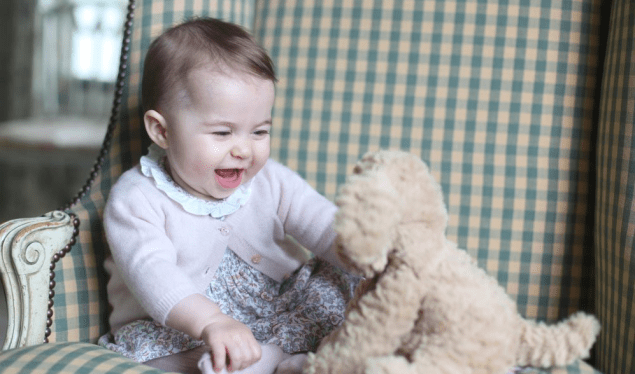 If you need a boost now that you're back in the office and still recovering from a turkey tryptophan trance, these Princess Charlotte pictures will perk you up immediately. While there's no sighting of the equally adorable Prince George, the perfectly coiffed Kate (who was busy taking these pictures) or even the Mary Poppins nanny for the two tots, these royal photos are still something to be thankful for. Their unexpected appearance had the Twitterverse in an uproar, questioning whether 6-month-old Princess Charlotte looks more like her perfectly preppy mother or her dear old Dad.
Kensington Palace shared the pictures over Thanksgiving weekend.
No one could contain their excitement (and rightfully so).
Princess Charlotte makes her cat vs. dog choice universally known.
Which royal does she most resemble?
Proof that Princess Charlotte is even more powerful than Kim Kardashian. (Although a friendship with North would be the ultimate power move.)
A stuffed puppy would make even her father a little less serious.
For those who want to procure a Fuddlewuddle Puppy for a trendy tot this holiday season.
While everyone is appreciating Princess Charlotte, that's no reason to forget about the precious Prince George.