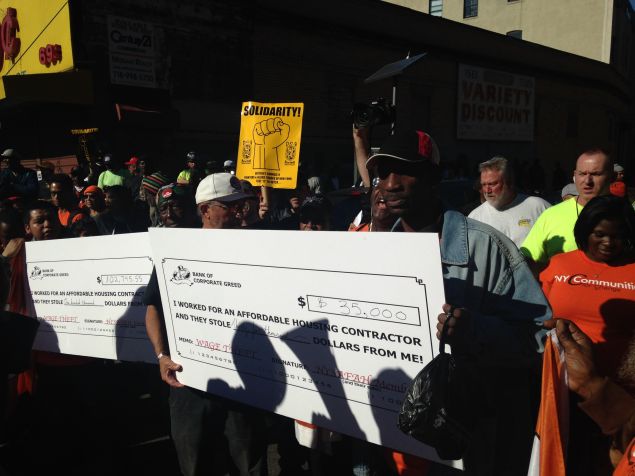 Building trades union members and left-leaning community groups again blasted city-subsidized below-market housing development—protesting alleged labor violations by one of the subcontractors while touting a study reporting systemic wage theft in the city's affordable housing industry.
Steelworkers and plumbers union members demonstrated alongside groups like New York Communities for Change outside a new 50-unit construction project today in the swiftly-gentrifying Bedford-Stuyvesant section of Brooklyn, a development that—according to the architect's website—will be 80 percent market rate and 20 percent affordable and receive financing from Mayor Bill de Blasio's Department of Housing Preservation and Development. The umbrella organization Real Affordability for All used the occasion to drop a report claiming subsidized developers, most belonging to the New York State Association for Affordable Housing trade group, and their contractors have underpaid workers some $19 million since 2011.
"I was working for a company that didn't care about my safety, I was working on average 78 to 90 hours a week in order to make enough money to support my family. Because of the low wages I could not afford to live there," said Jender Orobio, who said he had walked off a job site in Manhattan that employed the controversial U.S. Crane and Rigging company, which the organizers claimed was working at the Brooklyn site.
A person answering a phone number listed for U.S. Crane and Rigging wished the Observer a nice day and promptly hung up when asked for comment. The company is one of roughly a dozen iron-working firms owned by members of the Queens-based Auringer family, which has garnered negative attention in the past over both collapsing equipment and allegations of underpayment.
The event marked the latest skirmish in an ongoing battle between the Mr. de Blasio, his allies in the real estate community and organized construction workers. The mayor has maintained that union labor is too costly and the city's affordable housing drought too dire to mandate that subsidized projects hire members of the Building and Construction Trades Council of New York and its affiliates.
John Skinner, president and political director of Ironworkers Local 46, aimed his ire squarely at the administration.
"What's been going on in this city is atrocious. It's not progressive by any definition," he said, complaining about the price, quality and working conditions at projects built during Mr. de Blasio's tenure. "We've had enough of the same developers who have abusing people for years to keep getting awarded city contracts by the present administration!"
The Real Affordability for All study states it arrived at the $19 million in stolen wages figure through "Freedom of Information Act requests, court and administrative filings, and other public documents and news reports." It maintains that internal HPD records document $3.7 million in wage theft between 2012 and 2015.
BRP Development, the company behind the project at the nucleus of today's demonstration, was not among those accused of illegal underpayment in the report. A spokesman for the developer alleged that the information on the architect's website was inaccurate, and that the development in question neither received any subsidy nor included any affordable housing.
The company denied directly hiring U.S. Crane and Rigging, but stated it was possible that a subcontractor had employed the controversial firm.
HPD similarly denied that the Bedford-Stuyvesant project received any city subsidies, and said it had no record of abuses by BRP on its records. The agency vowed vigilance in monitoring affordable housing work sites.
"HPD takes seriously its responsibility to protect workers. The agency requires contractors to obey all labor laws and have instituted strong measures to deal with noncompliance. Anyone who shortchanges their workers will be held accountable," spokeswoman Elizabeth Rohlfing told the Observer.
NYSAFAH attacked the credibility and methodology of the report, and characterized it as a political document from the union aimed at forcing what it called "an inflated prevailing wage" on the affordable housing industry.
"Unlike RAFA, NYSAFAH is not interested in engaging in political posturing. We remain focused on how the city can build more safe, quality affordable housing for hardworking families and vulnerable populations," said President Jolie Milstein in a statement.
Updated to include comment from Ms. Rohlfing and clarification from BRP.