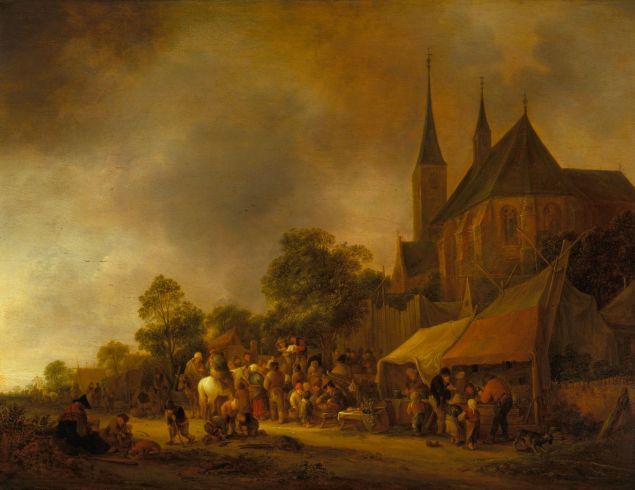 Someone, being less than discreet about their need to heed nature's call, has been discovered soiling the foreground of a 17th century Dutch painting from the Britain's Royal Collection.
Conservators cleaning Isack van Ostade's 1643 painting, A Village Fair with a Church Behind, uncovered, among the food vendors and performers in the scene, a squatting urinating figure who had been obscured by painted bushes for nearly 100 years.
The painting is one of 27 artworks included in the upcoming exhibition "Masters of the Everyday: Dutch Artists in the Age of Vermeer," opening at Buckingham Palace on November 13, which will also feature as a highlight Vermeer's Music Lesson.
According to a report from Art Daily, the painting once hung in the Middle Room of Carlton House, George IV's London home, and was one of several pieces acquired by the Prince of Wales that contained similar depictions of crude humor.
"Dutch artists often include people or animals answering the call of nature partly as a joke and partly to remind viewers of that crucial word 'nature', the inspiration for their art," said exhibition curator Desmond Shawe-Taylor in a statement.
Allegedly, the painting was altered by an art restorer in 1903, after it had been moved to the Picture Gallery at Buckingham Palace, to reflect the more conservative tastes of the Edwardian era.
"Queen Victoria thought the Dutch pictures in her collection were painted in a 'low style,' " the curator said. "Perhaps a royal advisor felt similarly," and produced the obscuring bushes.