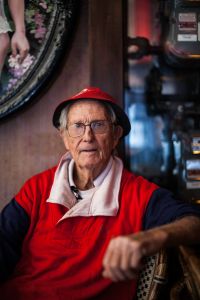 The signs posted in the Garden Deli in Greenpoint and Miyako in Williamsburg were straightforward: BROOKLYN SEA CAPTAIN SEEKING CREW. Specifically sought were a dozen mature, dedicated and compassionate individuals with some skill or trade—a cook or carpenter, for example—to help crew a 160-foot clipper on a two-year voyage around the world, promising "the adventure of a lifetime."
What the flier failed to say is that the 87-year-old sea captain, Van Vollmer, and his media-averse twin brother, Carl, would require the crew to unceremoniously dump their bodies in the ocean when they die. "I don't intend to return," Mr. Vollmer said.
The plan, said Van Vollmer, who now lives with his brother on a boat docked at Evers Marina in the Bronx (both brothers were married years ago: Van is divorced, Carl is a widower) is to leave shortly after a planned bon voyage party this week at Cantina Royal, a Mexican restaurant in Williamsburg. They'll pick up the ship in St. Marys, Ga., sail it to Florida for some minor boat work and crew training, and then sail south.
"We're going to Havana to party for Christmas," Mr. Vollmer told the Observer. He is the only one of the twins who will do interviews. "Maybe we'll even invite Raúl Castro to come visit us. He's a Communist. Why the hell not?"
The next stop is Panama City for New Year's Eve, he said. After that, it's through the Panama Canal and out to the Pacific Ocean, with stops in Hawaii and at Australia's Great Barrier Reef. They then head up the Suez Canal and into the Mediterranean Sea to explore the Greek Islands. At some point along the voyage, over the next couple of years, the Vollmers expect they will die. And when that happens, a legally binding agreement will require the crew to pitch their bodies overboard.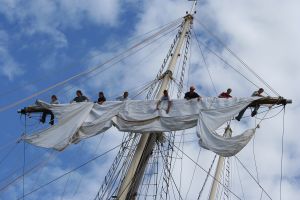 "This is my swan song," Mr. Vollmer said recently, speaking by phone. "It's time to move on. Life is a fleeting experience. My brother and I are extremely healthy, but it doesn't mean anything. All of our peers are dead. Everyone we've known or done business with over the years is dead.
"We're going to die," he said. "Instead of looking for a nursing home, we were looking for a ship."
His outlook on the adventure and burial at sea is clear-eyed and pragmatic. "Put us on a plank and dump us in the water," he said. "Just let us go over the side, like all the old sailors did."
Surprisingly, more than 200 people responded to the fliers since they first started appearing in August.
"They've had a lot of adventure and have tales to tell," said Julio Mora, chef and owner of Cantina Royal, where Mr. Vollmer hung his flier. "I love them. They're like my godfathers. When they told me, I felt sad. But they need this. They don't have a lot of funeral money, so this is the best way to finish their life. They deserve it. It's their final adventure."
Mr. Vollmer's outlook on the adventure and burial at sea is clear-eyed and pragmatic. "Put us on a plank and dump us in the water," he said. "Just let us go over the side, like all the old sailors did."
Rome, N.Y., attorney Sarah Scott and her husband, Justin, who works in the IT sector, have signed on. "It's inspiring," Ms. Scott said, "for him to just do it. Everybody has their own idea of how they want their lives to go and they're entitled to it. Either way, we're happy to go along for the ride."
Eric Spicer, a sailor in Newport, R.I., with a degree in marine affairs, is another potential crew member. "I think it's an amazing idea, and I think that they are brave for attempting it," Mr. Spicer said. "I hope it will be a bit more ceremonious than being tossed overboard, but I would have no problem complying with their request. Who wants to rot underground anyway?"
The trip hinges on Mr. Vollmer's friend, a mystery investor and one of 20 brokers involved in a $4 billion Venezuelan bond deal, who has agreed to pay $5 million to buy the boat and run it for about three years. The money is in the bank, Mr. Vollmer said, but they have yet to close on the boat deal. "It's going to happen," Mr. Vollmer said. "If we can get control of the boat next week, I'm out of here in 10 days."
Mr. Vollmer knows boats. He and his brother grew up in Old Greenwich, Conn., sailing dinghies on Long Island Sound at age 7. Over the years, he and his brother delivered sailboats along the Eastern Seaboard, to the Caribbean, Nova Scotia and the Antilles. "I've always sailed and I've been on all kinds of boats," he said. "But this boat is different. I couldn't do any better if I was going to design a boat myself. It's fantastic. I never dreamed I'd be captain of a sailing vessel like this at 87 years old."
The 158-foot vessel Mr. Vollmer referred to was commissioned in 1986 by Brazilian industrialist Frank Walker at the Maccarini Boat Yard in the Navegantes, in southeastern Brazil, along the banks of Itajaí-Açu river. Shipwrights handcrafted the hull using Brazilian walnut, also known as Ironwood or Ipe, a dense hardwood resistant to bugs, mildew, and decay with a near indestructible hurricane-proof strength and the same fire rating as concrete and steel (builders used Ipe on parts of the Coney Island boardwalk).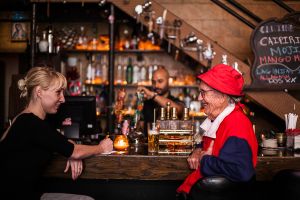 Mr. Walker designed the three-masted, square-rigged tall ship in the style of an 18th-century barquentine, modeling the vessel after the famed English clipper Cutty Sark, one of the last great tea ships built before the advent of the steam engine. (Fittingly, the Cutty Sark earned a reputation in 1880 as a "hell ship" and a cursed vessel after the captain committed suicide by stepping off the ship's stern after his men mutinied.)
Mr. Walker named the vessel after his wife, Avany, and appointed the ship's 4,000-square-feet of living space with the creature comforts of an opulent mansion, featuring intricate mahogany woodwork, stained-glass, bronze fittings, a large deck house, and five spacious cabins that can easily accommodate more than 12 guests.
Three years later, in 1989, Mr. Walker launched Avany with the intention to use it as a family cruising vessel and, later, operate as a charter ship in the Caribbean. The maiden voyage began in Brazil, and sailed up through the Caribbean to Savannah, Ga. The Walkers had planned to rig the ship as a three-masted schooner, but other priorities beckoned. The Avany languished in port, and was eventually dry-docked in the Palmer-Johnson boat yard where she baked under the sun, bleaching out the brilliant bright work, until 2000.
Mr. Walker was looking for a buyer in 2000 when he crossed paths with Twelve Tribes, a controversial quasi-religious group that bought the boat for a bargain to raise its profile at tall ship shows around the U.S. Twelve Tribes removed the bare-breasted figurehead the bowsprit modeled after Mr. Walker's wife, returned it to its original owner and set sail looking for a new home port. Avany hopped along the southeast Atlantic seaboard from Beaufort, S.C., to Palm Beach, Fla., finally finding a home in Brunswick, Ga., the following spring.
For the next seven years, the group worked on the boat, scraping and painting the neglected hull and topsides and upgrading the mechanical and electrical systems. The group rechristened her Peacemaker and relaunched the ship in 2008 as a sort of floating sea church that would sail port to port and spread the word of the group's way of life while members practiced rigging, sailing, navigation, marine mechanics, sailmaking and carpentry. In short, some might say, it was a cult at sea.
Crew members need no experience. "I'll teach them everything," Mr. Vollmer said. "When we're done, they'll know how to sail by the stars and sail well. There's no black science about it. Either you can sail or you can't sail. But I'll teach them all."
Twelve Tribes put the ship up for sale last spring with the intention to upgrade to a cargo freighter to meet the group's shipping needs, as it branched out to transporting and selling goods made and produced at its dozens of communities around the world. Boat brokers say there has been a lot of activity and interest surrounding the boat. Besides Mr. Vollmer, there are a couple of serious buyers interested in using Peacemaker as a private vessel, including a New York City yacht club that wants to use it as a club house.
The Vollmers found the boat last spring through a friend in Key West, Fla. Mr. Vollmer had been looking at a trimaran, a German lightship, a schooner and a few Turkish ships. He preferred a monohull, like the Peacemaker, and flew down South to inspect the ship. He liked the enclosed cabin and was impressed by the boat's mint condition. He and his investor agreed on $3 million, reduced $500,000 from the original asking price.
Larry Clinton, the ship's current captain, likes the idea of dying at sea. "As far as how you would like to spend the rest of your life, Van's chosen a good route to go," he said. "The plan is great if he can pull it off. But Van has a lot of spunk. He's deceptive in his age."
Mr. Clinton sounded misty about the sale of the Peacemaker, his home for the past 15 years.
"She's from the golden age of sail," Mr. Clinton said. "I've known of a few other vessels that are made of Ipe used for Arctic exploration. But they were crudely finished. The Peacemaker is finished like a violin. I'll miss her."
The response from aspiring crew members has been impressive: Mr. Vollmer has interviewed all 200 people who responded to the flier by phone or email, including an event planner, mechanic, physical trainer, lawyer, musician, film producer, chef, nurse, paramedic, barber, and a writer. He has approved six people so far. Some sail, some don't. Two members of the French Foreign Legion who specialize in training combat paratroopers have committed to the voyage. "We'll have one for each side of the boat should there be any problem," Mr. Vollmer said.
Crew members need no experience. "I'll teach them everything," Mr. Vollmer said. "When we're done, they'll know how to sail by the stars and sail well. There's no black science about it. Either you can sail or you can't sail. But I'll teach them all."
Housing and food will be provided to crew, as well as a monthly stipend (Mr. Vollmer asked that the amount not be disclosed, but it is close to the standard monthly crew rate.) "They're all laid-back," he said. "And they are all in awe at the possibility of getting paid to sail around the world." Most applicants are between the ages of 32 and 42.
There are requirements. Crew members must complete a 30-day training course in Florida before the trip, and take a correspondence course while aboard. They will be given uniforms to wear. There are no drugs or booze, except for rum. Everybody will have a job to do in the morning. Crew members will study in the afternoon. After supper, they'll party, Mr. Vollmer said. But there will be no swearing sailors. "If you can't express yourself without swearing, you're off at the next stop. This will be a very civil affair."
Why do it, I asked. "I have no idea," he said. "Who knows? It's the seven-year itch. Everybody, after seven years, they're ready to go again. They're going to learn from me. I'm going to learn from them."
Until, of course, he's dead. Maritime law on burial at sea varies: sink a body sewn in sailcloth weighted with cannon balls, an urn of ashes mixed with concrete, a corpse floated out and burned on a pyre—all are options. In the U.S., it is legal to bury a body 50 miles offshore in 600 feet of water. Anything closer inshore has legal regulations as to how the remains are deposited in the sea and require permits. The Vollmers aren't picky. When the time comes, Mr. Vollmer said, just hoist them over the side.
"On the trip, when me or my brother pass away—and we feel the same way—it's over the side and swim with the fishes for eternity," Mr. Vollmer said.
He didn't grow up knowing he wanted to die at sea. He did, however, always want to be cremated and have his ashes spread out in the Atlantic. Now, he's done one better. He doesn't want to be burned and placed on the mantel, or lie in the cold ground and let the bugs eat him, or even be mummified.
"I believe when you're dead, you're dead," he said. "There's no life after death. The instructions will be in writing. When I die at sea, just do it."
Mr. Vollmer gets pissy when pressed for details.
"What the hell is the difference how they do it?" he snapped. "When you're gone, you're gone."
One writer proposed doing a book on the voyage, while a film producer has pitched a movie. There have also been reality TV show offers. Mr. Vollmer hasn't committed to anything. He plans to bring his own cameras and have the crew do the filming, he said. "I don't know why people are so fascinated. All these people are talking to me now, making offers. Who cares?"
"I don't know how interesting it will be," he said. "People seemed to be in awe of the idea. But I'll take cameras and ship back footage for a weekly series if that's what they want. You get out of life what you put into it. And most people don't put much into it. At this age, people are looking for a nursing home. I'm just doing the same thing I've always done. To me, there's nothing unusual that I'm doing."
"If you want to be a nice guy or a hardened criminal, that's your choice," he continued. "I want to be a nice guy and take 20 people out to sea with me, sailing around the world, and then slide off into the sea…It will be my swan song. I don't want to drag my ass back to my family plot in New York."
Family doesn't care about where or how the two old men are buried, Mr. Vollmer said. They might come for some of the trip, or not. When it's over, their cold bodies ready to slip into the ocean's watery grave, what should the crew say? "I don't know what they should say," he said. "It's been a good ride. They had a good time."