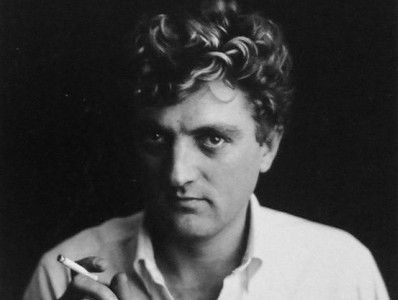 So a reporter walked into a bar. The right bar, as it happened. Max Fish on Orchard, where artist and art critic Walter Robinson, who first came to attention as a combatant in the East Village art movement which erupted at the end of the 70s, basically giving SoHo the finger, was having a book signing last week. The book, Paintings and Other Indulgences, had been published by Illinois State University to mark a current exhibition of 94 of his works made between 1979 and 2014.
Robinson was sitting at a long table in a short-sleeved plaid shirt. He was signing books and exchanging badinage with … well, you have no idea how seldom I feel inclined to describe an art world crowd as warm but a warm crowd they were. And this was because Robinson (who occasionally reviews exhibitions for the Observer, notably tackling the Soviet avant-garde, the new Whitney Museum, Yoko Ono and Robert Gober) has paid his dues.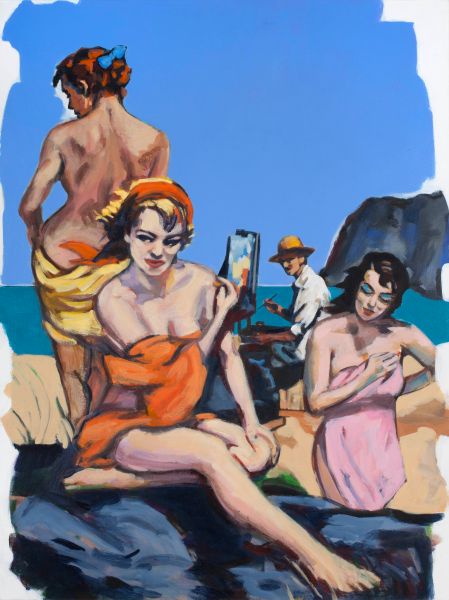 Raised in Tulsa, Oklahoma, he came to New York in 1968 as an 18-year-old and would, in due course, become a co-founder of Printed Matter, co-editor and publisher of the terrific mag Art-Rite magazine, a member of the legendary artist collective, Colab, and much else.
The "else" here includes serving as a curly-haired poster boy of the Pictures Generation, editing Jerry Saltz, and founding artnet.com news mag in the late 1990s. The first web chronicler of the art world, he started it before most people had email addresses.
So there was history here. 'I got drunk with you in this bar thirty years ago," Max Becker, a friend who has moved to Hawaii told me. I didn't point out that actually it was now a different bar. Max Fish, the hallowed LES joint, had been forced out of Ludlow by a rent bounce but had survived its transplant with aplomb. And the original pool table was in place in the back!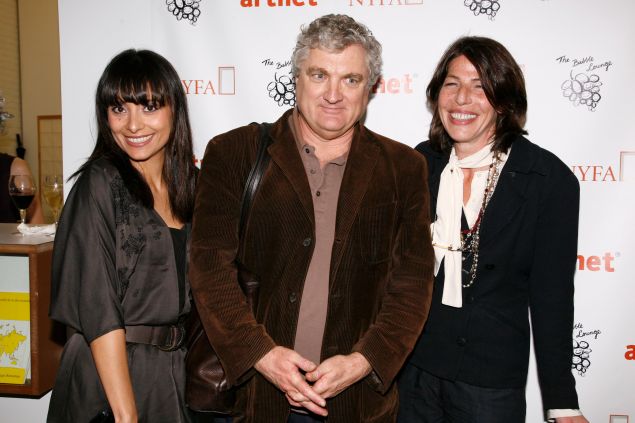 Survival was kind of the theme. Those at the signing with Lower East Side cred included the artists Mike Cockrill, Rick Prol, Jane Dickson, Mike Bidlo and John and Charlie Ahearn, writers like Glenn O'Brien, Carlo McCormick, Charles Stuckey and Gary Indiana, Betsy Baker, the former editor of Art in America, Stefan Eins of the mind-bending artspace Fashion Moda and Stephen Mass of the long gone Mudd Club.
Most waxed eloquent about Robinson and his work. (In a 2009 listing for his Metro Pictures show, the New York Times wrote: "In the wake of Richard Prince's exploitation of pulp fiction book covers, their precedents deserve consideration. They include the early 1980s paintings of Walter Robinson, the artist, critic, editor, newshound and founder of artnet.com. With appropriate bravura and irony undercut by an appealing sincerity, they depict icy blondes, torrid lovers, the occasional beach scene or handsome American G.I., and they are almost too up to date for their own good.")
Back at Max Fish, the heap of copies of Paintings and Other Indulgences was in melt. "These publishing guys are from Illinois. They don't understand about New York crowds," said Walter Robinson, adding "I was impressed that so many of my friends laid out thirty bucks for the book."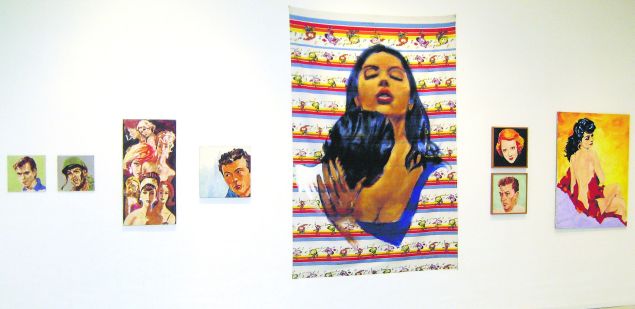 Amongst such friends was the artist Mark Kostabi, who forked over the moolah, only to find that the last copy was gone.
"They took my money," he mock-stormed. "And they said don't worry! You'll get the book. Walter put the ROB in Robinson!"
So, back to the star of the evening.
"My favorite moment was when a guy asked me to sign it TO MY FRIEND RICHARD PRINCE," he crowed.
I indicated a 'duh?'
"He said that the resale price would be higher," he explained, patiently.