FRIDAY NOVEMBER 20
Opening: Stephen Powers "Coney Island is Still Dreamland (To a Seagull) at the Brooklyn MuseumLet's get OLD SKOOL! Giuliani protester and convicted vandal Stephen J. Powers aka graffiti artist "ESPO" is still fighting the power, but this time from the friendly confines of the Brooklyn Museum. Apparently he's blown out the Iris and B. Gerald Cantor Gallery with paintings and signs in his beloved Coney Island sign painting style under the guise of a traveling sign shop named ICY SIGNS. The installation also includes works by Justin Green, Matt Wright, Mike Levy, Dan Murphy, Mike Lee, Mimi Gross, Alexis Ross, Sean Barton, Eric Davis, and Tim Curtis, and is organized by Sharon Matt Atkins, Vice Director for Exhibitions and Collections Management at the Brooklyn Museum. So throw on your FILA shirt and Schlitz trucker hat and gitch yo ass down there, son.
Brooklyn Museum, 200 Eastern Parkway, Brooklyn, 11:00 a.m. – 6:00 p.m.
Talk: "Critical Information: Text and Image" at School of Visual Arts
Now let's go "back to school" and I'm not talking about the Rodney Dangerfield classic from 1986. I'm talking about the School of Visual Arts and their smarter-than-smart MFA Art Writing program. This student conference will present the work of invited participants working on three different panels titled "Altered Perceptions," "Book as Object" and "Reading Images." Hot topics will be discussed, such as interdisciplinary practice and contemporary dialogue (that aroused you, didn't it?) It's organized by the second-year MFA Art Writing students, who have been busy brutally hazing the first-years by forcing them to memorize Adorno while baking cookies for this event, so head over to hear the fruits of their labor and please be kind–these kids will all be disgruntled museum gofers by this time next year.
SVA, 132 West 21st Street, New York, 12:00 – 6:00 p.m. Free
Performance: Derrick Adams, "Pablo Fanque's Circus Royal/SIDESHOW" at Performa
If you know Derrick Adams, you know this should be a ball. The charismatic shapeshifting artist will present a portable circus tent in the Performa Hub that will be the focus of all sorts of absurdities that will no doubt entertain you to the Nth degree. Inspired by Pablo Fanque, the first non-white circus owner in England's Victorian Era, the SIDESHOW will offer small platforms dispersed throughout the circus tent where performers will wow audiences with their tricks and talents. Adams himself will act as ringmaster, naturally, shuffling together music, sets and readings with jugglers, dancers, magicians and comedians. There will even be a live radio broadcast, but for the full effect, you should head down there and get a good seat.
Performa, 47 Walker Street, 2:00 – 6:00 p.m., Free
Talk: Sean Scully in conversation with Glen Fuhrman at The FLAG Art Foundation
Two-time Irish Turner Prize nominee (Oi tink 'e was robb'd!) will sit down with the FLAG founder and talk about paint, painting, canvas and maybe even my favorite new Knicks player, Kyle O'Quinn! (ok he's not Irish, but he really should be). All of this hullabaloo revolves around the new FLAG show called "Surface Tension," which has some pretty great abstract painters in it aside from Sean, such as Mark Bradford, Cecily Brown and fellow Knicks fan Kadar Brock. And those are just the "B" artists!
The FLAG Art Foundation, 545 West 29th Street, New York, 6:00 – 8:00 p.m., talk begins at 7:00 p.m.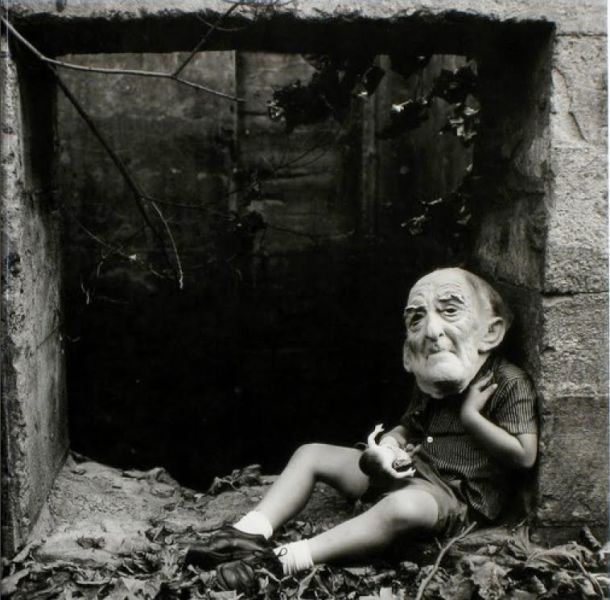 Opening: Ralph Eugene Meatyard at DC Moore Gallery
If you had to come up with a good horror movie antagonist name, don't you think Ralph Eugene Meatyard would be ideal? Well, I'm sorry to say that the photographer of that name was actually a hell of a guy. He served in the Navy after attending Williams College, and in 1950 moved to Lexington, Kentucky, where he worked as an optician and later opened his own business, Eyeglasses of Kentucky. Aside from staging his family in unusual poses and masks against an everyday Kentuckian backdrop for his photographs, he was just your normal suburban dad. Over the years the self-taught photographer created an oeuvre that was both formally and conceptually inquisitive, mysterious and gorgeous. This show will present forty photographs highlighting Meatyard's career on the subjects of his family, as well as the "Motion-Sound," "Zen," and "Light on Water" series'. You won't want to miss it.
DC Moore, 535 West 22nd Street, New York, 6:30 – 8:30 p.m.
SATURDAY NOVEMBER 21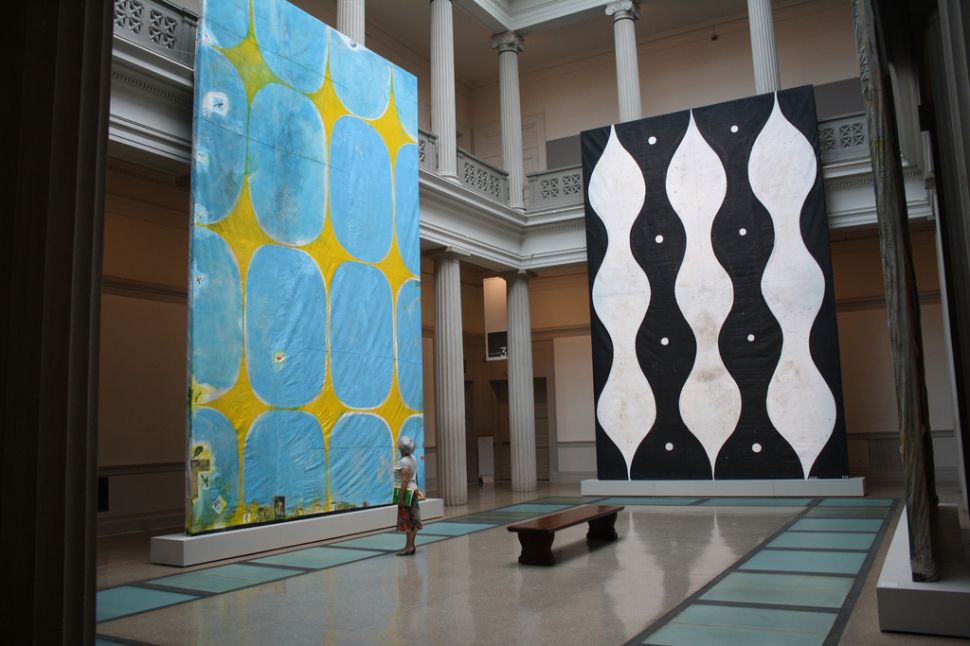 Opening: "Intimacy in Discourse: Unreasonable Sized Paintings" at SVA Chelsea gallery
SVA is pulling out all the stops this weekend, huh? Their Chelsea Gallery (along with Jersey's Mana Contemporary) is co-presenting a two-part exhibition titled, "Intimacy in Discourse: Reasonable Sized and Unreasonable Sized Paintings," curated by the indefatigable artist and co-founder, editor-in-chief and publisher of The Brooklyn Rail, Phong Bui. The opposing shows are an exegesis of sorts on how the size of an artwork affects its relationship to viewers, its show space and ultimately, the entirety of contemporary visual culture! Participating artists include Michael Berryhill, Sebastian Black, Katherine Bradford, Lois Dodd, Louise Fishman, Ron Gorchov, Joanne Greenbaum, Nora Griffin, EJ Hauser, Mary Heilmann, Sanya Kantarovsky, Alex Katz, James English Leary, Matvey Levenstein, Dean Levin, Margrit Lewczuk, Chris Martin, Loren Munk, Catherine Murphy, Aliza Nisenbaum, Ellen Phelan, Joanna Pousette-Dart, Tal R, Neo Rauch, Julia Rommel, Cordy Ryman, Julia Schmidt, Juan Uslé, Don Voisine, Merrill Wagner, Roger White, Terry Winters and Lisa Yuskavage. Phew! It wouldn't be unreasonable to think that this show might just be excellent.
SVA Chelsea Gallery, 601 West 26th Street, New York, 5:00 – 7:00 p.m.
Fair: Third Annual American Fine Craft Show Brooklyn at the Brooklyn Museum
Look how rad this lady looks with her avant-garde bangs, defiant angular stance and technicolor hand-crafted jacket. I'm afraid I can't help you with the hair or the attitude, but I know where to get the hip threads! You can find them (and more) at the Third Annual American Fine Craft Show, which will be housed in the magnificent two-story Beaux-Arts Court of the Brooklyn Museum. There you can shop an extraordinary selection of handmade items including ceramics, jewelry, furniture, and much more. 90 of the nation's finest craft artists will be present, and the craft show entrance fee includes Museum general admission. Win-win!
Brooklyn Museum, 200 Eastern Parkway, Brooklyn, 11:00 a.m. – 6:00 p.m. Tickets are $16 for adults, $14 for seniors, $10 for students with valid ID, $8 for Museum Members, and free for children under 12.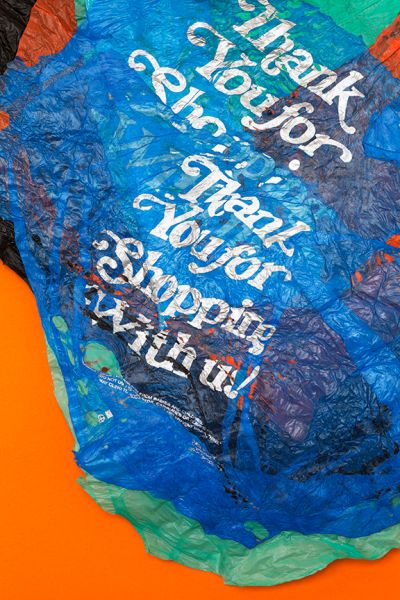 Opening: Miranda Lichtenstein "more Me than mine" at Elizabeth Dee Gallery
Ms. Lichtenstein has entered a new, formally adroit stage in her career, and her new works are full of radiant color and light despite their humble subject matter: bodega bags. Here she has photographed the sewn and hewn deli bag-based artworks of Josh Blackwell, which are often emblazoned with the ubiquitous "Thank You" greeting on their fronts. In the end, Lichtenstein's works critique the consumer individualism that has led to the rampant use of this disposable petroleum-based product, but it's also a call to arms to repurpose and lose that consumer ego (as Lichtenstein has placed another artist front-and-center in her work). There will also be a collaborative sculptural floor installation done with scans of Blackwell's sculptures that have been inkjet printed, silhouetted and cut away. An island of sad and beautiful bags.
Elizabeth Dee Gallery, 545 West 20th Street, New York, 6:00 – 8:00 p.m.
SUNDAY NOVEMBER 22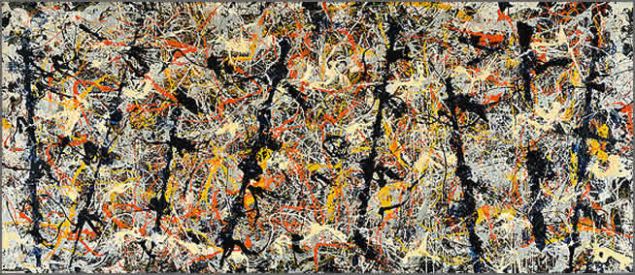 Opening: Jackson Pollock "A Collection Survey, 1934-1954" at MoMA
Jackson who? Oh right, this guy. He's only one of like, the three greatest artists of the 20th century, remember? It's been a while since we've seen a Pollock show, but this exhibition will offer a unique survey of his work, tracking his artistic evolution from the 1930s and early 1940s, when he made Picasso-esque figuration based on mythical or primeval themes, to the late 1940s and early 1950s, when he pioneered his radical drip works, garnering him the nickname, "Drippy McGee" (just kidding, it was "Jack the Dripper.") The exhibition supposedly features around 50 works—paintings, drawings, and prints—from the Museum's collection, which pretty much makes other museum Pollock collections look like little flabby-baby Pollock collections. Among the super-hits on view will be One: Number 31, 1950 (1950), arguably Pollock's masterpiece, but there will also be rare and little-known engravings, lithographs, screen prints and drawings included. Clearly the guy was a relentless experimenter as well as an amazing artist, and that should be on full display here. So go and pay your respects to the guy that won a bunch of Oscars for Ed Harris.
MoMA, 11 West 53rd Street, New York, 10:30 a.m. – 5:30 p.m.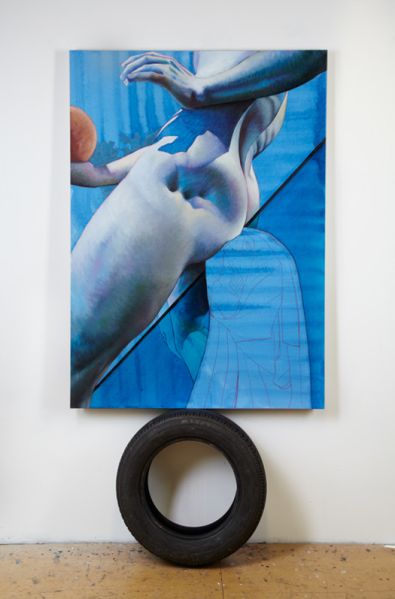 Martin Gustavsson "El Mirage" and Stanley Love Performance Group at Participant Inc.
Now here's something different, thank Christ… It's an exhibition of new paintings by Martin Gustavsson that were explicitly made to be used in the performance works of the Stanley Love Performance Group. The opening will double as a special performance in honor of Performa's 10th Anniversary, Performa 15. After a conversation five years ago with his late friend the performance artist, curator, writer and collaborator Ian White (1971-2013) on how to fuse painting and performance, Gustavsson has created a mobile painting environment for intervention. Heavily indebted to the 1961 Genet play The Screens, Gustavsson's sets up his own screens—paintings affixed onto metal structures on wheels—which the Stanley Love Performance Group will use as a rehearsal space, an area for interacting with viewers and just generally a room to do some cool stuff in. The SLPG offers "a large ensemble of diverse bodies" so warning: this ain't no Swan Lake. Though it's a highly structured and choreographed routine, it's also a wildly interactive event.
Participant Inc., 253 East Houston Street, New York, 7:00 p.m.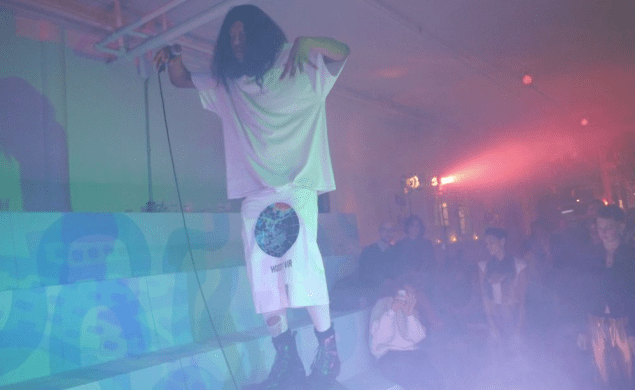 Performance: Grand Finale at Performa
Can you believe its over? Another Performa has come and gone. But it will go out with a serious bang at this raucous party, which will include the presentation of the third edition of The Malcolm McLaren Award. Celebrating the young and the bold, the Malcolm McLaren prize will be awarded to an artist who's contribution to this year's biennial represents "risk-taking and an irreverent spirit." The cash prize of $10,000—along with an award created by designer Marc Newson—will be presented by McLaren's life partner Young Kim and punk icon Richard Hell, inspiration to the Sex Pistols and disgruntled youths everywhere. The smart money to win is on Juliana Huxtable, but look for the puppet guy to be a dark horse in this race.
Performa, 518 West 27th Street, New York, 9:00 – 11:30 p.m. Tickets – $45