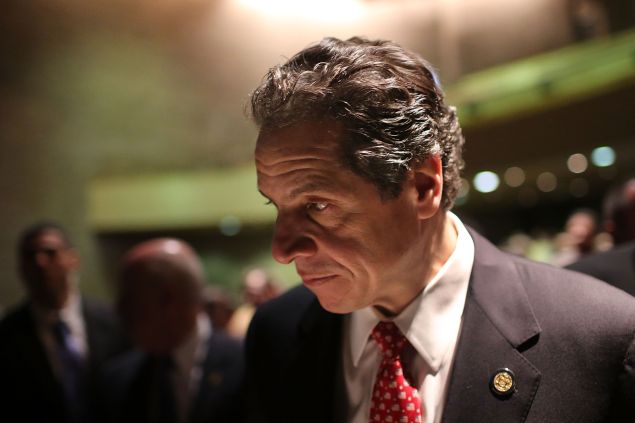 Westchester County Executive Rob Astorino—the 2014 Republican candidate for governor—today suggested Gov. Andrew Cuomo suffers from "insecurities," and offered to help connect Mr. Cuomo with therapy.
Mr. Astorino was responding to comments Mr. Cuomo made earlier today, in which the Democratic governor argued that Mayor Bill de Blasio should not appear beside the socially conservative GOP politician at a press conference calling for greater federal infrastructure investment this evening. Mr. Astorino blasted the governor, a resident of Westchester's Mount Kisco, and said he would be willing to connect him with local mental health resources to deal with his inner demons.
"You know, it seems to me that the statement that the governor made was completely out of line, number one, and just from my observation, it seems like the governor has some insecurities," Mr. Astorino told the Observer at the presser in Penn Station. "Since he's a constituent of mine, I'd be more than happy to set him up with our Department of Community Mental Health if he actually needs some help on this issue."
"I am going to work with the mayor whenever we can see eye-to-eye and can advance an issue that's important," Mr. Astorino continued.
A laughing Mr. de Blasio, a liberal Democrat who differs with Mr. Astorino on many issues, declined to back up the Republican's diagnosis of Mr. Cuomo's psychology but echoed his calls for bipartisanship.
"I don't agree with his last comment, with all due respect to him," Mr. de Blasio said. "We have to work with people across the aisle."
At an event in Brooklyn today, Mr. Cuomo had taken aim at Mr. Astorino's opposition to legal abortion and to asylum for Syrian refugees—instances of rare agreement between the feuding governor and mayor.
"You're talking to the wrong guy if you think I'm going to be able to decipher the mayor's politics," Mr. Cuomo told the Observer. "But I can tell you the Republican who I ran against, this is a man who is against a woman's right to choose, this is a man who wants to lock refugees out of this country. It is not a person who I would want to stand next to."
But Mr. Cuomo himself has not shied away from working with plenty of Republicans who espouse similar views to Mr. Astorino, routinely pointing the state government's bipartisanship and having been attacked by his own party for being too cozy with Senate Republicans under former Senate Leader Dean Skelos and his replacement John Flanagan.
Mr. de Blasio said he had not invited Mr. Cuomo to this evening's event on transit infrastructure, saying it was intended for "regional leaders" like county executives and congress members, but said the governor has been "very supportive" on the issue of lobbying Washington to pass a generous transportation bill.
Mr. Cuomo's office did not immediately respond to requests for comment on Mr. Astorino's remarks.