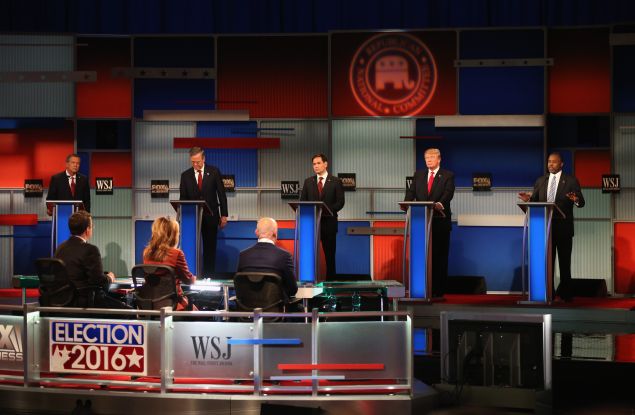 We're a year away from Election Day, and we're already up to the fourth televised debate of the Republican primary. This one, hosted by Fox Business Network and held in Milwaukee, brought eight candidates to the stage. What exactly happened up there? Who did Donald Trump call a loser? Who got the cool zingers? Who dared to be substantive?
A few takeaways.
1. This is what Republican populism looks like.
While Donald Trump has drawn plenty of criticism for an opposition to immigration reform that has been deemed racist–he bragged again about building a giant wall along the Mexican border–Sen. Ted Cruz of Texas claimed tonight that proponents of immigration only want a cheap source of labor to undermine American workers. Both men have seen their poll numbers rise, and immigration is the issue driving their surge. Meanwhile, Mr. Trump continued to break with many in his own party to deride the Trans-Pacific Partnership as a "horrible" deal. Mr. Cruz promised to clamp down on corporate welfare. Each Republican is exposing a rift between the low-income GOP base and the affluent donor class. A big question for the Republican Party will be if the path to the White House is paved by white working class voters or disaffected Latinos flocking to the Democratic Party in the general election.
2. A Texas-sized gaffe. 
Mr. Cruz may be a Harvard-educated debate champion, but he proved tonight he wasn't immune to the almighty debate gaffe. Like his fellow Lone Star Republican, Rick Perry, Mr. Cruz tried to name federal agencies he would eliminate to ensure he cuts $500 billion from the budget. "Five major agencies that I would eliminate: the I.R.S., Department of Commerce, the Department of Energy, uh, the Department of Commerce and HUD," he said, naming Commerce twice. Twitter was aflame, though this gaffe is unlikely to sink Mr. Cruz's campaign like it did Mr. Perry's. Mr. Perry during a 2011 debate infamously said "oops" when he could not remember the agency. Grassroots conservatives are too loyal to Mr. Cruz to abandon him after this.
3. Jeb was Jeb.
He had his higher energy moments. After Mr. Trump said he wanted Vladimir Putin to "knock the hell" out of ISIS and endorsed taking a hands off approach to the Middle East, Mr. Bush jumped on the billionaire, telling him "that's like a board game, that's like playing monoply. That's not how the real world works." Otherwise, he often took a back seat, speaking less than Mr. Trump, Mr. Cruz and Carly Fiorina, the former Hewlett-Packard CEO. He stumbled over his words at times and didn't seem to do enough to vault himself back into the realm of the front-runners.
4. Trump was Trump.
He was bomastic, bullying and charismatic after quiet performances in recent debates. After Ohio Gov. John Kasich called his immigration plan "silly," Mr. Trump struck back. "You're lucky in Ohio that you struck oil," he said. As the back-and-forth heated up and Mr. Kasich started talking over him, Mr. Trump jumped, saying "I don't have to hear from this man." As Mr. Kasich looked to cut in again, Mr. Trump suggested he "let Jeb speak."
5. Can Rand Paul Save Himself?
The Kentucky libertarian, once a rising star in the party, lashed out at Sen. Marco Rubio of Florida for not being true conservative because he proposed a "new welfare" paid family leave program. Mr. Paul's poll numbers are lagging, he's short on cash and in desperate need of a breakout moment to put him in the first tier of candidates. Whether he got it tonight is up for debate. Mr. Rubio mocked Mr. Paul, calling him an isolationist, and got plenty of cheers from the Milwaukee crowd. Hawks are plentiful in the GOP and Mr. Paul's call for a cut in defense spending appears out of touch with what Republican voters and donors want. Will Mr. Paul be the next Republican knocked to the undercard?
Disclosure: Mr. Trump's son-in-law, Jared Kushner, is the publisher of Observer meida.