Two weeks ago, we looked at the prospects for YouTube's new subscription service, YouTube Red. Since then, bearish stories have arisen from both YouTube creators and media outlets including ESPN. On November 6, No. 1 YouTube star PewDiePie reported his reason for supporting Red: the rising use of ad blockers—which YouTube believes has jumped from around 15 percent to 40 percent in the past five years.
In other words—to adjust to consumers' frustration with ads—YouTube wants to add subscription revenue to their current model of ad revenue.
The irony is thick.
Where TV Money Comes From
As YouTube came to power from 2005-7, the TV ad business was being slapped by the growth of DVR and beginning of VOD. It might not have mattered if there were still no alternative to TV ads—but now advertisers had the glimmer of a choice: they could start to, very slowly, move ad dollars online.
TV felt the fear of lost revenue, but had a massive buffer: the 80s and 90s explosion of subscription revenue.
Here's how that works, in brief:
You pay a distributor (Comcast, DIRECTV, etc.) a monthly fee for TV service
That distributor pays a piece of that fee to each network you receive
For small networks like Nick 2, that fee might be two cents a month; at the top end, for ESPN, that fee might be $5.54 a month – currently over $70 per household per year (2013 license fees, per SNL Kagan)
YouTube hasn't gotten a limb into the subscription money sluice… until now. That's why it created YouTube Red. And while YouTube's total ad revenue has been climbing, its revenue per ad has been falling.
So what did YouTube do? They added more ads! Just like on TV.
Alas, there's a problem: the more ads people are forced to sit through, the more likely they are to install ad blockers (see here and here for background).
So what do ad blockers remind us of? That's right…DVRs! Second verse, same as the first.
So in brief: YouTube, the engine so many predicted would decimate TV (here, here here, etc.) is now at the mercy of the same problems.
So as YouTube works to make Red worth paying for, what should they do?
They should study the last broadcast network team to re-invent the network.
1. E.R.: The Rise of Attention Television
By the early 90s, the Big Three broadcast nets were under assault. Cable and FOX were destroying a 40-year oligopoly—and no one felt the pressure more than NBC. Seinfeld was a breakthrough—a major break from the family and workplace comedies of the past. Mad About You, Frasier and Friends made NBC the home of modern comedy—but in drama, the network had lots of ground to cover.
In 1993, Jurassic Park was a box office monster. When Steven Spielberg asked Michael Crichton to write a sequel, Crichton demurred: instead, he had another script he wanted to get made, based on his time as a med student in Boston.
At NBC, Warren Littlefield read Crichton's 20-year-old script with dismay: "it was about 180 pages, and it was all over the place. It probably had over a hundred characters." But there was something there: the doctors were human. They were real. But there was a lot of work to do for the script to be ready for primetime.
According to then-Head of Drama Development David Nevins, NBC offered to make the script as
a two-hour movie…but [Crichton and Spielberg] turned it down. Nobody bit on their ask for thirteen episodes, and Warren stayed after them. Maybe two months went by, and Warren kept calling them.
Crichton was slow to commit – so slow that once he did, there was almost no time to plan. But as often happens in media, a major limitation drove major innovations. Rather than polish the show, show runner John Wells opted to keep it raw:
We decided we wanted to take people into this world…It felt real compared to what had come before… We wanted to make ER feel like it was realer than what you could get someplace else.
It's important to remember what TV dramas had been for decades: self-contained mini-plays that viewers could fall into quickly without getting confused. TV drama was designed to be easy, so the average kid could follow along, while playing with Lego or doing her homework.
But beginning with Hill Street Blues, and then into NYPD Blue, a few shows raised the bar – expecting more from audiences. According to Littlefield:
[On Hill Street Blues], an episode was 24 hours [but] story lines would go perhaps one episode, up to a four-episode pod, and so episodes would begin, track through on one night. An episode story line would end, another one would begin, and another one would carry forward for another week. It was really fascinating… and people really paid attention.
Hill Street Blues had started Attention Television; perhaps E.R. could perfect it:
[We thought] the storytelling, the narrative, could be done in a way that hadn't been done before…That in the frame there was something going on in the foreground, in the mid level and level and in the background –  and no one had been putting that amount of information on TV. So it was literally like lean forward, and follow it all because you needed to follow all the layers, of what was going on in that narrative.
Not everyone at NBC like E.R. The medical jargon, the multi-episode arcs, and the need to pay attention was despised by some executives. But for those on show, including George Clooney, the new style was a godsend. Actor Noah Wylie says:
We reinvented the sense of pace. Employing the Steadicam (moving camera] on those long walks and talks.. the multi– story line— you'd start a story on its third beat instead of the first. This idea that the ER was just a transition place, people were coming through constantly, and you only got a glimpse of the stories as the show went along.
No one knew how audiences would take pace and compression of E.R. But the new form of storytelling paid off: E.R. became the highest-testing NBC pilot of all time. By its sixth week on the air, the cast was on the cover of Newsweek. NBC cleared over a billion dollars in revenue, and created a show with massive cultural currency. On Fridays, every office talked about E.R.
As Wylie says,
For forty-eight minutes a week, we had the opportunity to tell half the country anything we wanted.
In each new era, incumbents to either reinvent themselves, or fall back on what worked in the past. As YouTube begins speaking to its second generation, it has the opportunity to nurture new forms of narrative. Given the competition in subscription – from Netflix to Hulu to HBO Now –YouTube Red would do well to look for its E.R.
2. Homicide: Stand For Something
If their content choices had been all about ratings, Homicide: A Life on The Streets would never have aired.
But when Director Barry Levinson brought the concept in, NBC saw its value: as a magnet for talent and viewers and as a statement about what NBC stood for. According to Littlefield,
As we were seeing what NBC could be, Barry [Levinson] said "Look, I have this book…David Simon is a newspaper writer in Baltimore, and here's the world it presents."

Then Barry brought in Tom Fontana, because David had never done anything [in TV].. and it became David's learning trade, and it was once again, television that we hadn't seen before.

Ultimately, I just parked it there on Friday nights… I just said, "Look if we can keep this on Barry's initial vision, where it isn't too expensive, we'll sit it here for a long time."

And Bochco called me midway through our run and goes, "Why can't I have a show that someone just parks on a network schedule, leaves it alone, and lets it percolate… I'm really jealous." And I said, "Yeah, it's not a big hit, but we're really proud of it."
Homicide became a breeding ground for new TV writers and directors. On the strength of the show, both Fontana and Simon found their way to HBO. There, Tom Fontana created Oz, the groundbreaking drama that paved the way for The Sopranos.
Homicide was the launch pad for David Simon's next show ­– one that, like Homicide, was a ratings loser. It was called The Wire.
If NBC hadn't parked Homicide, The Wire likely never would have happened.
So who are the new David Simons—the great new artists that no one has heard of, but who will transform online video by creating something great?
Does YouTube have to look for them? Maybe not.
But if they want to build a subscription brand, probably.
"NBC 2000": Producing the Network
Before Must See TV, every show ran on television largely self-contained: they began and ended the way they were delivered. Networks didn't brand heavily—they didn't have to. There were only three choices, after all—where were people going to go?
By the late 1980s all of that had changed. According to one former NBC executive,
It was a time of hand-to-hand combat, and we talked about it exactly that way…. if we could get two-tenths of a point on that night, that would make us win that week. Winning that week would allow us to have a big enough audience to push to the next week.
The combat accelerated as cable became a major threat, and networks like MTV, ESPN and CNN became iconic brands. Unlike CBS, NBC and ABC, these new networks never let you forget who you were watching. In Littlefield's words:
We were watching early cable. And in a cable world, if you're MTV or ESPN, up 24/7, you are a consistent, branded form of content. We saw they had a massive advantage: that the cable world had a unified approach to their content. So we needed to be a more cohesive whole…. reclaim all of this airtime – and actually produce the network.
The goal was to create a seamless experience, to produce the evening as a unified NBC event:
…from the moment we went out of local syndicated product at 7:59, if your television was on, if you were watching NBC, what did that feel like? What did that look like? What did that sound like?

It was a way of taking diverse product, and uniting it under an experience that was NBC
To keep the night cohesive, NBC sought to "squeeze back" credits – the time that viewers are most likely to click away. It was the first time a network had ever tried to do this, because credits were untouchable under union rules. So a marketing initiative called "NBC 2000" began – with massive union negotiations. They involved, says Littlefield:
How you treat credits, how they go, where they go, what size, all of that. We were changing all the rules. And of course, the initial response was, "No, you can't do that." And our approach was: "We must. We need to do this together… this change is inevitable.
According to Vivi Zigler, Former President of Digital at NBC:
[NBC marketing chief John Miller] actually went around and talked to all of the labor guilds, and said, "We'd like to take credits on the shows, and we'd like to squeeze them back a little bit in a window," anticipating, of course, that they were all going to scream. But John had it completely developed: "Let me tell you why. Right now, when we get to credits, and we can see it in minute-by-minute Nielsen ratings, people turn away. We want to give them a reason to stay.

We want them to stay for the next show, but you should have the same goal because, otherwise, they won't watch the credits at all.
The new agreements over credits allowed NBC to push into new territory. They could extend the current show with scenes that played over its credits. They could tease the upcoming show with promos directly before it began.
NBC 2000 was a huge success, keeping viewers watching NBC, instead of scanning to see what was on other networks. According to an NBC marketing executive:
We began to introduce program content next to the credits…So "Friends" would come back with a button scene, some little surprise, like we all watch for now at the movies. It was a real piece of comedy, sort of almost like a coda at a symphony.
"Producing the network" helped NBC launch new shows, retain more viewers, and eventually grow NBC Thursday night revenue to exceed that of the entire week at other networks.
20 years later, we're in the age of the three-minute video. Instead of deciding what to watch one or two times an hour, YouTube viewers make that same decision about 15 times.
How does an online network keep viewers in their world? For YouTube itself, it may not matter; they're the biggest game in town – and any video means another ad. But for YouTube Red, MCNs (multi-channel networks) or specific artists, the answer is critical: once you have a viewer, how do you keep them?
Legacy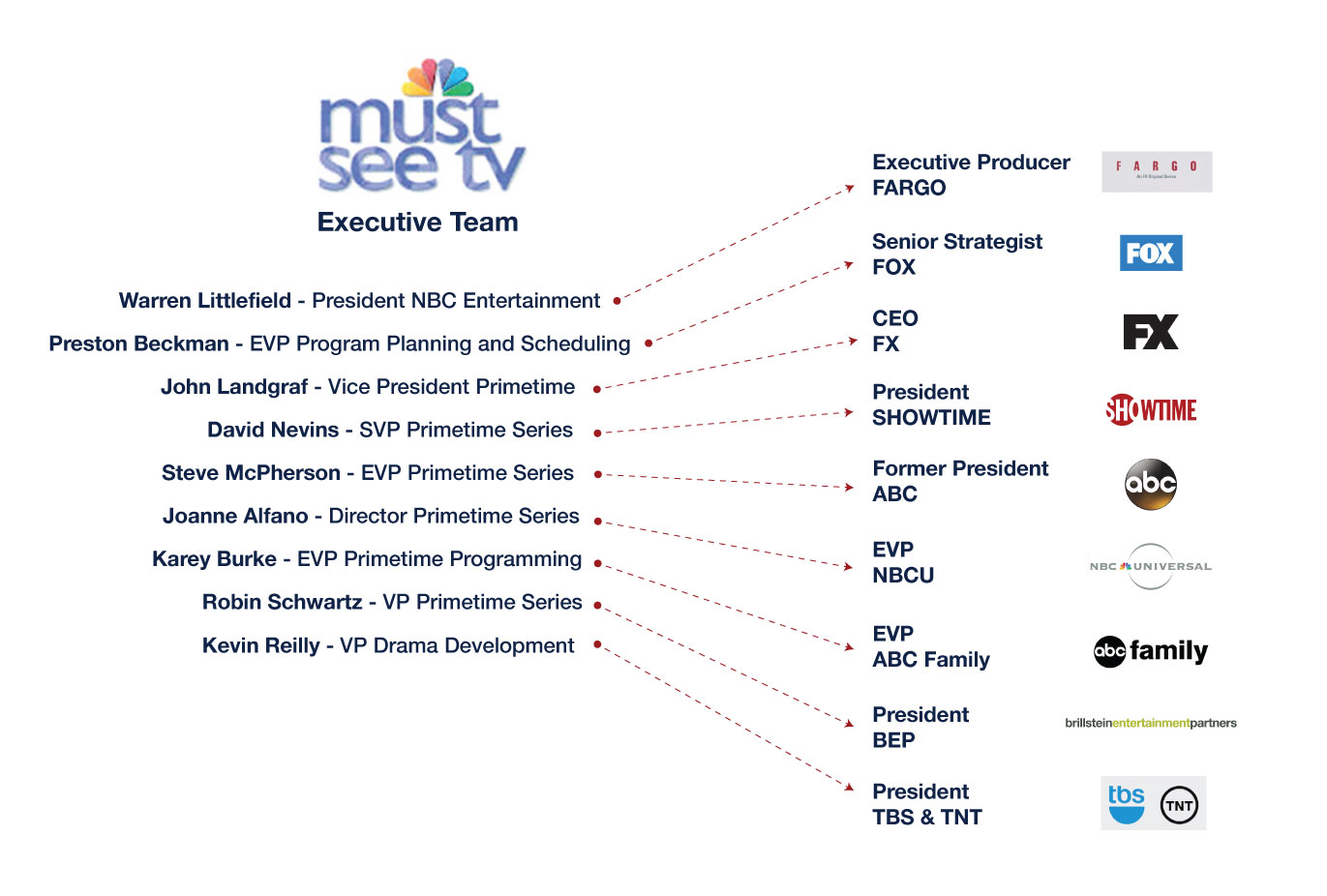 While Seinfeld and Friends live on as billion-dollar properties, the greatest legacy of Must See TV is its team.
Warren Littlefield is now Executive Producer of the Emmy-nominated drama Fargo
Preston Beckman left NBC to become Senior Strategist at FOX, where he was instrumental in the strategies of American Idol, 24 and many others
John Landgraf oversaw The West Wing at NBC, then became the highly-regarded CEO of FX, where he's overseen hits from The Shield and Rescue Me to Sons Of Anarchy and Louie – and Fargo
David Nevins went from E.R. and Homicide to Friday Night Lights and Lie To Me; he is now Chairman of Showtime
Kevin Reilly left NBC to become Chairman of FOX; he is now President of TBS and TNT
Karey Burke, instrumental in the success of Friends, is now EVP at ABC Family.
Steve McPherson ran ABC during the massive success of Lost and Desperate Housewives.
If you want big hits, build a great bench. That's what Littlefield did. Together, the 90s NBC team created a triumph: the last great era of broadcast TV.
The Future of YouTube
YouTube is likely the most powerful platform in the world. It has at least three macro trends supporting it:
The first is that generational consumption shifts never reverse. People didn't move from radio to TV and then back to radio, any more than they switched from the horse to the car and then back to the horse. The Super Bowl garnered 1 billion online views this year – a respectable number. But Gangnam Style alone has had 2.5 billion views, and the Top 10 YouTube videos have an aggregate 26,288,140,065 views.. That's about 215 instances of TV's peak, the final episode of M*A*S*H.
The second trend is global reach. For the first time in human history, a global audience of billions can see the same thing at the same time. And it can be something, as with PewDiePie, made for very little no money and with almost no production time.
The third trend is the dominance of broadband distribution. For a variety of reasons, we have left the second age of media—the Cable Age—and moved solidly into the Broadband Age. We'll discuss this in future columns, but it's a net win for YouTube.
But there's a fourth factor that's less a trend than a truth—one defined by Clayton Christensen in The Innovator's Dilemma. And that is, simply, that no one rules forever.
IBM dominated hardware, but lost software to Microsoft. Microsoft dominated software, but lost the smartphone and device economy to Apple.
When thinking back on the glory days of NBC, Senior Scheduler Preston Beckman told me something similar:
"[When NBC was at the top] I read a book by David Halberstam called The Breaks of the Game. It was about the Portland Trailblazers…[Halberstam] followed them. They win the championship, and he thought they were going to be a dynasty. And he followed them the next year, and it turned out they fell apart. And the book was about how difficult it is to maintain dynasties.

I gave it to Warren and I said, "Read this. Because this is going to happen eventually. We just have to be smart enough to prevent it from happening quickly."
How YouTube's management deals with these forces will define its next era, for better or worse.
Two-time Emmy award winner Seth Shapiro is a leading consultant and speaker in innovation, media and technology. His first book, Television, will be published this spring. He teaches at USC School of Cinematic Arts and can be reached at info@sethshapiro.com.