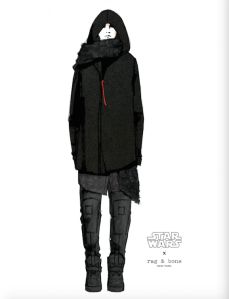 This December, the force will awaken more than just the hearts of longtime George Lucas fans. It will leave its philanthropic mark on New York's fashion world.
On behalf of Star Wars: Force For Change, a charitable initiative that empowers people to make a positive impact on the world, Bloomingdale's and Disney (DIS) Consumer Products have teamed up with some of our favorite designers to encourage a mutualistic relationship between fashion and film. They call it Force 4 Fashion.
The collection will feature Star Wars designs by Cynthia Rowley, Diane von Furstenberg, Giles Deacon, Halston, Opening Ceremony, Ovadia & Sons, Parker, Rag & Bone, Timo Weiland and Todd Snyder.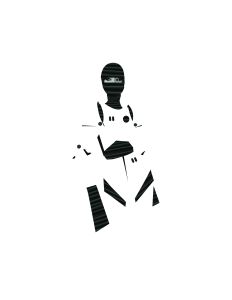 Their inspiration: early sketches from Star Wars: The Force Awakens costume designer Michael Kaplan.
"This collaboration celebrates the distinctive synergy between film and fashion in the run up to an exceptional moment in the history of pop culture. We're excited to see how this incredible lineup of designers interpret Star Wars characters in unique ways, as well as to raise money for a great cause," said Leslie Ferraro, co-chair, Disney Consumer Products and Interactive Media and president, Disney Consumer Products.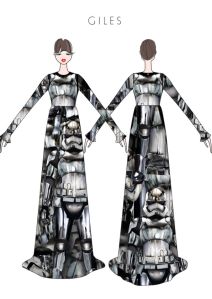 Though brands like J.Crew and Hot Topic have also pursued similar franchise-inspired fashion ventures, Bloomingdale's and Disney Consumer Products hope to channel their collection's fundraising initiative.
"We are excited to fuse fashion with pop culture to raise awareness and funds for our long standing partner, Child Mind Institute, which has been a pioneer for children's mental health," said Anne Keating, Bloomingdale's Senior Vice President of Public Relations, Special Events and Philanthropy.
One of the collection's strongest feats is its versatility. In addition to the traditionally androcentric looks, it also includes trendy outfits inspired by the new film's female characters. A sketch that pays homage to Rey, for example, showcases and acknowledges the film's gender-neutral fan base.
The looks will be revealed at a Force 4 Fashion launch event presented by Kay Jewelers on December 2. If one of the outfits happen to catch your eye, you can easily bid on CharityBuzz.com. But if you need that money to buy a Secret Santa gift, don't fret: you can still admire the samples the following day in Bloomingdale's NYC flagship windows.
Winning bidders will be revealed the week of December 12. Not only will these winners transform mental health care for children diagnosed with psychiatric and learning disorders, they'll look good doing it. Now that's a powerful force.