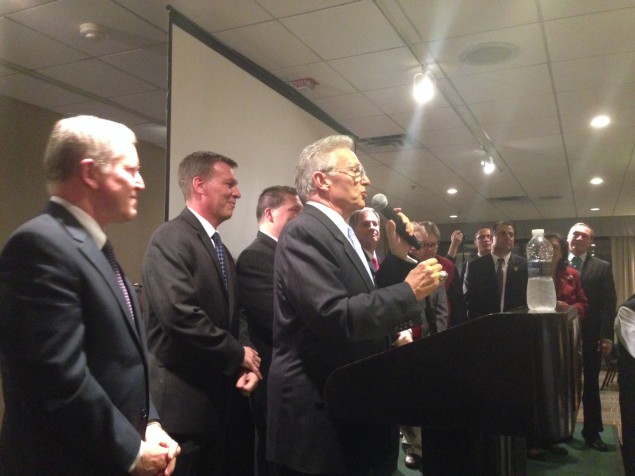 HASBROUCK HEIGHTS – The highest ballroom at the Hilton was packed as Democrats celebrated their sweeping victory in the county's freeholder race and the competitive district of LD38.
Attendees celebrated Lou Stellato, the chairman of the Bergen County Democratic Committee, for his leadership in bringing home the three victories despite the low turnout year.
"We have to enjoy tonight because tomorrow we have a new election to focus on," said Stellato to the crowd, referencing elections like the Bergen County Sherriff and the upcoming CD5 race. "We will have a woman in the White House. The year after that we will put a Democrat in the state house. After that, Republicans will be left in the outhouse."
Assemblymen Joe Lagana and Tim Eustace protected their seats as did incumbent freeholders Tracy Zur, Steve Tanelli and Tom Sullivan.
"Tonight is all of our night," Zur said when she joined the likes of Senator Paul Sarlo, Senator Bob Gordon, County Executive Jim Tedesco, Assemblywoman Marlene Caride and freeholder Joan Voss on the crowded stage in the ballroom.
Gubernatorial hopeful Phil Murphy also came out to the event close to its end just after 10 p.m.