When Netflix debuted its first of four Marvel-centric series it went with Daredevil, a title you may not be an expert on, but are most likely familiar with from cultural osmosis at the very least. After all, you don't need to be an avid comic book fan to know the names Ben Affleck (played the character in 2003), Stan Lee (invented the character), or even Frank Miller (for better or worse, re-invented the character in the 80s).
For Daredevil's follow-up, Netflix popped on its thick-rimmed glasses and took a deep dive into Marvel's back-wall for Jessica Jones. For those without the benefit of countless long boxes filled with comics lining your bedroom, we've created this handy guide to all the major players appearing in Jessica Jones, who is playing them, and why exactly you should care.
Jessica Jones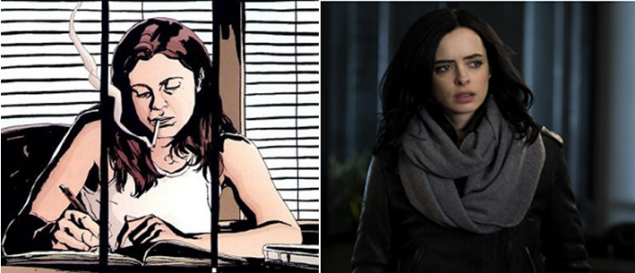 Played by: Krysten Ritter (Breaking Bad, Don't Trust the B– in Apartment 23)
Bio: Life has always been kind of hard for Jessica Jones. As an attendee of Midtown High School, Jessica had a crush on a classmate named Peter Parker. Unfortunately, just as she worked up the courage to approach him, Peter went and got bitten by a radioactive spider and from then on was too busy swinging from buildings and avoiding Willam Dafoe. Not longer after, a collision with a truck carrying (what else) radioactive material gave her super-powers of her own. Jessica used her newfound abilities to fight crime as Jewel…for about a month, until Zebediah Killgrave kidnapped her, kept her prisoner for eight months, and used his supernatural influence to convince her to murder Daredevil.
Once that whole debacle was through, Jessica retired from the superhero game and inherited Alias Private Investigations in Brian Michael Bendis' Alias # 1 (which has no relation to the FOX show). This signified a significant change in the character, in both career and attitude. Changed by the ordeal with Kilgrave, the wide-eyed and optimistic Jewel gave way to the badass, no-bullshit super-powered private investigator Jessica Jones.
Why You Should Care: Well firstly, having a female superhero as the main character of any show is noteworthy. But Netflix's Jessica Jones isn't just a female superhero — she's a hard-drinking, gives-no-fucks female who kicks as much ass as she does save the day. Ms. Ritter described the character to us at Comic-Con: "She's rough around the edges. She's dry, she's sarcastic. She's basically a total asshole."
Just generally though, Jessica Jones is the dark corner of the Marvel universe if you're seeking shelter from the glossy Avengers films. You should care not because this is a great comic book show, you should care because it's a great show period.
Mandatory Reading: Alias, Vol. 1; The Pulse, Vol. 1
Luke Cage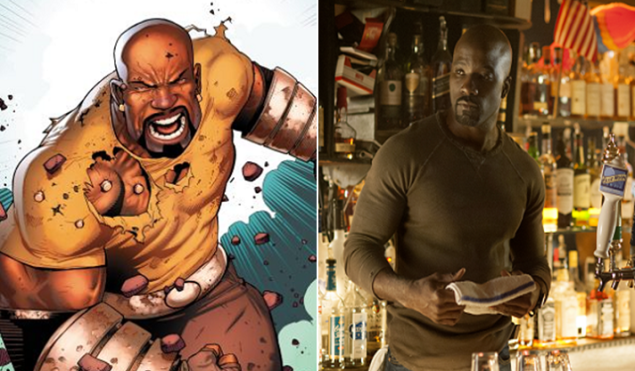 Played By: Mike Colter (The Following, The Good Wife)
Bio: Carl Lucas was trying to leave behind his gang-member past when he was jailed for a crime he did not commit. In prison, Dr. Noah Burstein enlists Lucas in an experimental process, an off-shoot of the procedure that transformed Steve Rodgers into Captain America. Because this is a comic book, and comic book prison guards are always corrupt, the experiment is tampered with and Lucas is pushed far past the intended limits of the testing. Instead of dying, he gains superhuman strength and bulletproof skin, naturally.
Once out of prison, Lucas takes on the moniker Luke Cage and begins a career as a Hero for Hire, providing his superhuman help to anyone who could afford it. In the late 70s, with sales of Luke Cage's starring series slipping, Marvel teamed the character up with a similarly struggling character known as Iron Fist. Iron Fist, real name Danny Rand, is supernaturally skilled in martial arts, and Luke Cage is a big dude with unbreakable skin. For years, the two kicked all asses.
Why You Should Care: So many reasons. For one, the character is slotted to head up his own 13-episode Netflix series following Jessica Jones. Following THAT, the streaming network has an Iron Fist series in development, all to culminate in a Defenders special starring Daredevil, Jessica Jones, Luke Cage and Iron Fist. So anything Cage does in Jessica Jones has to count as taste of what's to come.
Also, diversity, something the world of comic book shows (and, well, just comic books) has been sorely lacking since the beginning. Luke Cage's appearance will eventually lead to the first African-American led superhero show, ever, for any company.
And, it should be noted, Jessica Jones and Luke Cage eventually get married in the comics books. So expect that sweet, sweet sexual tension.
Mandatory Reading: New Avengers, Vol. 1 & 2; Luke Cage: Hero For Hire, Vol. 1; Luke Cage Noir
Zebediah "The Purple Man" Killgrave
Played By: David Tennant (Doctor Who, Gracepoint, Harry Potter and the Goblet of Fire)
Bio: While working as a Soviet spy, Zebediah Killgrave experience an unfortunate exposure to an experimental nerve gas. It turned his skin purple, yes, but it also gifted him with the ability to control people with his voice (and the pheromones under his purple skin). Naturally, he turned to crime.
For years, Killgrave was more of a Daredevil villain, usually dragging Matt Murdock's secretary Karen Paige into the mess (for a while, Killgrave was in love with Paige). Eventually though, in 2001, he came across a young hero named Jewel trying to break up a riot, held her as his captive for eight months, and the rest is history.
Why You Should Care: Kind of like Lex Luthor and Superman, the Joker and Batman, or Captain America and Red Skull, there would be no Jessica Jones as we know the character today if it wasn't for Zebediah Killgrave. Netflix has taken a smart route (depending on your tastes), opting to give Tennant's variation on the character a tendency toward purple clothing, instead of just being purple. Although it took Matt Murdock an entire season to don the proper Daredevil costume, so you never know.
Mandatory Reading: Daredevil Vol. 1 #4, Daredevil, Vol. 4; Alias, Vol 1
Creator Melissa Rosenberg
Bio: Ignore the fact that Ms. Rosenberg wrote every big-screen adaptation of the Twilight Saga (or don't ignore it, because those movies made a shit ton of money). She was also executive-producer and head writer of Dexter from 2006 to 2009, right around the time that show was one of the best things on TV, and right before it imploded creatively.
Why You Should Care: Her time on Dexter gave Ms. Rosenberg valuable experience with allowing a character to be reprehensible while making the audience love them, a trait not lost with Jessica Jones. More than that, though, Ms. Rosenberg has demonstrated not only a strong grip on the character's history, but a passion for creating something unique. When we spoke at New York Comic Con, she had this to say:
"Marvel wasn't afraid as a studio to let Jessica Jones make some really stupid ass decisions. To be wrong, to be ugly. To go into these dark places. That's defined the show. You can have a character that is really fucked up, but there is something at her core that keeps us with her…

I get asked all the time, 'How do you create a strong female character?' And it's like, just create a strong character. You don't assume gender. It certainly informs the character, and the storytelling, but it's not who she is."
Mandatory Watching: Dexter, Season 4
All episodes of Marvel's Jessica Jones will be available to stream on Netflix Friday, November 20.