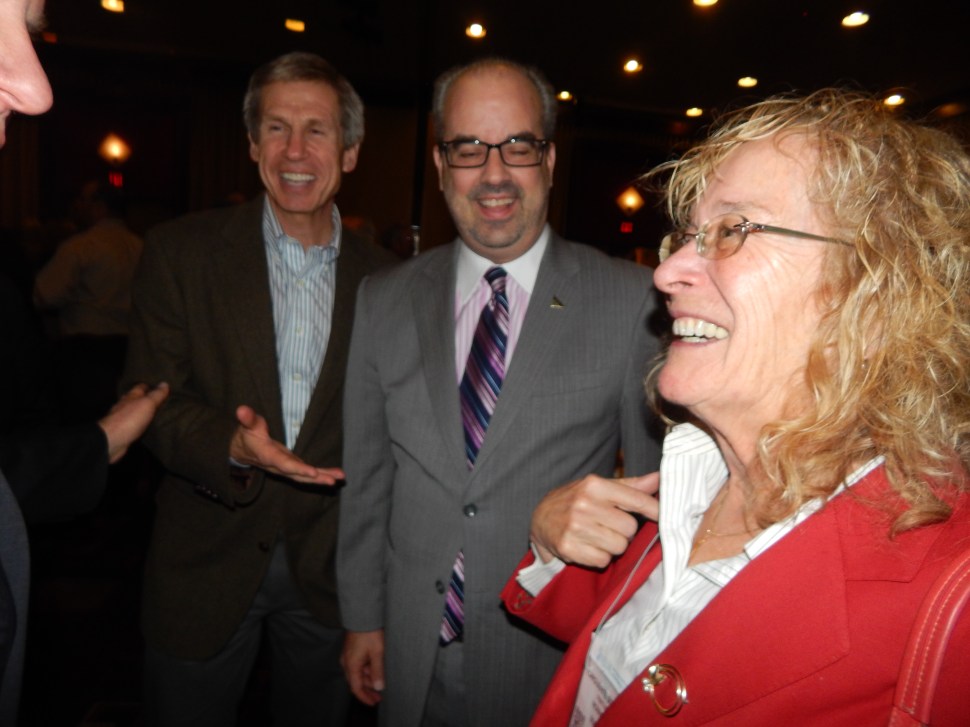 WINNERS
Andrew Zwicker
The Princeton University plasma physicist from Kingston defeated incumbent Assemblywoman Donna Simon (R-16) by 76 votes. Zwicker now must ready himself for reelection and the likelihood of a reanimated Simon trying to take her seat back in 2017, with a gubernatorial contest at the top of the ticket supplying very challenging dynamics for the professor, a Democrat.
Peg Schaffer
The veteran Somerset County Democratic Chair celebrated the largely unexpected win by Zwicker, whose presence in the Statehouse gives the Somerset chairwoman a second assemblyperson (in addition to Franklin's Joe Danielsen) in Trenton.
Mark Matzen and Seth Levin
Longtime Central Jersey operative Matzen – a member of Team Booker – lent his veteran chops to the Zwicker cause, while understated but busy political operative Levin served as the assemblyman-elect's campaign manager.
Kerry Coley
In the lead-up to the 2016 mayoral election, the Orange Democratic Committee this week awarded its support to the councilman-challenger.
UNDETERMINED
Cory Booker
On the one hand, the junior senator from New Jersey could thump his chest for helping to secure federal funding for the Gateway Tunnel project. But trustees of the bankrupt Newark Watershed Conservation & Development Corp. also filed suit against the former mayor of Newark, in a case targeting the senator and a range of other and public and private officials for mismanagement and corruption at the NWCDC.
Chris Christie
He acquitted himself well in the Fox Business News debate – but it was the kiddie debate.
LOSERS
Donna Simon
The 16th District incumbent Republican assemblywoman from Readington appeared to be headed for a loss over a week after the low-turnout election and the final tally put Zwicker ahead.
Pat Torpey
Okay, it's Hunterdon, where organizations play less of a role than most other counties but still, a loss is a loss, and the Hunterdon County Republican chairman must own the loss of Simon.
Kim Guadagano
A state appeals panel this week ordered the release of documents related to a pension fraud investigation pertaining to a Monmouth County Sheriff's Officer hired by former Sheriff Guadagno. The panel ascertained that the state wrongly withheld confidential documents from the website New Jersey Watchdog.
Tony Bunero and Frank Longo
A judge sentenced the two former North Bergen public works supers to five years each in state prison Thursday for their role in a scheme to have public workers serve on political campaigns and tend to personal chores for the men and their boss, Superintendent James Wiley.
Dwayne Warren
Wearing a target on his back put there by the Communications Workers of America (CWA), the mayor of Orange must head into a reelection effort without the support of the local Democratic Committee, which this week announced its backing of Councilman Kerry Coley.
Peter Cresci
Appointed Bayonne's business administrator in Nov. 2008 and fired in May 2009, Cresci pleaded guilty to "uttering a writing containing a false statement"  —  a charge that can impose up to 18 months in prison and a fine up to $10,000, according to NJ.com.
Bob Menendez
A Quinnipiac University Poll this week revealed that 53 percent of New Jersey voters believe the embattled U.S. Senator should resign and that 39 percent believe he should not. Menendez faces federal corruption charges.