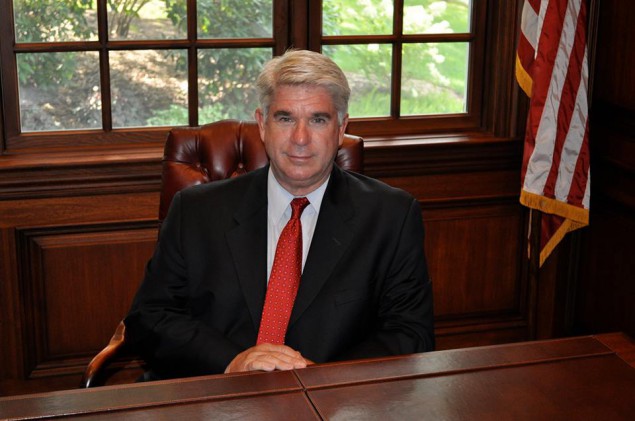 Kevin Rooney secured his position as the mayor of Wyckoff on Tuesday. Now, the Republican has his sights set on another position: Bergen County Republican Organization Chairman.
On Wednesday, in a post thanking voters for their Election Day turnout on his "Rooney for Wyckoff" facebook page, Rooney wrote: "I couldn't have done this without your support and energy; we got the vote out in a big way. Today, I ask you to work with me again in my candidacy for BCRO Chairman. The time is long overdue to reunite and rebuild our county party; the infighting and lack of leadership must come to an end."
While the election for the BCRO chairmanship will not be held until mid-2016, if Rooney were selected for the position he would unseat current BCRO chairman Bob Yudin. The announcement comes after some criticism of Yudin due to the strong year Democrats have had in the county.
The current chairman said that he plans to pursue reelection in for his position despite having heard several names of those who may be angling to oppose him.
"My intention is to run for reelection," Yudin told PolitickerNJ. "I have heard six names so I am sure they are all standing in line. I look forward to the contest if it finally develops."
Rooney's announcement comes right after a disappointing Election Day for Republicans in New Jersey's most populous county. Democrats won all freeholder positions. The Republican Party was able to win in legislative districts 39 and 40 but LD36, LD37 and LD38 went decisively to the Democrats.
While Yudin acknowledges that LD38's loss has partially to do with the revelation about candidate Anthony Cappola's book (it was written twelve years ago and contained hateful language against a number of groups), Yudin said that the losses boiled down to the Democratic ability to raise significantly more funds due to union and PAC support.
"We are disappointed, of course," Yudin said. "It was pretty much a Democratic year throughout the state. The main reason that the freeholders lost in Bergen County was because of the extremely heavy spending by the Democrats. Because of the PACs and the unions they were able to spend seven times more money than I was able to spend."
Yudin said that the challenge to his chairmanship next year would be a "serious challenge."
"I will run aggressively and the county committee will make the final decision in that matter," Yudin said. "I will place my record in front of the county committee and they will decide."
Former Hackensack Mayor Jack Zisa's name has also been floated as a potential challenger for Yudin according to a source.