It's about to get really meta in here.
Starting today, you can watch Shia LaBeouf watch movies starring himself.
For a performance art project called #AllMyMovies, the 29-year-old actor will binge watch every film he was ever in. The movie marathon of 30 films will take place at the Angelika Film Center in New York City. He is inviting guests to join him for free, but if you're turned off by the inevitable line, you can livestream the whole thing.
SEE ALSO: There's a 12-Hour Line for Shia LaBeouf's Movie Marathon and His Co-Stars Can't Cut
Mr. LaBeouf will watch the films, including lesser known movies like The Christmas Path and Monkey Business and box office hits like Holes, Transformers and Wall Street: Money Never Sleeps, in reverse chronological order over three days, 24 hours a day.
Here's the schedule for the screenings: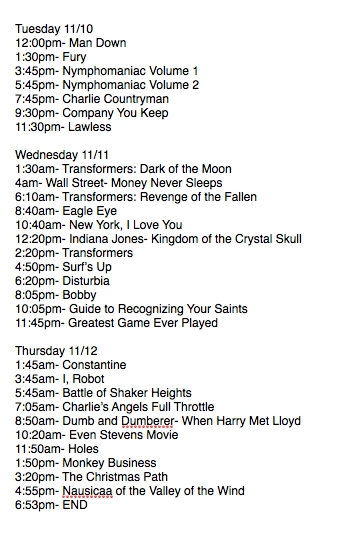 SEE ALSO: Who Said It? Shia LaBeouf or This Nonsensical Twitter Bot
(h/t complex)