FRIDAY DECEMBER 11
Sale: "Holiday Shopping Party" at Salon 94
Ho ho ho y'all! Time to load up on fancy gifts for your peeps. A good way to do that is to hit the sumptuous Upper East Side gallery Salon 94 and act like a wealthy socialite—at least for one day. The Greenberg-Rohatyns will be serving champagne (so you can get a solid buzz on) while you browse a collection of artist-made goods from Salon 94 and R and Company, including rings by Karl Fritsch, Hematite candles from the Haas Brothers, cups by Takuro Kuwata, adorable therapeutic toys by Renate Muller, and the always exciting "more".
Salon 94, 12 East 94th Street, New York, 4:00 – 7:00 p.m.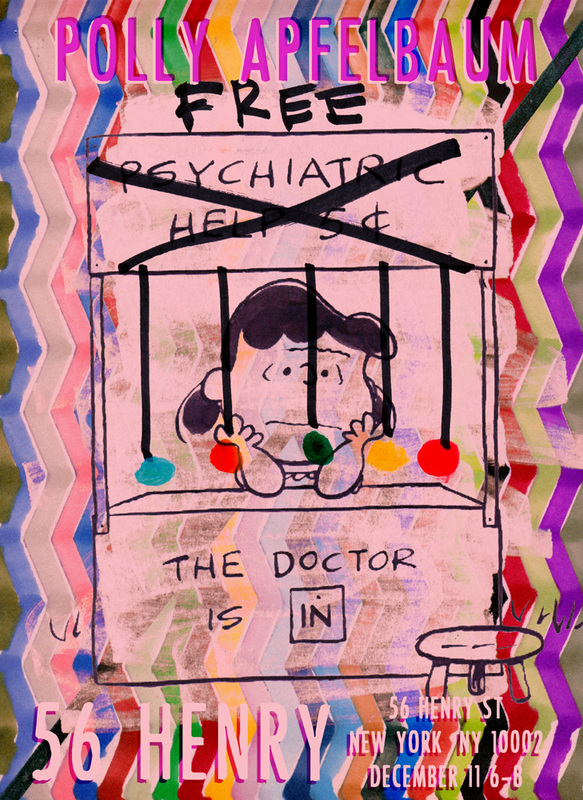 Opening: Polly Apfelbaum "FREE" at 56 Henry
Hooray! Ellie Rines, the precocious owner of the window gallery 55 Gansevoort (formerly from the opulent Meatpacking Glamour Zone) is now reopening under the moniker 56 Henry, and we're all invited to the inaugural opening on Friday night! The new Chinatown digs will open with a show by the superior artist Polly Apfelbaum, who hand-painted a trove of beaded necklaces to hang around the space (as an ever-expanding painting or sorts.) She will also be making and giving out FREE (hence the title) beaded necklaces as a way to scatter this paint project around the city. Now that's some Xmas spirit, right?
56 Henry, 56 Henry Street, New York, 6:00 – 8:00 p.m.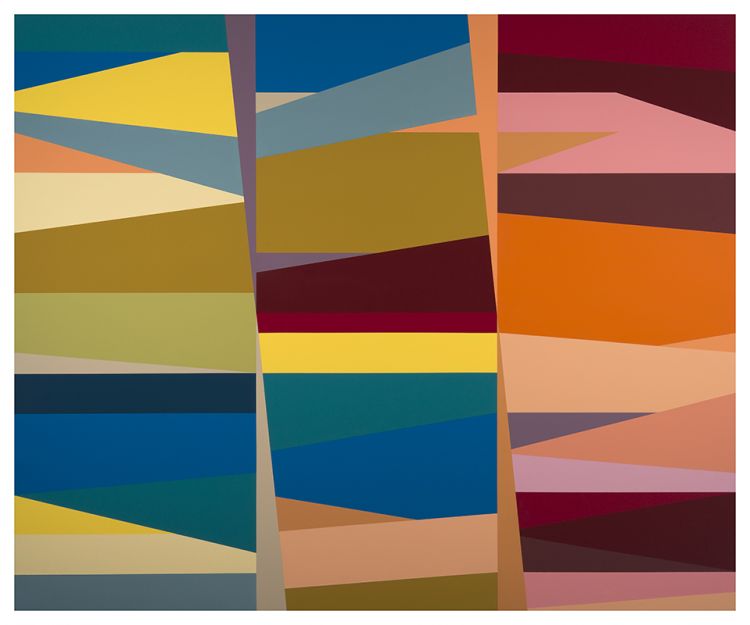 Opening: Odili Donald Odita "The Velocity of Change" Jack Shainman Gallery
The Nigerian-born Odita, who was a top-notch art critic before getting his props as a top-notch painter, is having his first NYC solo since 2013, and we're excited. He'll likely continue to provide his signature multicolored geometries that tend to explore "a metaphoric ability to address the human condition through pattern, structure and design, as well as for its possibility to trigger memory." Also on view is the exhibition "Of Context and Without" by Toyin Ojih Odutola at this gallery's 20th Street location. If you like good art the letter "O" then this is the place for you.
Jack Shainman Gallery, 524 West 24th Street, New York, 6:00 p.m. to 8:00 p.m.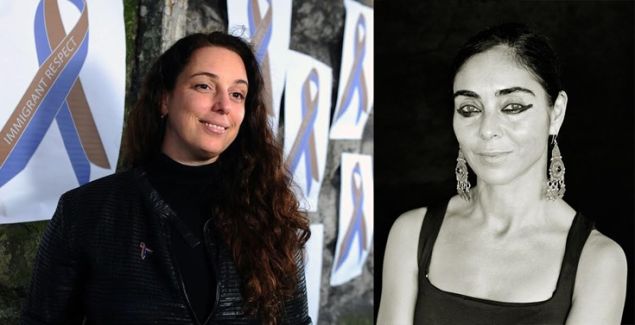 Talk: "Women Speaking to Power" SVA Theatre
Two artists from countries that don't trade toys with the U.S. share the stage for the first time Friday at SVA: Tania Bruguera and Shirin Neshat. Both of their work concerns gender, politics and national identity and they will discuss "change in the art world and the world at large." The Cuban performance artist Ms. Bruguera made headlines earlier this year when she was placed under house arrest in Cuba for giving the Castro regime a hard time (which it deserved!) Ms. Neshat, meanwhile, is a critically-acclaimed film and video artist who hails from Iran. Their discussion will be moderated by Steven Madoff, SVA's chair of curatorial practice.
SVA Theater, 333 West 23rd Street, 7:00 – 9:00 p.m.
Performance: Wynne Greenwood "Temporary Arrangements" at The New Museum
Aside from being kick-ass artist (look at her last show at Soloway gallery in Brooklyn for proof), Wynne Greenwood is also the genius behind the legendary feminist band Tracy + the Plastics, an all-girl group that toured the country from 1999 to 2006. We won't give the thing away, but Greenwood somehow plays all three parts—frontwoman, drummer, and keyboardist. Greenwood has come up with a unique concert series—informed by her DIY aesthetic—that invites artists to form one-night-only bands to play at the New Museum. No practice? No problem. Let's do this.
New Museum, 235 Bowery, New York, 7:00 p.m.
SATURDAY DECEMBER 12
Panel Discussion: "Intimacy in Discourse" at SVA Chelsea Gallery
Artist, writer, curator and philosopher Phong Bui will speak with a selection of artists whose work is on view in his curated show "Unreasonable Sized Paintings" at the SVA Chelsea Gallery (Bui also has a concurrent exhibition, "Reasonable Sized Paintings," up now at Mana Contemporary in Jersey City, New Jersey.) Panelists include smarty-pants's Mark Greenwold, Matvey Levenstein, Catherine Murphy, Thomas Nozkowski, Ann Pibal, Julia Rommel, James Siena, Robert Storr, Roger White and Lisa Yuskavage. A pretty esteemed crew, if you ask me.
SVA Chelsea Gallery, 601 West 26th Street, New York, 3:00 – 5:00 p.m., free 

Sale: "The 3rd Annual Art Tag Sale" 59 East 4th Street
Now here's something exciting: treasures from a multitude of artist's archives, brought together for your holiday shopping pleasure. This tag sale gives artists "a chance to cathartically release unseen projects, sell studies or other works not usually seen on the market, or distribute artwork independently from the gallery system." Oh and everything is $50 or less! The makers include, Karen Azoulay, Guy Ben-Ari, Christine Case, Ryan Foerster, Jesse Greenberg, MacGregor Harp, Heidi Howard, Kristen Jensen, Jenni Knight, Ellie Krakow, Jennie Jieun Lee, Kristina Lee, Molly Lowe, So Yoon Lym, Abby Manock, Reuben Lorch-Miller, Rudy Loewe, R. Lyon, Sophy Naess, Sophia Peer, Virginia Poundstone, Brie Ruais, Gabriela Salazar, Bill Santen, Julia Sherman, Talia Shulze, Jennifer Sullivan, Molly Surno and more.
59 East 4th Street, 7th floor, buzzer 14, New York, 12:00 – 4:00 p.m.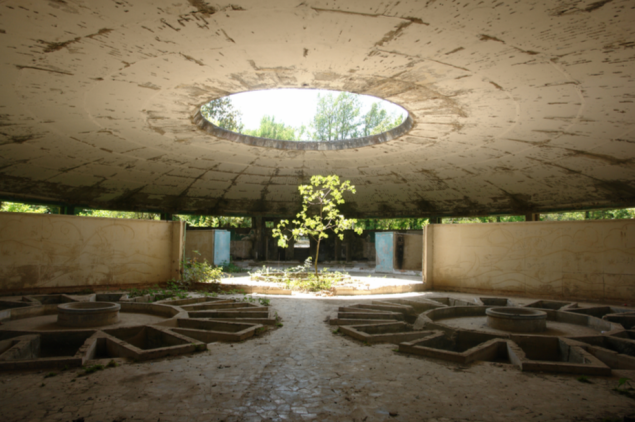 Opening: "Social Ecologies" Industry City Gallery
The latest stellar Rail Curatorial Project comes from artist and Rail writer Greg Lindquist (who has also guest-edited the recent issue of The Brooklyn Rail) and is topically titled "Social Ecologies." All of the artists in this exhibition work directly or indirectly with the environment (the environment… have you heard of it? it's kind of an "issue" right now.) The commonality here is that all the works address ecological and social issues  through images, objects, actions, discourses and cheeseburgers (ok, not cheeseburgers. I'm starving.) The show features (among others): David Brooks, The Canary Project, Laura Grace Chipley, Cynthia Daignault, Rackstraw Downes, Ellie Irons, Josephine Halvorson, Marc Handelman, Trevor Paglen, Mary Miss, Roxy Paine, Alexis Rockman, Martha Rosler, Charles Simonds, Robert Smithson, Gio Sumbadze, Tattfoo Tan, Mierle Laderman Ukeles, Allyson Vieira, Matthew C. Wilson, and Kevin Zucker. Look, no one's saying they have any answers here (we're just artists, dammit) but it's time to turn and face the (climate) ch-ch-ch-changes, man.
Industry City Gallery, 220 36th Street, Brooklyn, 4:00 – 7:00 p.m.
Reading: Mary Simpson at Rachel Uffner
"Poetry is embarrassing" says Mary Simpson. We couldn't agree more. So you should check out these short readings by John Cage, Anne Carson, Beverly Dahlen, William James and Mary Simpson and feel the burn of embarrassment—get some blood in those cheeks! The brave readers are Christoph Cox, Angie Keefer and Maryam Parhizkar, and this reading is in conjunction with Mary Simpson's show of paintings titled "Off Hours" at Rachel Uffner Gallery. The reception at 6, the reading is at 6:30 and the reception continues at 7, so that's a half hour of no talking (I think you can do it.)
Rachel Uffner, 170 Suffolk Street, New York, 6:00 – 8:00 p.m.
Opening: Nathaniel Robinson "Discrete Pieces" at Launch F18
OK guys, you'll just have to trust me here: Nat Robinson is a damn good artist. He continues his exploration of theoretical environments via his signature monochrome polymer sculptures which have the feel of mental constructs from an alternate universe. Strategically and subtly placed around the gallery, it's difficult to tell whether Mr. Robinson's objects are dependent on their surroundings or could somehow exist autonomously. In fact, many of his objects represent "dividing" structures like walls and fences. It's a sobering comment on our natural human desire (an impossible one) to create mental distinctions within physical reality. Trippy, huh?
Launch F18, 94 Allen Street, New York, 6:00 – 8:00 p.m.
SUNDAY DECEMBER 13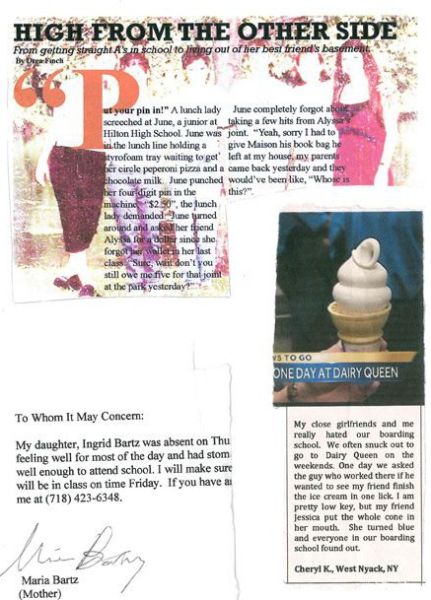 Opening: Rose Salane "High From the Other Side" at Jeffrey Stark
"Hot new artist" meets "hot new gallery" with this seductive installation of new sculptures and articles that you're sure to enjoy. Salane uses everyday objects—along with her own faux-newspaper clippings—as a means of gritty self-realization. Her objects are often altered or cast in plaster, giving them a deflated or petrified appearance that symbolizes the passing of time, marked by degradation. Salane was born in Queens and lives in Brooklyn, so her work tends to focus on the city's public relationships and etiquettes with an eye towards crafting poetic meditations on permanence, domesticity, and banality. Jeffrey Stark, which is situated in a Chinatown mall, is already receiving good word of mouth and should be on your art radars.
Jeffrey Stark, 88 East Broadway #B11 (basement level), New York, 6:00 – 8:00 p.m.
Open Studio: Pioneer Works' Second Sundays, Holiday Intercourse
"Holiday Intercourse," sounds like what you and your spouse do quietly in the guestroom at your parents' house, but here it's an evening of open studios, performances and live music at renegade artist Dustin Yellin's Gowanus brainchild, Pioneer Works. The series showcases artists in residence at the art multiplex, and the music is curated by hip Parisian Olivier Conan. Since the website says the event is "in partnership with Stella Artois," we can only assume that there will be at least some booze. Artists showing work include Carmen Bouyer, Louise Foo & Martha Skou, Molly Lowe, Lucia Kempkes, Cassie Tarakajian, Benjamin Torres, Amelia Winger-Bearskin, Bryan Graf and Christy Gast.
Pioneer Works, 159 Pioneer Street, Brooklyn, 4:00 -10:00 p.m.