As 2015 comes to a close, companies are taking a look at the year in data. Spotify recently announced the year's most streamed songs and artists, and Pandora launched a new channel that plays the site's 100 most thumbed-up songs of 2015. Twitter ranked the most influential topics discussed on the platform, as well as the year's biggest tweets (hint: they were all written by One Direction members).
Tumblr has been looking at data too. Yesterday, the site released the most reblogged politicians of 2015, which exposed a giant Bernie Sanders campaign rally happening on the platform. For their Year in Review blog, Tumblr has been ranking a lot of its content, including the most reblogged memes of 2015. From Left Shark and Deez Nuts to "the dress" and a beloved copy machine that was killed off, here are the biggest memes of 2015.
After appearing in a comic series by Matt Furie called Boy's Club in 2008, Pepe the frog became an overnight sensation on 4Chan. The original Pepe had a speech bubble that read "Feels good man," but the frog has since evolved, coming to represent anger, surprise and melancholy. Pepe spread to Reddit and other social media sites like Tumblr, where it became the most reblogged meme of 2015.

This meme actually began on Tumblr, where users apply the characteristics of 12 zodiac signs to things and situations.

The "inappropriate audition song meme" began on Tumblr earlier this year and has since blown up on the platform. It began when user mienti uploaded a screenshot of a text message thread that simply read, "I feel like the next meme should be inappropriate audition songs" and listed some examples. This is a rare case in the meme world, for everyone knows you can't purposefully make something into a meme—memes just are.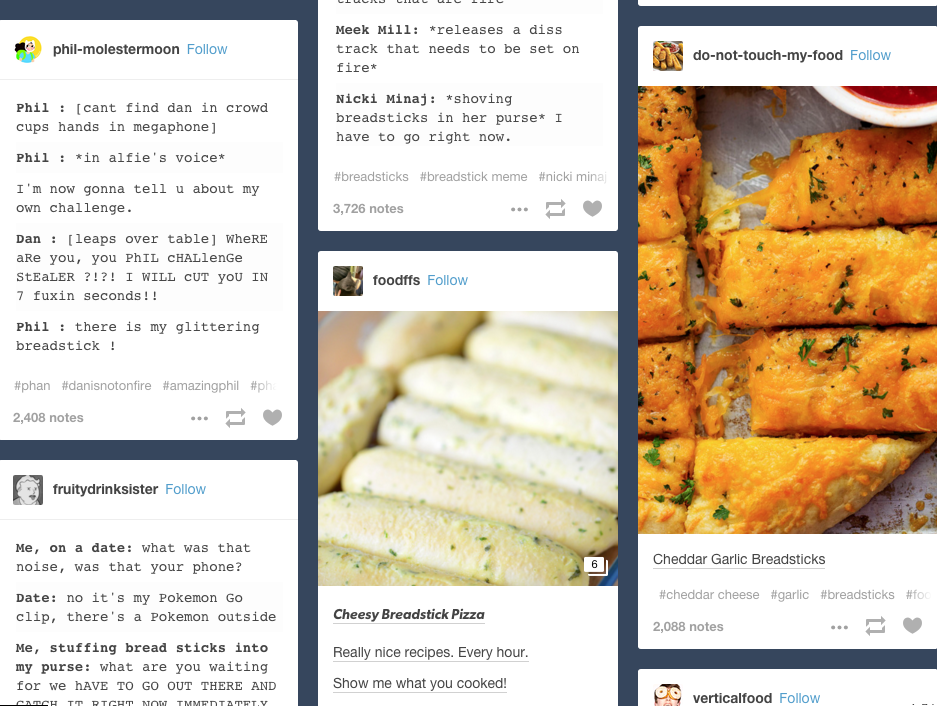 Breadsticks became a thing on Tumblr in November of 2014, but the obsession surged this past May. The meme revolves around mock dinner dates, during which a person abruptly leaves the table while stuffing complimentary breadsticks into their purse after hearing their date say something undesirable or offensive. The meme has also evolved to include the posting of photos of breadsticks. I don't blame them—those breadsticks look delicious.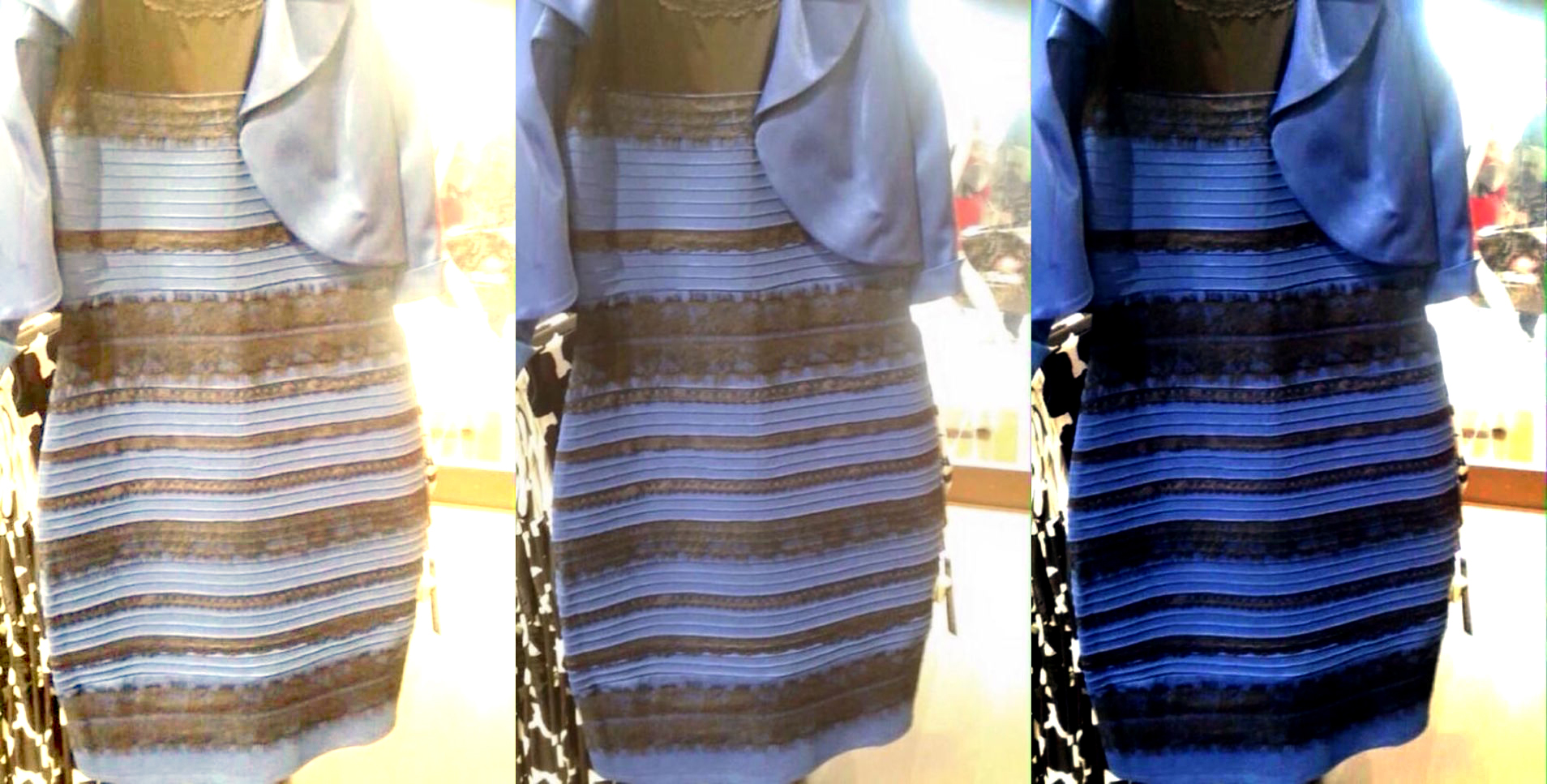 The infamous dress debate started on Tumblr and took over the world, going on to become one of the biggest memes in history. Amassing nearly 39 million page views, BuzzFeed's article on "the dress" was the site's biggest in its history. Twitter named the topic one of the most influential of 2015 after it was mentioned on the platform more than 4.4 million times in 24 hours. The original Tumblr post posing the black and blue or white and gold question has been removed, so there's no telling just how much action it saw on Tumblr, but it's a fact that this is going down in meme history.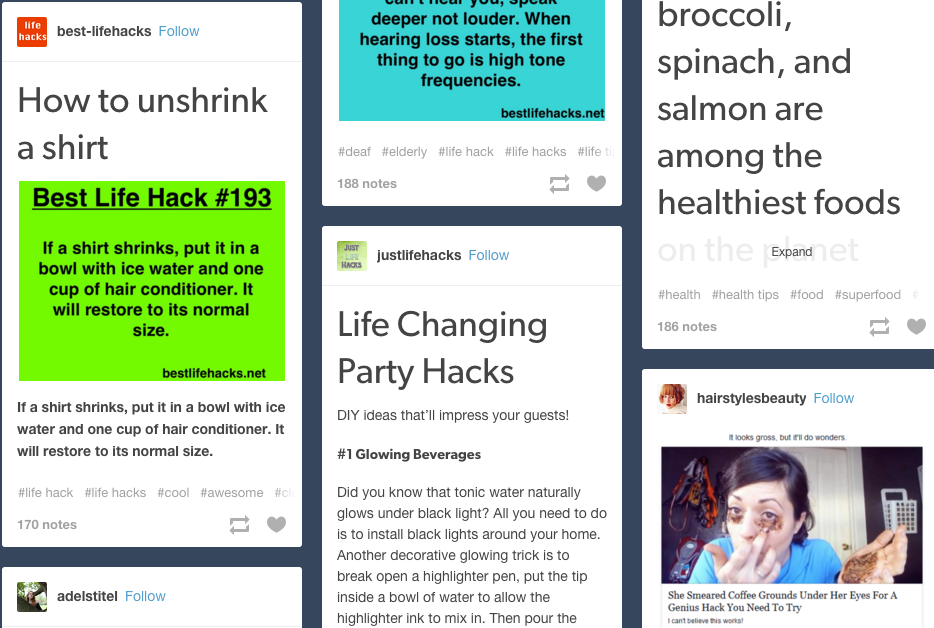 Life hacks have long been a popular topic on the Internet, and they're shared widely on Tumblr.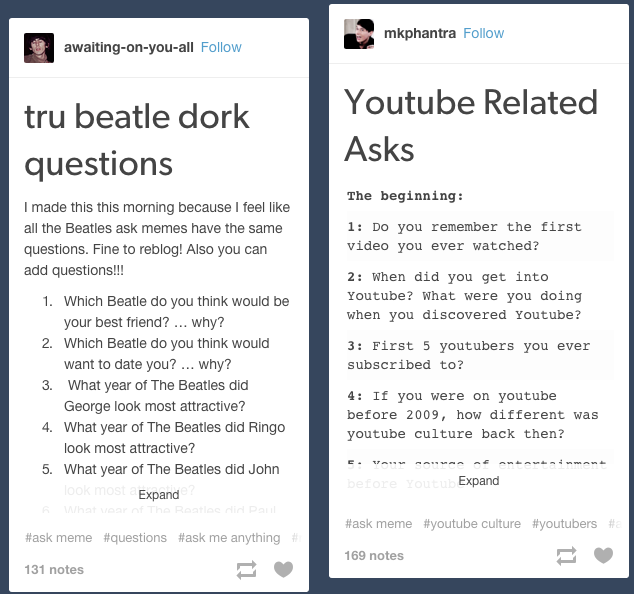 This is a Tumblr-only thing, and it's not the most meme-y of the memes. Basically, users publish lists of questions and others reblog with their answers.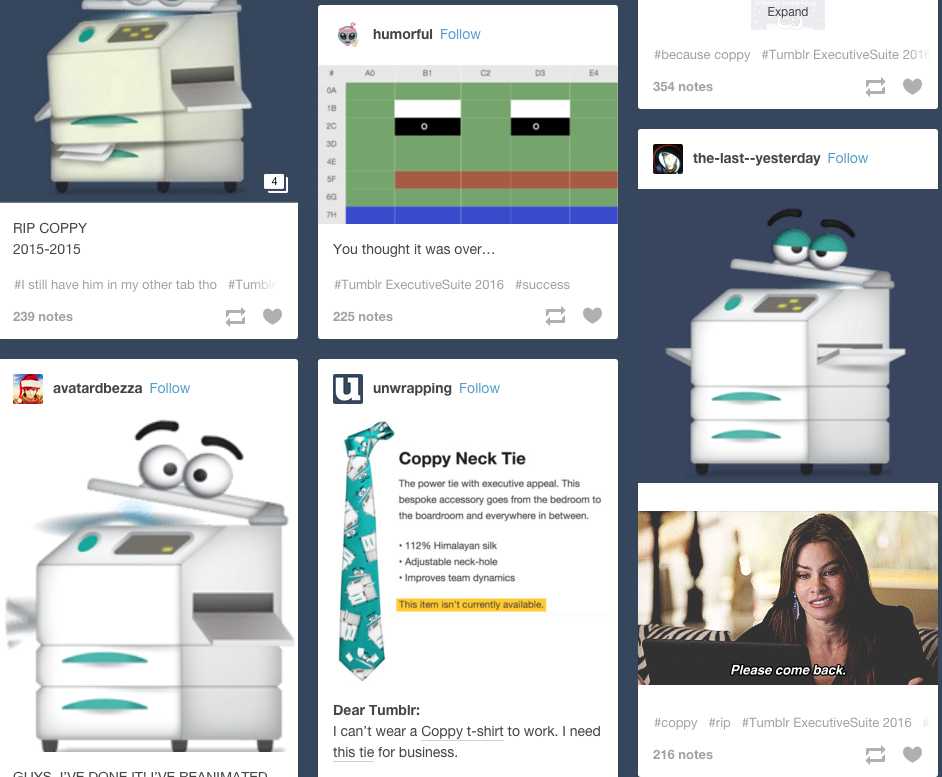 It was an April Fool's joke where Tumblr changed its slogan to "We're Doing Business Like Nobody's Business" and released Tumblr Executive Suite 2016, which featured including spreadsheets, legal pad widgets and a quote of the day. It all looked legit and said it was to increase productivity on the site. It spun off the rails with a copy machine that was beloved, then died.
Tumblr teens make fun of the PSAT. Cookies and water costing $45 is a meme within this meme.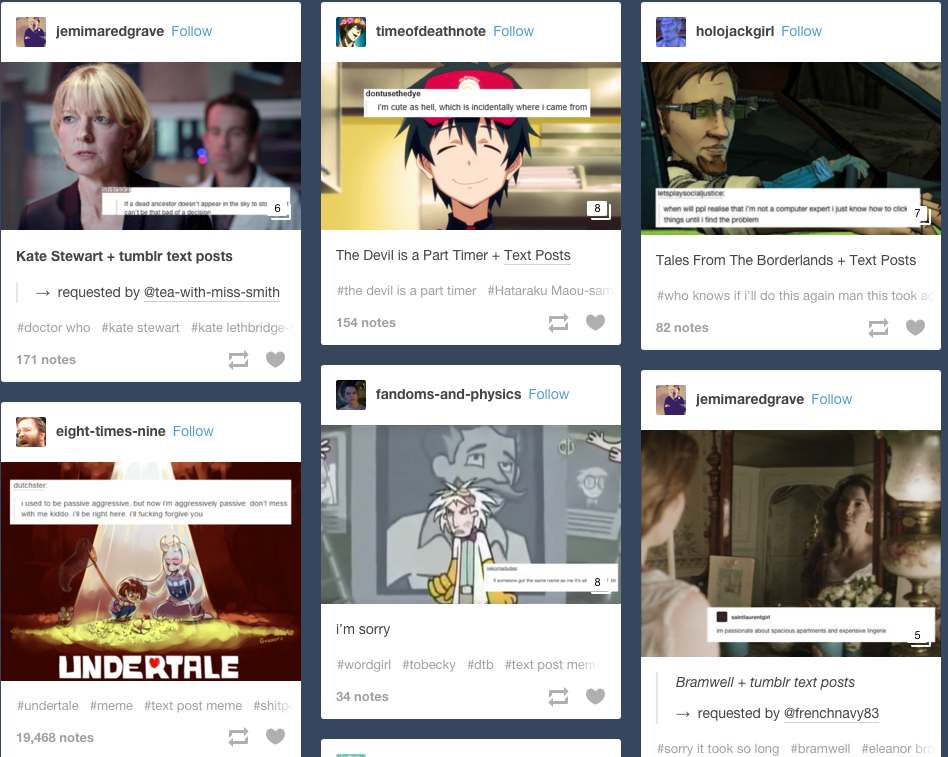 Since the summer of 2014, Tumblr users have been Photoshopping Tumblr comments onto related scenes from TV shows and films.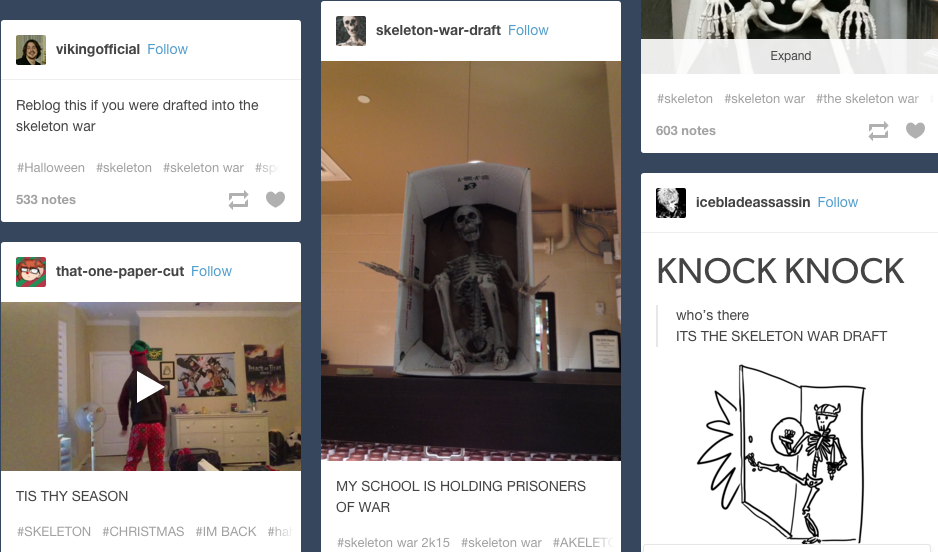 The great skeleton army arrived in October 2014 to fight off fuckboys. We're not making this up, and the war was fought not just on Tumblr, but on Twitter and Reddit as well.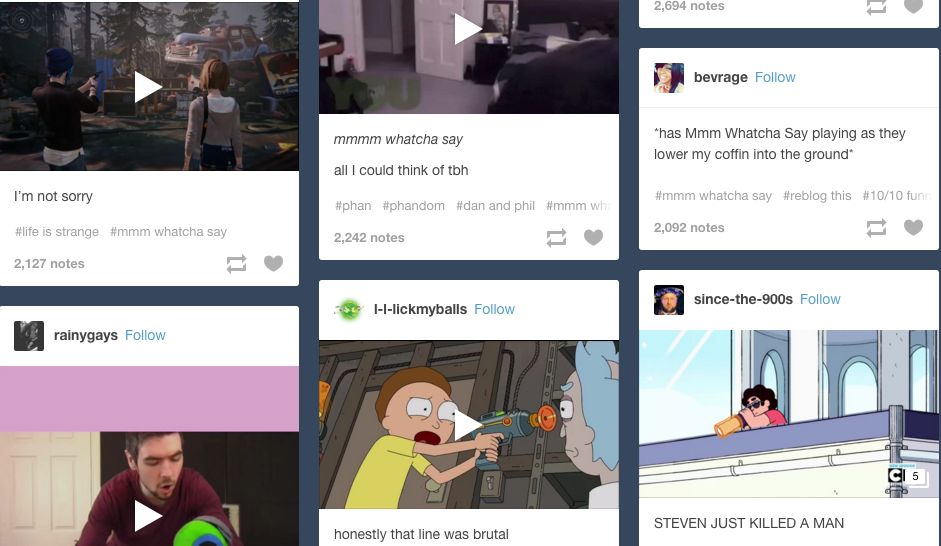 This meme—which involves overdramatizing a murder scene from a TV show or film by using slow-motion effect and Imogen Heap's 2005 folktronica pop song "Hide and Seek"— actually originated on SNL. But it thrives on Tumblr.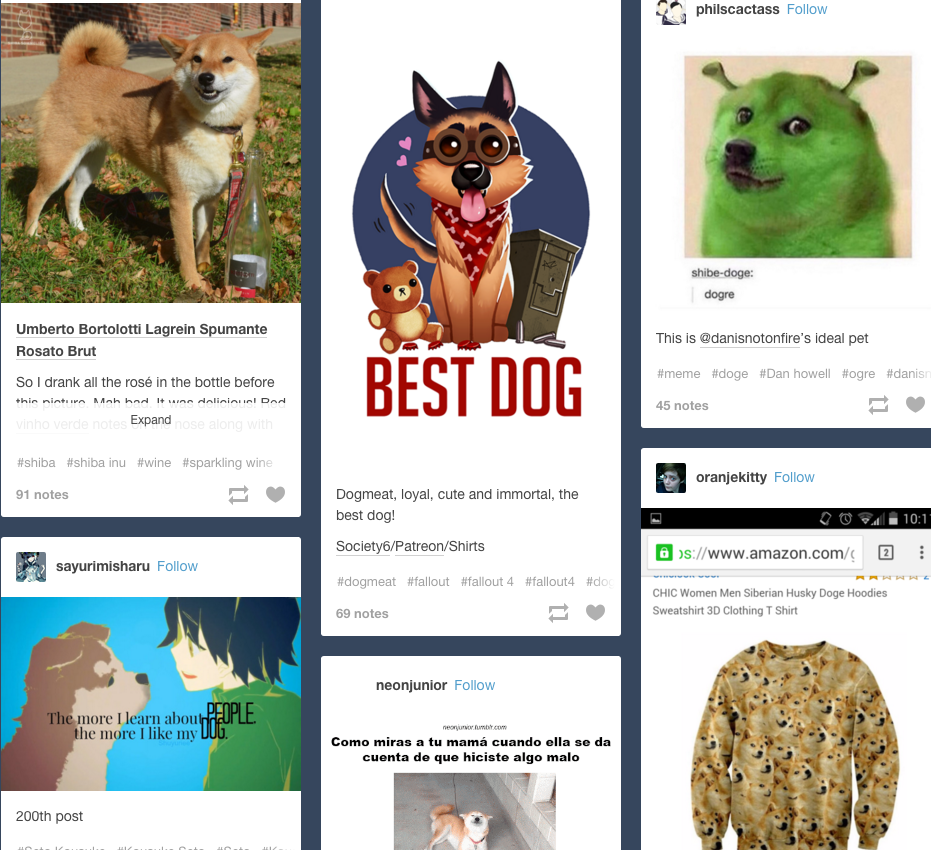 Doge is a classic meme and a favorite all over the Internet. He comes in many forms on Tumblr.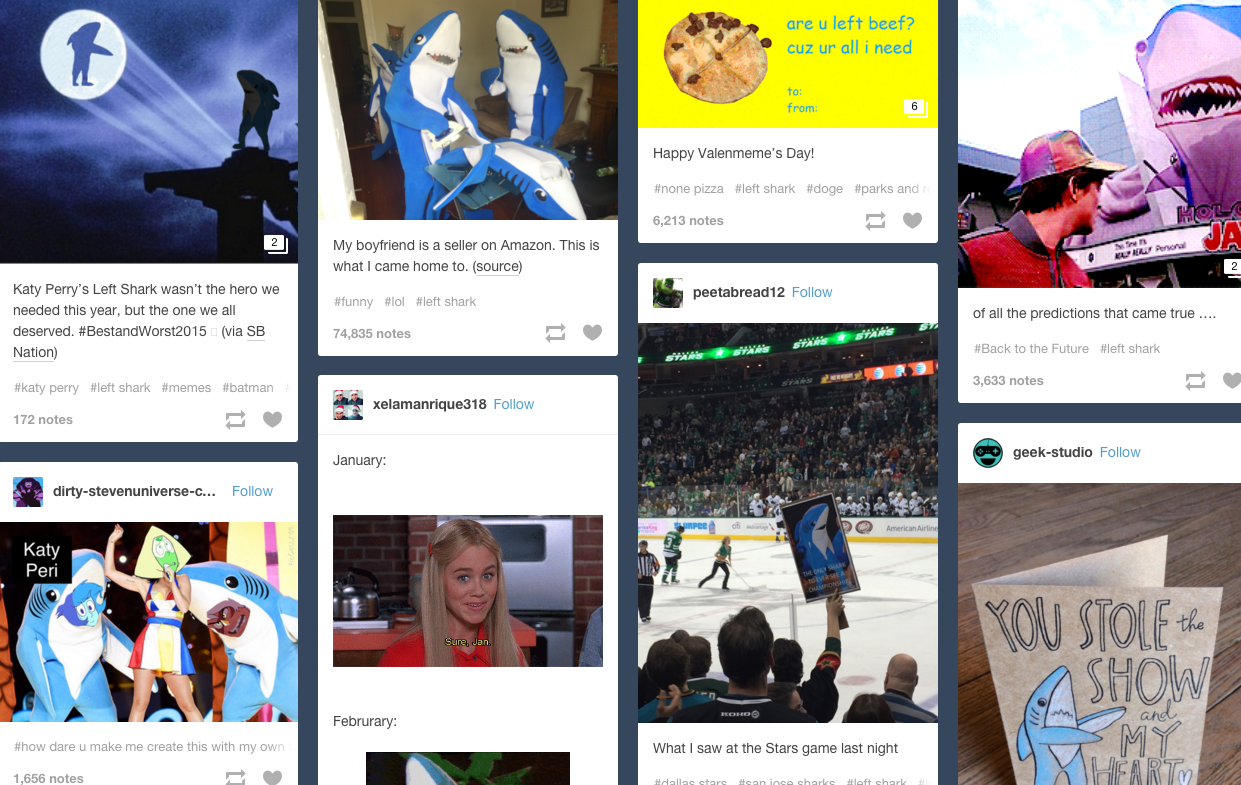 We have Katy Perry's Super Bowl halftime show to thank for this.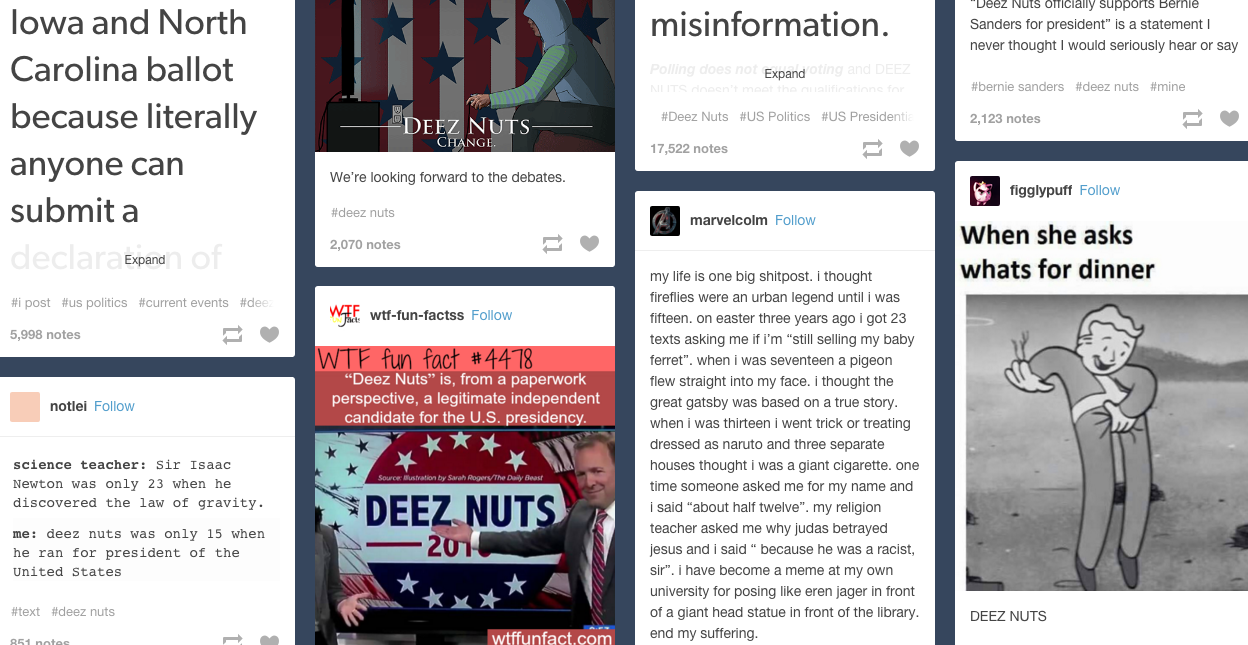 The 2016 presidential candidate is now a meme.