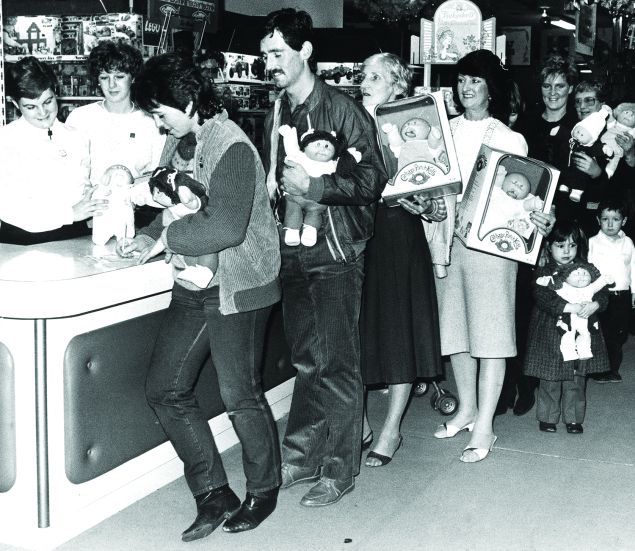 This Black Friday, a mini-riot broke out in an El Paso, Texas, Walmart, as customers poured through the doors like stampeding cattle, knocking fellow bargain-hunters to the floor in a frenzy for discounted TVs. A fracas ensued, forcing police to intervene. 
[youtube https://www.youtube.com/watch?v=X0C8TDU1Ykc&w=420&h=315]
Yet compared to recent years, 2015 has proved relatively tame. Since 2006, Black Friday brutality has led to at least seven deaths.
But history informs us that holiday mall fever is unsustainable. 
The earliest known episode of doorbuster violence (outside the isolated incident) occurred during the 1983-84 Christmas shopping seasons, which was marked by vicious fights over the limited supply of Cabbage Patch Kids on shelves.
A 21-year-old art student, Xavier Roberts, conceived of the innovative dolls. No two Cabbage Patch Kids were alike, with variations in clothing, skin tone, hair—even freckle patterns. In an ingenious marketing scheme, Cabbage Patch Kids were technically not bought but "adopted"—complete with a certificate to prove it. The trouble was, while desirable, the dolls' price was initially astronomical, so few people were beating a path to Roberts' doorstep. The average price of a doll in 1981 was $130. 
But in 1983, with the backing of toy giant Coleco, the dolls turned into the hottest holiday gift in the country. With Coleco's distribution and marketing capabilities and lower price, in the nine months prior to March 1984, six million of the dolls were sold at a minimum of $20 each. 
Before long, children nationwide were pressuring their parents to deliver a Cabbage Patch baby. In late November 1983, Jefferson Ward stores in South Florida each had 48 dolls to sell at $21.88. Hundreds of customers lined up outside the stores hours before the 10:00 a.m. opening. "People were pressing against the glass," recounted a clerk at the Lauderdale Lakes store. The manager tried to restore order by distributing numbers. "It was like going into a rock concert," he recalled. "They were grabbing at me, trying to rip the tickets from my hand…They were going to kill one another just for a doll."
Over 300 shoppers from three states queued for hours in 35-degree temperatures with 20-mile-per-hour wind gusts outside a Concord, N.H., store. There were no fights, perhaps because of police surveillance. The precaution was necessary—the previous month a pregnant woman was upended at another New Hampshire store.
In Wilkes-Barre, Penn., a thousand customers rushed a Zayre's store, toppling a display table and began pushing and shoving. The manager brandished a baseball bat for protection. One woman suffered a broken leg.   
By 1985, the novelty wore off. Sales of the dolls plummeted and never recovered.   
While these incidents are mild by today's standards, they were shocking at the time and served as a precursor.   
Mall mayham is unlikely to endure. During the early 20th century, mail-order catalogues were the rage as consumers avoided crowds and lengthy carriage rides by shopping from the comfort of their homes—and bathrooms. These catalogues from retailers such as Sears became iconic but have been largely superseded by online shopping. Marketers now realize that they can attain comparable sales and cut costs without the need to motivate consumers to fight off a crowd of strangers for a discounted flat-screen.
The death knell may already be sounding as more and more retailers are promoting "Black Friday" deals days or weeks earlier. Coupled with the appeal of online shopping, Black Friday may soon become synonymous with other consumer fads like the CB radio. Just as cellular phones killed the CB, the Internet may soon make Black Friday a thing of the past as Cyber Monday gains ascendancy. For many weary shoppers, tired of literally fighting the crowds, it cannot come soon enough.
Peter Hassall and Robert Bartholomew are co-authors of A Colorful History of Popular Delusions (Prometheus).