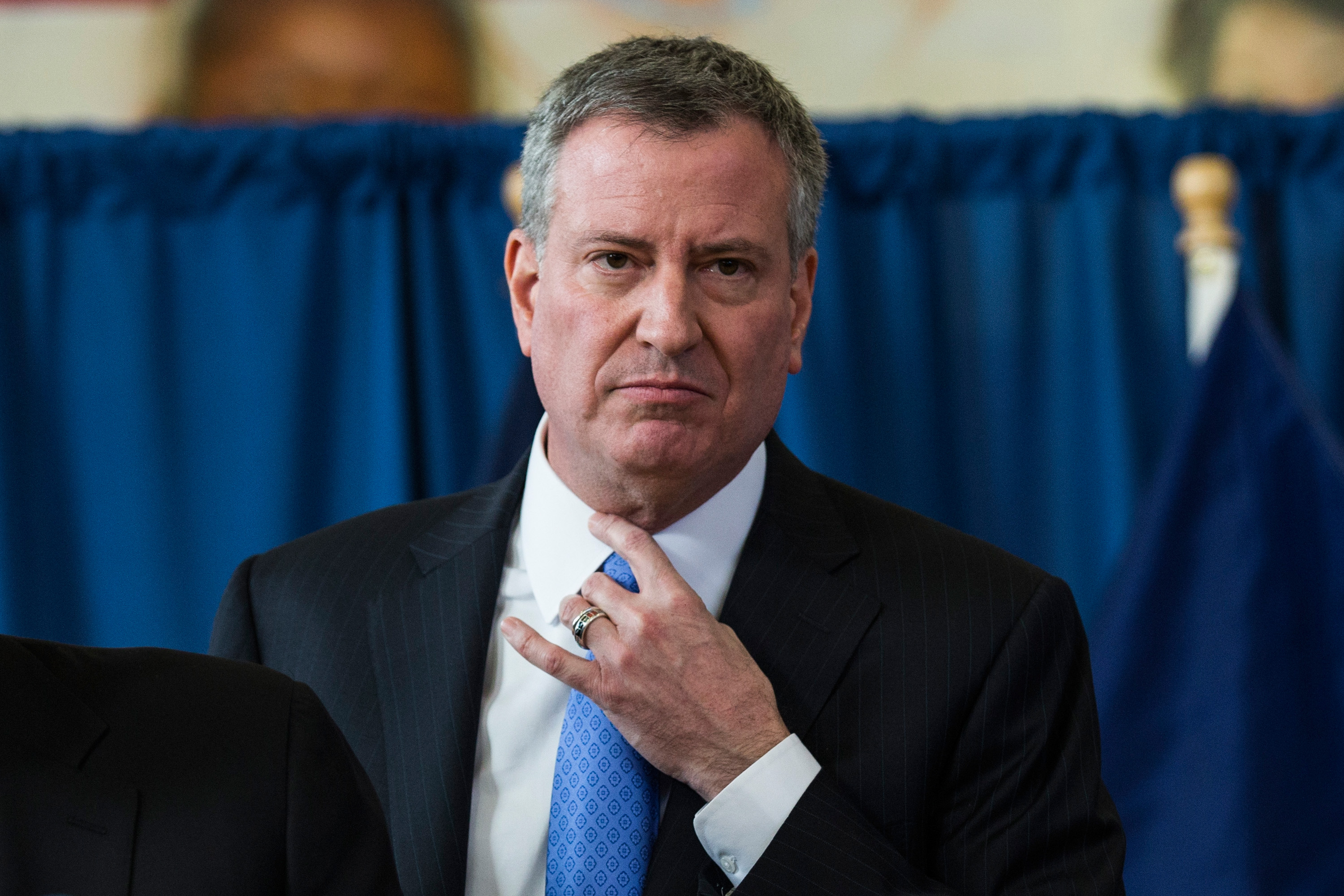 Mayor Bill de Blasio wouldn't give himself a grade on his tenure so far today—but once again allowed that he could do better.
"A lot needs improvement," Mr. de Blasio told WNYC host Brian Lehrer. "I've been very clear about that."
Mr. de Blasio conducted a bit of a media blitz this morning, appearing on Pix 11 television news, Mr. Lehrer's show and on AM 970 The Answer to discuss the Home-Stat program he rolled out yesterday to tackle the city's growing homelessness crisis.
"The problems that we're just talking about in the last minute are—they're moving. The thousands of homeless folks on the streets, the thousands of folks in shelter," Mr. de Blasio said, especially children and veterans, "all of this moves me."
After months of downplaying a the homelessness problem—sometimes saying the media was overblowing it—Mr. de Blasio changed his strategy earlier this year. He has still pointed to the legacies of other mayors, on whose watch the shelter population has steadily growing over the last two decades, though Police Commissioner Bill Bratton said recently that it seemed homelessness had seen an "explosion" in the last two years. The new policy announcement yesterday—in which Mr. de Blasio said his administration will have teams responding to reports of homeless people between Canal Street and 145th Street in Manhattan—comes jus days after the former commission of the Department of Homeless Services, Gilbert Taylor, abruptly stepped down.
Once again today, Mr. de Blasio said he hadn't communicated properly about the homelessness issue—perhaps something he's hoping to fix by giving speeches like the one he did yesterday to the Association for a Better New York about the Home-Stat plan and by holding the kinds of media appearances he did this morning.
"I have not communicated efficiently, and I haven't been vivid enough in showing people all the investments I've made," he said.
In recent months, Mr. de Blasio has rolled out a plan to build 15,000 units of supportive housing, aimed at helping those homeless people who have substance abuse issues or face other challenges like domestic violence. He's also increased the number of "safe havens" in the city, which make use of places of worship to house homeless people who may not want to go to city shelters. And the mayor has repeatedly noted that 20,000 people have been moved out of homeless shelters and into "permanent housing" under his tenure, though they have been quickly replaced with people who are newly homeless, many of them families.
Mr. de Blasio said the departure of Mr. Taylor—who left months after Deputy Mayor Lilliam Barrios-Paoli, who also oversaw homelessness, stepped down from a role that has not been filled—would not get in the way of tackling the problem.
"I'm putting a lot of time into it personally, our first Deputy Mayor Tony Shorris is putting a lot of time into it, and we are very focused on ensuring that these reforms happen," he said.