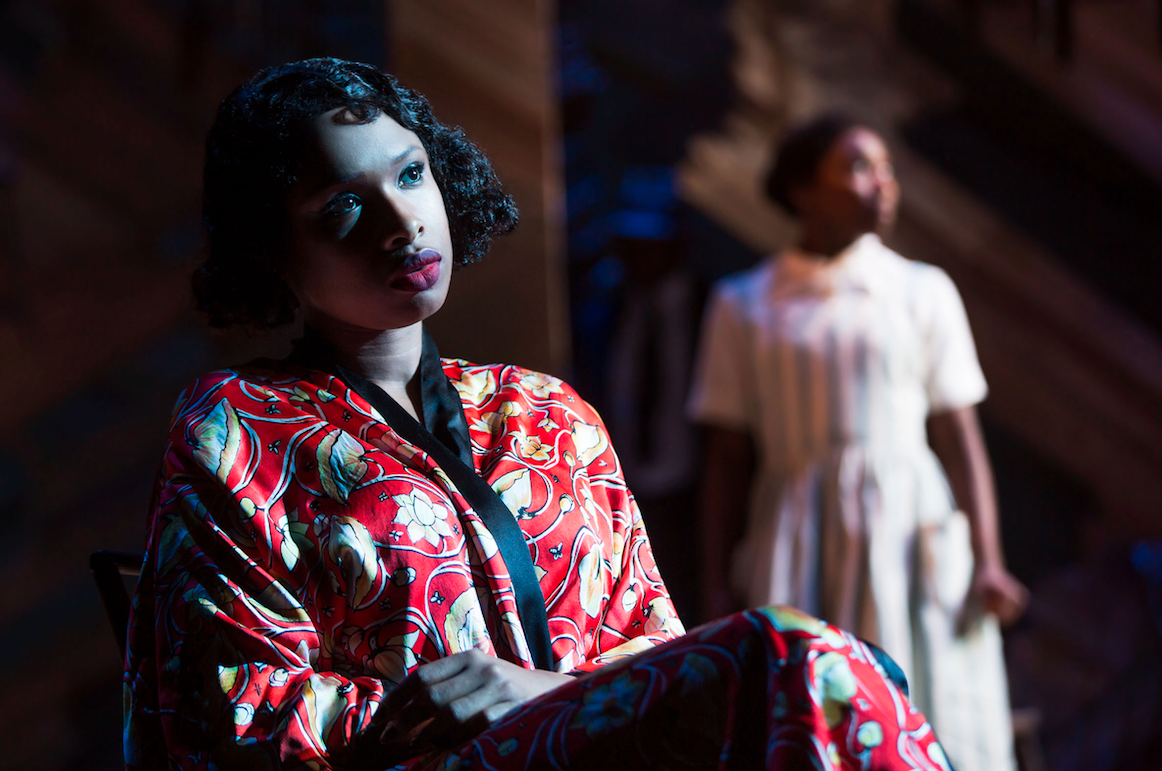 Reaching out to audiences of all ages, colors, creeds, genders and persuasions, Alice Walker's Pulitzer Prize-winning novel The Color Purple moved on to become a Steven Spielberg film of substance and artistry in 1985, with Whoopi Goldberg and Oprah Winfrey among its leading players, and then a Broadway musical starring LaChanze in 2005. That production was not well received by the critics, but after finding its core audience, it ran for 910 performances. Judging from the tumultuous cheers and standing ovations, not only at the end, but throughout its two and a half hours onstage, I'd say the new revival of The Color Purple at the Bernard Jacobs Theatre has caught on already.
Noble, compelling and powerfully sung, the heart-rending impact of a saga that spans four decades in the lives of a black family in the South and traces the heroic growth of one woman from modern, illegal slavery to fully realized independence is just as evident on the musical stage as it was in print and on film. As the centerpiece of this epic story, the complex character of Celie is one of literature's most unforgettable heroines. Making her Broadway debut, England's Cynthia Erivo etches the role in amber. And what an encompassing role it is. Celie first appears as an unloved child who has given birth to two babies by her own father, both torn from her arms and given away to strangers. When their mother dies, Celie helps her adored sister Nettie, who taught her how to read and write, to run away from home in the hope of finding a better life, while their father pawns Celie off on a vicious, sadistic husband called "Mister" (Isaiah Johnson) who lashes her with a bullwhip, uses her as a surrogate mother for his own kids, treats her as a sex object, and works her like a mule.
Celie has the misfortune to grow up in a culturally deprived environment of ignorance and bigotry, a child forced to endure hardships, surrender her own youth and accept adult responsibilities before she's old enough to know anything about life—a child-woman so imprisoned by her own servitude that a rural mailbox on a road near the edge of a dusty cornfield becomes her only link to the outside world. And even that mailbox is forbidden to her when it becomes the receptacle for weekly letters written to her by Nettie, whom she believes to be dead—communications with the outside world that Mister hides from her under a loose board in the floor. "I don't know how to fight—I just know how to stay alive," says Celie. The Color Purple is the valiant story of how she survives, blossoms like the purple flowers that exude beauty even in the ugliest environment of her childhood, and finds her own inner strength and self-value.
The stage cannot duplicate the passing of time you see in a film, and I missed the images Mr. Spielberg used on film, dancing before the eyes: black children hopscotching through a field of buttercups, a man playing a honky-tonk piano on a river raft, a beautiful singer in a backwoods juke joint belting the blues on a Saturday night, followed by the music of a Sunday morning fire-and-brimstone gospel meeting. The plantations and ramshackle cabins, the general stores and the first automobiles, the rocking chairs silhouetted against orange-hot sunsets in the cotton fields—these were brilliant images that transported the audience to Georgia in the infancy of the previous century, artfully and rapturously recreated with beauty and awe.
You don't get any of that in John Doyle's antiseptic direction or the set he designed that shows nothing more than wooden chairs nailed to a battered wall. Seasons pass, relationships grow and change, and Celie is always the camera, recording everything as it passes across the retinas of her eyes. Cynthia Erivo plays different ages, moods and emotions, from a dull-eyed pacifist who takes her beatings the way most people take their morning coffee, to a proud cane rod of a woman, brittle with age but wise with inner spirit, communicating her knowledge of how injustice burns. By the time the story ends in 1949, she is restrained, dignified and finally justifiably proud of the way her life has turned out. When she announces her declaration of independence, it's a red-letter day on stage, and Celie triumphs at last, in more ways than one.
She is not aided much by a mediocre score, with music and lyrics by Brenda Russell, Allee Willis and Stephen Bray that are little more than serviceable at best and yelled to the point of cacophony at worst, or by a book by Marsha Norman that catalogues the salient plot points in the famous novel without much nuance. What guides this version of a familiar story to success is the supporting players. By 1916, when Mister brings home a fancy woman named Shug (beautifully embodied by Dreamgirls sensation Jennifer Hudson), whose lesbian attraction to Celie becomes a source of liberation, the show comes alive, too. As a preacher's daughter-turned-saloon singer, Ms. Hudson is diet-slimmed but still full-bodied enough to steal whatever corner of the stage she's in from everybody else. She can still belt them out to the second balcony, although her songs are not worth the strain on her throat.
Equally mesmerizing is the strapping Kyle Scatliffe as Celie's stepson Harpo, who opens a road house and introduces to the family a combustible wife named Sofia, played with robust free-spiritedness and lungs of iron by Danielle Brooks, a rotund force of nature who takes no scraps from any man, black or white. As the story progresses, her own pride and zest meet with a sad downfall, and we see how little control black women had over their own destinies in rural Georgia.  
It is Nettie (a radiant Joaquina Kalukango), back from missionary work in Africa with Celie's two long-lost children in tow, who teaches her long-suffering sister that despite the pain and sacrifice in her life, she has always been loved. Everyone in The Color Purple has the kind of volume audiences often mistake for good singing, and I admire their stamina, although the vocal calisthenics wear thin fast.
The big finale, with a rousing reprise of the title tune, gets everybody on stage to tumultuous applause in time to repent and turn The Color Purple into contrived and sentimental hokum. But this is a show with a grip on its audience's emotional vulnerability. Black, dirt-poor, ugly, with no skills and no education, Celie learns, in the winter of her life, how to stand up and be counted. I looked around and saw tears where cynics fear to tread.
It's far from flawless and critic-proof, but like it or not, The Color Purple puts some meat on those chalky Broadway bones that have turned this year into a theatrical graveyard.