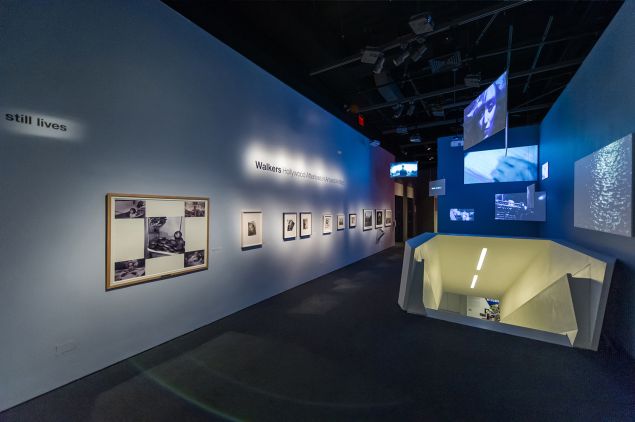 One of my favorite things about going to the movies is coming out into the light when it's all over, aglow with the aftereffects of a 90-minute hallucination. No longer immersed in that fantasy sensorium, you can feel the uncanny power of the film gradually dispersing, draining away from both your body and mind. At this moment, you might say, you go out onto the street, staggering, a bit like a zombie. And, you know, everyone likes zombies.
With that in mind, cue "Walkers: Hollywood Afterlives in Art and Artifact," a new show at the Museum of the Moving Image in Astoria, Queens, that presents avant-garde artworks by almost 50 artists—all dealing with the movies in one quirky way or another—side-by-side with an impressive selection of film memorabilia.
"Walkers" is another name for zombies, in this case a fraternity of animated corpses that populate The Walking Dead, which started as a comic book and is now a TV series in its sixth year. It's a bit of a misnomer; there's nary a zombie to be seen in the show, save perhaps for a prop skull from Apocalypse Now.
Rather, in his multifaceted exhibition, curator Robert Rubin uses the notion of zombies and ghosts—"revenants" is another term that figures in the show, notably in reference to the "ghost riders" of the vanished American western—as a metaphor for "the oneiric pull of the movies" and their "richly circulating afterlives."
This isn't really an exhibition about how the media spectacle shapes our consciousness and our society. Indeed, a 2004 contraption by the Mexico City-based artist Francis Alÿs, a sort of toy machine gun crafted of wood and metal scrap, and including a spool of Super 8 film rather than an ammunition magazine, is a fairly straightforward assertion that film is a weapon.
Several works in the show, largely by men, appear to attack Hollywood's all-powerful grip on our psyches, in the most primitive ways. That is, by gouging out the eyes of film heroes, though only in photographs. Douglas Gordon burns away the eyes and mouth of Dean Martin in one work, and cuts out the eyes of Steve McQueen in another, while the neo-Dada German artist John Bock excises the mouth of Faye Dunaway in a 2009 junk construction. The Texan multimedia artist Mark Flood and the English conceptual artist John Stezaker use collage to perform a kind of photographic mutilation on typically handsome movie actors. Adam McEwen simply imagines them dead, producing faux newspaper obits (here of Nicole Kidman) that hang on the wall like large paintings, erasing the present by celebrating the past.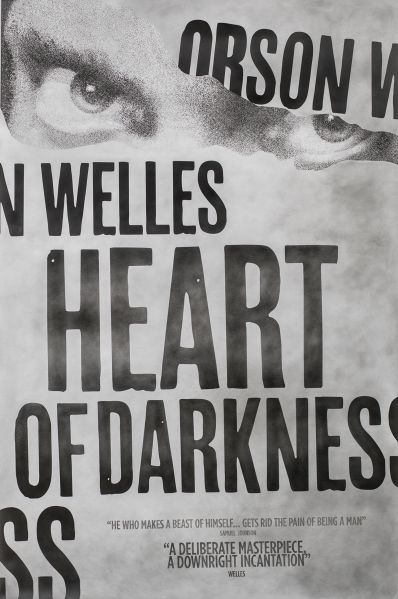 One woman artist, the Los Angeles-based sculptor Kristen Morgin, gets into the act with a rather astonishing work done in unfired clay, reproducing a life-sized Life Magazine cover picturing Sophia Loren in lingerie, her face "veiled" by several price stickers, but surrounded by collaged drawings of woodland animals from a Disney coloring book. The result is a graphically compelling, sweetly neurotic fantasy of female sexuality. It's titled Sophia Loren with her Woodland Friends (2013). Ms. Morgin is also responsible for another life-sized work in clay, this one rather larger, since it's a 2010 replica of a wrecked Porsche Spyder, presumably the one that did in James Dean. It sits in the museum lobby, and is a tour-de-force, one of many in the exhibition.
The show includes, of course, a variety of homages to Hollywood's dream world. The Paris-based artist Nada Ackel presents a 2015 oil of a scene of the beautiful Gene Tierney in Laura (1944), perfectly embodying a fleeting black-and-white romance in lusciously present Technicolor.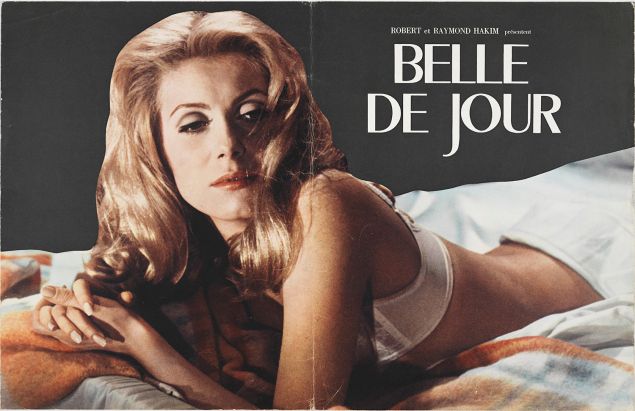 Yasumasa Morimura's 1966 drag self-portrait as Catherine Deneuve is peculiarly effective, especially when paired with an original pressbook for Belle du Jour (1967). And the French video artist Brice Dellsperger celebrates Angie Dickinson's museum scene in Brian De Palma's 1980 Dressed to Kill with an eight-minute-long video loop of himself wandering through galleries while dressed in drag. Confusingly, the 2001 work is titled Body Double, the title of a different De Palma movie, one made a few years later.
Curator Robert Rubin's notion here, to juxtapose Contemporary art and movie memorabilia, mixes high and low to admirable effect.
The show has its serious side, most notably in a gallery titled "Heart of Darkness," which is more or less devoted to the Vietnam war, and consequently to notions of history and the ways that we accommodate ourselves to its tragedies. Art and artifacts in this section relate both to Apocalypse Now (1979, another date close to the birth of the "Pictures Generation") and Orson Welles' never-made 1939 film Heart of Darkness, both inspired by Joseph Conrad's 1899 novella. Fiona Banner contributes much of the impact in this section, with works that include large mock-ups for posters for Welles' unmade film, and her own brick-sized book Nam, which compiles in one long run-on description the plots of five Vietnam movies.
Oddest of all—and avant-garde art often prizes itself on its oddity—are the works that delve deeper still into the fantasy world of Hollywood movies, that go down into further levels of the dream (as the Hollywood director Christopher Nolan, who is not referenced in this show, put it in his 2010 Leonardo DiCaprio starrer Inception). Michel Gondry's comic recreation of the climactic scene from Taxi Driver, less than three minutes of video done in 2011, is a masterpiece made in his signature DIY style. Mr. Gondry himself plays the De Niro role, but uses colored pencils rather than bullets to load his gun, and his rampage leaves a trail of colored cartoon splats rather than splashes of fake blood.
More curious still is a 24-minute-long film by the New York artist Agnieszka Kurant, Cutaways (2013), which takes three characters from Hollywood scripts that were in the end left entirely on the cutting room floor—Charlotte Rampling, a hitchhiker in the 1971 road movie Vanishing Point; Abe Vigoda, from Francis Ford Coppola's 1974 surveillance thriller The Conversation; and the veteran character actor Dick Miller, who played a junkyard proprietor in a cut scene from Pulp Fiction. In what must have been quite a production, Mr. Kurant literally revived the characters—which were still under copyright by the original filmmakers—and convinced the original actors to reprise their roles in a rather dreamy, desultory narrative mashup of Mr. Kurant's own devising. It's great to see these seasoned performers again—Mr. Vigoda, 94, and Mr. Miller, 86, are quite seasoned at this point—who remind us that actors, like people in general, are all too ready to follow directions from a talented auteur.
Robert Rubin is no ordinary curator. A Wall Street guy who has devoted himself to collecting and curating since 2000, Mr. Rubin organized the show of Richard Prince's book collection at Paris' Bibliotheque Nationale a few years back. He has a good eye, as they say, and his notion here, to juxtapose Contemporary art and movie memorabilia—copies of Playboy and TV Guide, publicity stills and press kits, scripts, screenplays, and costume sketches, film posters and lobby displays, backdrops and title cards—mixes high and low to admirable effect. By the way, the namesake of this curatorial strategy, the Museum of Modern Art's 1990 exhibition, "High and Low: Modern Art and Popular Culture," included barely any references to movies.
One outstanding example of film ephemera in "Walkers" is the series of exceptionally detailed costume design sketches for the two "bunnies" from Apocalypse Now. No wonder Hollywood blockbusters have budgets in the hundreds of millions of dollars. This material alone is worth a trip to Queens; the museum is a short walk from the Steinway Street station on the R and M lines, where it is flanked by the sprawling Kaufman Astoria Studios as well as the Sinatra School of the Arts founded by Tony Bennett and Susan Benedetto.
The exhibition has several works by artist Richard Prince, whose joke paintings serve as a reminder that the movies are widely considered to be harmless entertainment, a source of laughs and little more. Indeed, the museum's long lobby is dominated by a Moby-Dick-sized example—34 feet long—on the theme of golf, featuring a grid of images advertising the 1953 Lewis & Martin comedy The Caddy along with a couple of corny golf jokes spelled out in large block letters. "My doctor said to play 36 holes so I bought a harmonica" is one.
But the artist is an aesthetic philosopher, too, and my favorite work here is a smaller, much simpler painting from 1993. On a 24-by-18-inch canvas, peering out from a surrounding field of Minimalist white paint, are two black-and-white TV listings, one for The Absent Minded Professor, the 1961 Disney mass-cult trifle, and the other for John Cassavetes' 1968 Faces, his cinéma vérité funeral service for Eisenhower-era optimism.
It's a perfect high-low allegory, and one of the ideas that underlies "Walkers"—no matter how hard the avant-garde art world tries to purify its act, the profound absurdity of the everyday will always show through.