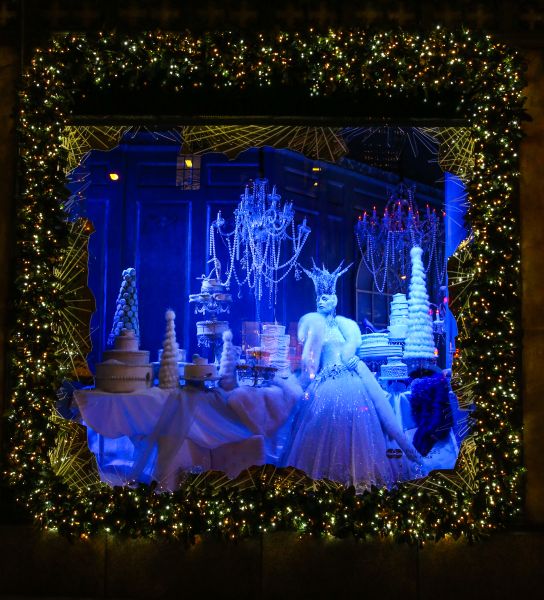 Perhaps you've turned an eye away from your iPhone on the streets of New York recently? If so, you would have realized that the most wonderful time of the year has descended upon our dear city. Yet again, Fifth Avenue is encrusted with an absurd amount of delicate string lights, red bows have popped up across the West Village and Soho and the holiday cheer is alive and well.
However, few stores get into the competitive decorating fever quite like the iconic department stores of this city. From Barney's ice carving extravaganza to Saks Fifth Avenue's royal frozen palace, get engrossed in a visual tour of the best windows of New  York.
Saks Fifth Avenue
Park Avenue princesses will rejoice at the sight of The Winter Palace, replete with an ice cold chandelier and clothing that even an ice queen would approve of.
Barneys
The theme here was Chillin' Out and actual ice lockers were necessary to house an ice castle and a live artist who spends his days sculpting ice in the Barneys windows.
Lord & Taylor
Sweets were the name of the game this season, with windows featuring a gingerbread kingdom and a Parisian-inspired sweets shop.
Bloomingdale's
Florist Jeff Leatham lent his green thumb to Bloomingdale's for the holidays. And while these vitrines are pretty, they also appeal to the five senses with the peal of reindeer bells, the feel of floral walls and the scent of freshly cut pine.
Bergdorf Goodman
In honor of Swarovski's 120th anniversary, the theme here was Brilliant, and the result was too: One window titled The Crown Jewels featured two totally bedazzled suits of armor and there was even a birthday party scene with 12 birthstone cakes.
Henri Bendel
The Henri Bendel girl, and fashion illustrator Izak Zenou, were the focus of the 120th holiday season at this staple New York shop. The inspiration for the main window was a Parisian style apartment, with a spiral staircase, fireplace and chandelier intact.