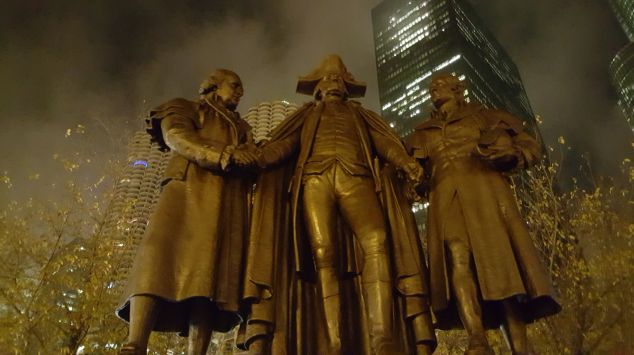 Sitting in the audience this past Thursday at the Republican Jewish Coalition presidential candidate's forum, I was joined by hundreds of other Jews, dozing in and out of consciousness as Dr. Ben Carson bored the audience to sleep with a history on the Israel/Arab conflict.
As the well-intentioned neurosurgeon was ending his remarks, he uttered two words that quickly woke me up and drew applause from the crowd: "Haym Salomon."
Intent on discrediting Dr. Carson at every turn, the lay media ignored a significant moment in American-Jewish history, focusing instead on Mr. Carson's benign comments about the Star of David formation on a dollar bill and his mispronunciation of the terrorist group, Hamas.
As president and executive director of the Haym Salomon Center, a nonprofit news and public policy group, I was elated when Dr. Carson, during a high profile presidential event, invoked our organization's namesake and his crucial role in the birth of our country. What I found disturbing, if not surprising, was an obtuse press that couldn't get the facts more incorrect about Mr. Salomon if their researchers were toddlers in a school operated by Hamas or the United Nations (not much difference).
Having admired Mr. Salomon since I was a young Jewish boy growing up in suburban Chicago, the reason I knew about the Revolutionary War hero is because my father made it a point to show me and explain a statue on Wacker drive in downtown Chicago, commemorating three men shaking hands.
This first day of Hanukkah calls to mind the first day of Hanukkah in 1941, when a statue was unveiled depicting "George Washington standing between and clasping the hands of Haym Salomon and Robert Morris, the two men whose services were so vital in getting desperately needed finances and supplies for George Washington's armies of liberty."
Seventy-four brutal Chicago winters later, a faded inscription at the base of the monument quotes our first president:
The Government of the United States, which gives to bigotry no sanction, to persecution no assistance, requires only that they who live under its protection should demean themselves as good citizens, in giving it on all occasions their effectual support.
You would think that every Jew in America who went to Hebrew school would know who Haym Salomon was. But the truth is, even in the Jewish community, Mr. Salomon is known to only a few, and that may be due to the limited amount of information that exists about his life and sacrifice for the cause of liberty.
So please allow me to offer a brief history of Haym Salomon that EVERY American will be proud of.
Haym Salomon was credited as "Financier of the Revolutionary War" by the Rev. Madison Clinton Peters. He was born in 1740 to an Ashkenazi Jewish family descended from Spanish and Portuguese Jews who migrated to the Jewish communities of Poland to escape the Spanish Inquisition. Before immigrating to New York in 1775, he spent several years traveling throughout Europe, learning multiple languages and acquiring knowledge of finance and foreign currencies.
After hearing about the battle at Lexington and Concord, he sympathized with the Patriot cause and soon joined the Sons of Liberty where he became skilled at espionage, which would lead to his first arrest by the British. During his imprisonment he spoke to his Hessian guards—German soldiers in their native language. He convinced them to switch sides. After a second arrest he was sentenced to death, but escaped, believed to be with help from the Sons of Liberty.
Mr. Salomon would resettle in Philadelphia were he resumed his activities as a broker. He became the agent to the French consul as well as the paymaster for the French forces in North America. He began working extensively with Robert Morris, the newly appointed Superintendent for Finance for the Thirteen Colonies. Mr. Salomon's fundraising and personal lending helped provide over $650,000 (approximately $9 billion in 2015 dollars) in financing to the war effort, including over $350,000 of his own money to support the cause, as well as Founding Fathers with names such as Washington, Jefferson, Madison and Monroe.
In his book, The Jewish 100: A Ranking of the Most Influential Jews of All Time, Michael Shapiro wrote:
The most persistent tale of his largesse took place on Kol Nidre [Yom Kippur], 1779, when a messenger from General Washington arrived with a plea for Salomon at the Mikveh Israel Congregation in Philadelphia. The troops, he related, had not received their pay for many months, the army was about to disband and the British were coming. Responding with mighty spirit and holy intention on this most sacred night of Jewish observance, Salomon organized a loan of $400,000 [today's value] from his fellow congregants.
Legend has it too that Haym put $240,000 of his own money into the kitty. Mr. Washington was able to then pay his soldiers their back wages and take the field.
In another version of this story, Mr. Washington sent a messenger to find Mr. Salomon on Kol Nidre in 1781 as the Continental Army had General Cornwallis' troops struggling at Yorktown against southern forces of the Continental Army. Mr. Washington needed to march his army to the coastal city to finish off the King's army. But Mr. Washington's forces were near mutiny: Food and supplies had run out and Congress had no money to make necessary purchases as well as pay the troops.
Legend has it that the messenger found Mr. Salomon at his Philadelphia synagogue Mikveh Israel on Yom Kippur. Mr. Salomon, an observant Jew, reportedly raised $20,000 ($425,000 today) from his fellow congregants.
Despite media reports that Mr. Salomon did not give all his money to the cause for liberty, he died penniless in 1785. Starting with his son Haym Moses, and continuing with descendants for over a century, Mr. Salomon's family never recouped any funds Haym Salomon loaned to the cause.
The press can laugh at Dr. Carson for mispronouncing the name of a terrorist group, and left-leaning media groups can try to downplay the efforts of a Jewish patriot, to their biased hearts' content.
On this Festival of Lights, I am grateful to Dr. Carson for illuminating this Revolutionary War hero—recognition that is centuries overdue.
Paul Miller is president and executive director of the news and public policy group Haym Salomon Center. Follow him on twitter @pauliespoint.