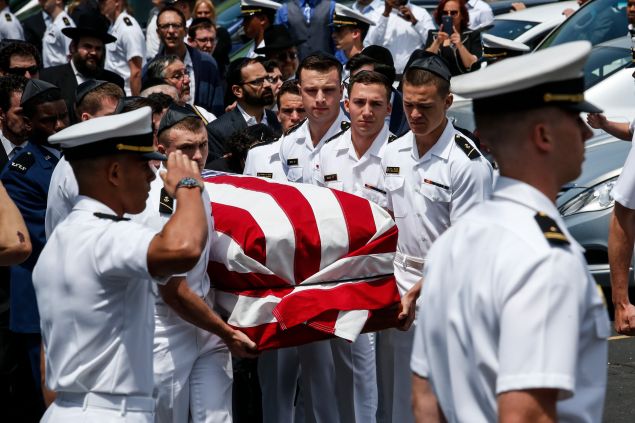 Last week, we accompanied a videographer on an incredibly sad yet uplifting assignment: he was interviewing teachers, friends and coaches of Justin Zemser. Zemser died last May in the Amtrak crash just north of Philadelphia. He was just 20 years old, and was returning home to Far Rockaway from the Naval Academy where he was a midshipman just starting his Second Class (junior) year. The film will be used not just to give the federal judge hearing the wrongful death suit a sense of Zemser's life, but to serve as an inspiration to those who never met him.
The Observer's own Jillian Jorgensen was also injured in the crash, which killed eight and hurt more than 200. Amtrak has conceded liability: the train was going 106 miles an hour, more than double the permitted speed.
'Justin was a natural leader, maybe the best I've ever seen.'
As we arrived Saturday afternoon at the Channel View High School For Research, where a memorial stone honoring Zemser sits just feet from a giant "Z" woven into the chain-link fence by his friends, a bus pulled into the parking lot. Fifty Naval Academy midshipmen had traveled up from Annapolis to visit the 9/11 Memorial and attend this informal gathering just before Thanksgiving. Some of the mids had been classmates of Zemser, but more than half were plebes (freshmen) who hadn't yet started at the Academy when the crash occurred. At an institution where free time is a precious commodity—plebes get just 12 hours of liberty a week to go into town—these were volunteers willing to endure an emotionally trying journey. The upperclassmen forfeited a precious weekend pass—one of about four each semester—to accompany their young charges, and share what made Justin Zemser so special.
They knew something about Justin Zemser because the company officer, a Marine captain, had maintained two large bulletin boards in Bancroft Hall—the midshipman dormitory—with messages Zemser had sent to his classmates during their many challenging days. Some of the messages had historical references; others had cultural significance; all were motivational.
The plebes stood on the windy field, the skyline of New York visible in the distance, listening to stories about how, as a high school student, Zemser had gathered his friends to help local residents devastated by Hurricane Sandy; how he had convinced teammates to study and take the SAT exam seriously, that they could win scholarships and go on to college; and how he could talk to gang members and church leaders alike. Then Zemser's Academy roommate stepped up and addressed the crowd. He told how this 4.0 student had been cut from the football team his freshman year at the Academy, but volunteered to help the squad anyway, all the while pushing himself harder in the weight room. By youngster (sophomore) year, Z had made the varsity lightweight football team, and set his sights on becoming a Navy SEAL. Few of Z's classmates shared that ambition, but more than a few agreed to train for the test—because Z made them recognize the importance of setting difficult goals and trying to achieve them.
One by one, people walked up to the videographer and volunteered stories. Each had a different recollection and most began crying before they could finish. But all conveyed the same message: Justin Zemser was a role model to the poor and minority kids who attended Channel View High School For Research. Teachers described him as their intellectual peer, and his Academy company officer—a Marine captain—said he was a true leader. Captain Brandy Soublet said, "Justin was a natural leader, maybe the best I've ever seen."
Justin Zemser was the only white member of the high school football team and its captain. His teammates remembered how he spurred them on—academically as well as on the field. His African-American girlfriend said he was a gentleman—and now expected every other man to be one as well. When he died, Zemser was the president of the Jewish Midshipmen's Club, and more than 50 of the club's members from the class of 2017 made the trip to New York for the funeral. What made that unusual was that there are only 11 Jewish midshipmen in the entire Academy class. The club's vice president, a Christian from Oregon, said it was Zemser's goal to expose his classmates to Judaism.
He did that and much more in his far-too-short life. His parents lost an only child. His Academy classmates lost a friend, and the young people of Rockaway lost a role model. And the rest of us, who never got to know Justin Zemser, lost a shining example of the best of America.