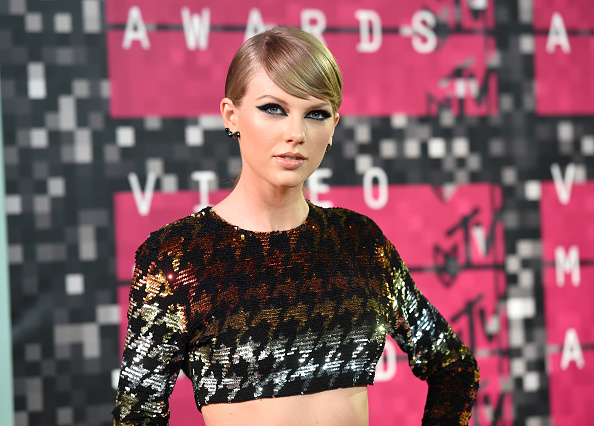 Taylor Swift became an advocate for artists' rights earlier this year, besting Apple in a battle over royalties for musicians. But she is in hot water with a New Orleans visual artist who charges her own work was appropriated and featured on Ms. Swift's social media without credit or pay.
Artist and New Orleans-based gallerist Ally Burguieres alleges that she wasn't properly credited for artwork created by a fan and featured by Ms. Swift on the singer's social media that looks exactly like the logo Ms. Burguieres uses for her New Orleans gallery. After months of reaching out to the singer with the hopes of being properly compensated or acknowledged, she has now taken to Facebook with an open letter airing her frustrations.
"I took solace in thinking that someone so outspoken about artists' rights would willingly fix her mistake," Ms. Burguieres wrote. "I don't know what will come of this letter, but for the sake of my own business and on behalf of independent artists like myself, I had to speak up."
The image in question is a drawing of a fox Ms. Burguieres created in 2013 and now uses as the logo for her French Quarter gallery, Gallery Burguieres. In October 2014, Ms. Swift posted a photo to social media of fan art she was sent: a red fox accompanied by lyrics from one of her recent songs that bore a striking resemblance to Ms. Burguieres' design.
In her letter, Ms. Burguieres explained further, "I recognized that such endorsement is a once-in-a-lifetime boost for an artist and can skyrocket an artist's career. Friends congratulated me and customers expressed joy. But congratulations turned to confusion. The design was a copy, and with someone else's name signed to it."
Now, Ms. Burguieres has finally received a reply from Ms. Swift's team about the use of the copied image, but it's not what she expected. She has been offered a "four-figure amount," but would be required to donate all of that money under the agreement that Ms. Swift's team proposed.
"Taylor, as a professional, would you agree to such terms from Apple, or Spotify?" she asked in her letter.
Below, the letter as it appears on Ms. Burguieres' Facebook page.
BESbswyBESbswyBESbswyBESbswyBESbswyBESbswyBESbswyBESbswyBESbswyBESbswyBESbswyBESbswyBESbswyBESbswyBESbswyBESbswyBESbswyBESbswyBESbswyBESbswyBESbswyBESbswyBESbswyBESbswy