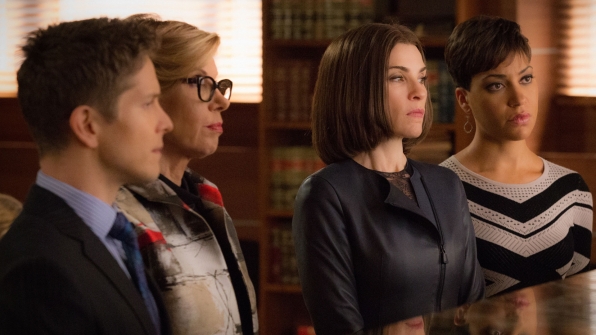 Welcome to tvDownload's "Ask a Casting Director," a new series in which we talk to the men and women responsible for populating the worlds of our favorite shows. First up: Mark Saks, casting director for The Good Wife. 
[The Good Wife] is all about vocabulary, all about the words…we tell little stories with those words."
So what exactly are the day-to-day duties of a casting director?
Basically, we are in charge of anybody on the show who speaks. That wouldn't include background actors, that wouldn't include atmosphere like the lawyers you see in the background walking though. But anybody who has any line of dialogue, that's our purview. We work creatively with the writers, the showrunners, the producers, the studio and the network to arrive at the best actor for the role.
Is there an aesthetic, or a certain quality, that you're looking for when casting The Good Wife, specifically?
I like to say the show is all about vocabulary, all about the words. This show takes place in courtrooms, and offices, and conference rooms. It's mostly an interior show. It does not rely upon action, it does not use car chases, it does not rely on exterior walk-and-talks. It's inside someone's room, where the curtain is pulled back and you see those conversations. So, I always like to, obviously, use a lot of people from the theater. Luckily we're in New York, New York and London being the theater capitals of the world, and we have a surplus of actors available from the theater. Actors from the theater tend to be proficient with words, and really understand vocabulary. The Good Wife isn't a show that is very physical in any way. It's always about the words. We tell little stories with those words.
What is your theater background like? 
My parents were avid theatergoers. And I lived 35 minutes out of the city, so it was always sort of in my backyard. I grew up immersed in the theater, immersed in television, and immersed in film. I lived in Los Angeles for a long time, as well, so it was sort of the best of both worlds for me in terms of my acting vocabulary and my mental Rolodex.
Has being a lifelong theater fan informed or influenced how you cast for television? 
Always, especially on [The Good Wife]. Because we have a lot of older actors. Most of our roles, I would say, are over 40, and these actors have been around for a good, long while. I grew up seeing a lot of them in the theater, watching them in Broadway and off-Broadway in New York, and Shakespeare in the Park and stuff like that. Even the central cast came from and was trained in the theater, like Christine Baranski and Julianna [Margulies] started in New York theater. We try and surround our central cast with actors who have either worked with them before or have relationships. Christine Baranski is playing, right now, opposite Peter Gallagher, and they did The Real Thing in 1984. It was Christine's first Tony.
Because The Good Wife exists so much in the legal world, you're going to have judges showing up, jurors showing up, for one or two episodes at a time. What is your mindset when casting these small but key roles?
Almost any judge can recur, and sometimes I have a distinct idea who I want for a particular role. Sometimes it comes from an agent, who suggests someone is a big fan of the show and mentioned they'd like to participate. Sometime it's an idea [co-creators Robert and Michelle King] have, and it's someone they would like to write for. The judges come to us in very different ways.
One of the first judges we had on the show was Denis O'Hare. He's a wonderful, idiosyncratic actor who really brings his own personality to every role. So after David Paymer set the tone in the pilot, and Denis was the second, it became clear to us that each judge would have their personality, their own quirks. If we found the right actor for that particular circumstances we could write toward it. That's what the Kings are so good at doing, and are so eloquent about, they really listen to what an actor can do and really write toward that actor. That was particularly the case with Carrie Preston, who played a role early on in the series, Elsbeth Tascioni, and she brought such life to it. She ended up winning an Emmy for the role.
Can you tell me a little about the audition process and your role in it? Are you more of an observer, a director?
What happens for younger people is, they will come in and pre-read a couple pages of dialogue for me. I'll decide if I want to bring them to the producers, or not. Then we have a producer session that we tape. We have a director and a producer on the ground here in New York seeing that session, giving directions and adjustments. And then we narrow down from that pool to a handful of actors to present to the writers and producers on the West Coast. Then Michelle King, she is sort of the casting muscle on the show. She speaks to the writer of the episode, she speaks to her husband Robert, and they have their own internal conversations.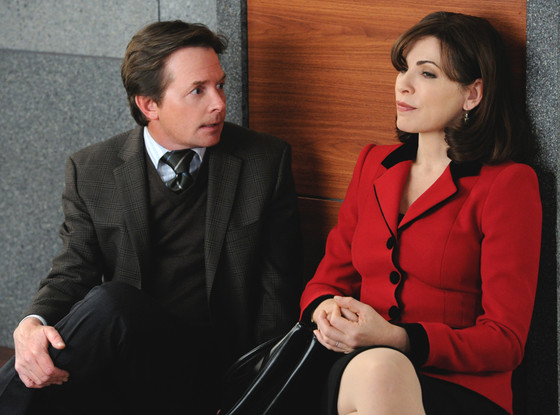 Sometimes we write a role specifically for an actor. Very often it can be someone like Michael J. Fox, whose agents called me years ago and said "Michael and his wife Tracy Pollan are big fans of the show, avid watchers, is there anything that can be written for Michael?" I brought that to the Kings, and they said "Not this season, but we have an idea for next season." And they came up with this idea, pitched it to Michael, and Michael loved it. He's been on the show ever since.
Sometimes, they outline a character for me. They needed a guy to run opposite Alicia last year in the election for State's Attorney. The producers gave me the essential qualities of the guy and immediately I said "Well, that's David Hyde Pierce." I didn't make a list, we sent out one offer, and we got David Hyde Piece.
In times like that do you have a stable of actors in the back of your head, that you just automatically pull from?
I'm constantly making lists, constantly finding actors who are in New York doing a play or just passing through. It's an ongoing process, it never really stops. I'm always meeting new actors. For instance, we're putting together the episode to shoot right after the holiday. I have one young, 19 year old guy in a one-off, but it's a very important, particular part to how the story is told. It's a very powerful moment in the script. I put in some offers to some young actors, but I'm also doing an hour of pre-reads. I'm always expanding the mental Rolodex.
When it comes to young-ish actors you're taking a gamble on, are there any particular pet peeves in the audition room that kills their chances? Anything that you're surprised actors don't do more often in the auditioning process?
Lack of preparation. If they are not prepared adequately for the audition. Actors who want to be on the show but don't watch the show. Actors who don't know who the series regulars are, or the characters they play.
This really applies mostly to younger people, where they're just not used to doing it a lot. They may come out of a BFA program or an MFA program, and they're just not ready for the real world yet. They need a little bit of conditioning school, if you will. It's those people that don't go the extra mile to get the material down; not so much having it memorized, but just making bold choices, or at least understanding the circumstances of the scene.
Outside of the office, are you able to divorce your work from entertainment, or is your casting eye always on?
When something is really good, I can get completely wrapped up in the story. But I guess a part of me is always outside of the story, looking at performances. My interior monologue is always sort of like "Who is that actor? Where do I know him from? Oh my God he'd be great in the next season. I can't wait to check my IMDB," you know? It's only sometimes I'm able to become immersed in the story, and the time period. I just saw Carol, with Cate Blanchett, and I could watch her read the phone book and still be immersed in that world.