The tony apartments that crowd the circumference of Central Park tend to hold the reputation of being cold and frosty. But with four children running around, the space that Chris Del Gatto and Veronica Webb Del Gatto  have happily settled into is at once cozy and polished, with a professional touch.
Mr. Del Gatto, the founder of the jewelry buying service Circa is in the midst of launching a new venture, DEL GATTO. The bauble service will allow clients to sell jewelry, watches and diamonds at their 52nd Street flagship, although they also host an innovative online marketplace that includes the option to receive offers or estimates via text messages.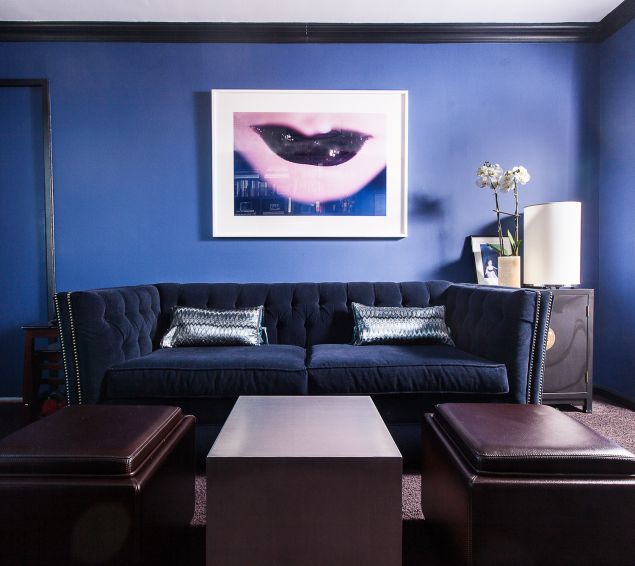 And he quite literally brings his work home with him: the den is the color of a Burma sapphire and bijoux-inspired details can be found throughout. The former model (and current beauty editor at As If magazine) totes along the fashion element: a snapshot of Azzedine Alaïa hangs in the kitchen.
Despite their penchant for polished refinery, family still comes first. Photos of their clan sit on a shelf alongside sketches from Karl Lagerfeld; a gem-inspired chandelier hovers above a pot of succulents that the children picked out.
Chris, you're a jeweler by trade. Why does your home reflect that? Chris Del Gatto: I always think of things, fortunately or unfortunately, in terms of jewelry. We had a smaller apartment upstairs for a number of years before we moved here and I wanted our new home to be reminiscent of a glamorous little jewel box. The chandelier in our entryway reminds me of a great pair of earrings.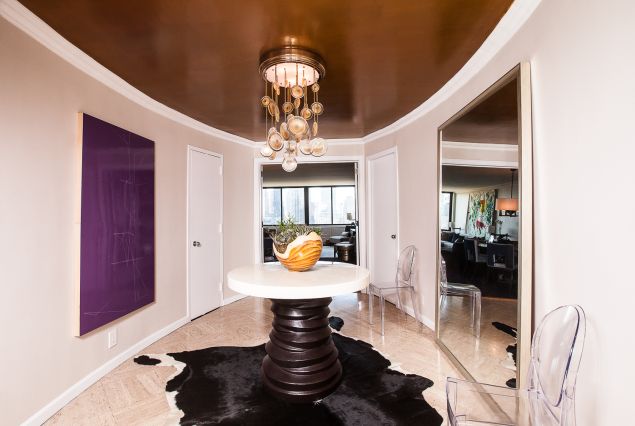 What other aspects inspired the décor? CDG: Veronica and I both really like the glamour of Art Deco; it's also my favorite period for jewelry. We used a lot of sleek lines, with fabrics that are really soft and plush in warm colors.
Veronica Webb Del Gatto: We both love places like Paris and Rome, the kind of grandeur and elegance that can be found there. We also both love the great outdoors. If you're going to mix a really elegant, timeless European feeling with the great outdoors, you couldn't have a better spot than Central Park.

The view is pretty stunning. VWDG: The first thing I do everyday when I wake up is look at the colors outside. Then I check the conditions at the skating rink. People say life is timing but I believe life is also lighting. I told Matthew Yee [our interior decorator] to match the flowers to the trees for this shoot.
CDG: It's very light in here during the day, but at night I prefer to have warm lighting, not bright white light. It plays off gold, silver and warm colors, almost like jewelry. That, coupled with the view, is beautiful at night when you can see all the lights of the city.
Where in the apartment do you spend time as a family? VWDG: Everything is a family room; we travel around here like a school of fish. Even though we have four kids, we really need a small apartment because we all gather in one room.
CDG: Every time I turn around, I bump into our four kids. If we're hanging around watching TV or I'm in my den working, everyone's pulling at me.
But despite being family-friendly, you still have some great pieces of art hanging on the walls. Do you have any favorites? CDG: We have the Jeff Koons balloon dog in the kitchen, which is fun, bright and a wonderful place to be in the morning.
VWDG: That was actually a baby shower gift from Kim Heirston, our art advisor. I think it was one of the most major baby shower gifts I've gotten.
CDG: We have a piece by Nan Goldin, which is really beautiful. In the den I have an Ed Ruscha over my desk that says "It's Recreational," which is fun to look at when I'm working from home.
VWDG: We got this Kate Shepherd piece, through Kim, which has an Art Deco feeling. I love its architectural shape, light and linear design.
What else do you like about living in this area of Manhattan? CDG: I'd say No. 1 is really the park. Veronica runs and we're all ice skaters. It's just wonderful. I've always had offices in this area and I'll be able to walk to my new office for DEL GATTO. It's also right near the Diamond District, so that's important. The Met is a family favorite museum and we love being so close by. But really, everything is here: Lincoln Center, the theaters, it's just wonderful.
When you escape this area, you tend to head to Fire Island. Is your vacation home similar to this apartment? CDG: That house is all glass; it's a glass cube on the ocean. And speaking of a view, it's got a wall of glass looking at the ocean. The sunsets out there are so important to us. We love it because it's so family-friendly and it allows us to really, really unwind. It's easier and more subdued than the Hamptons and the kids can really do what they want. They can get on their bikes and just go.