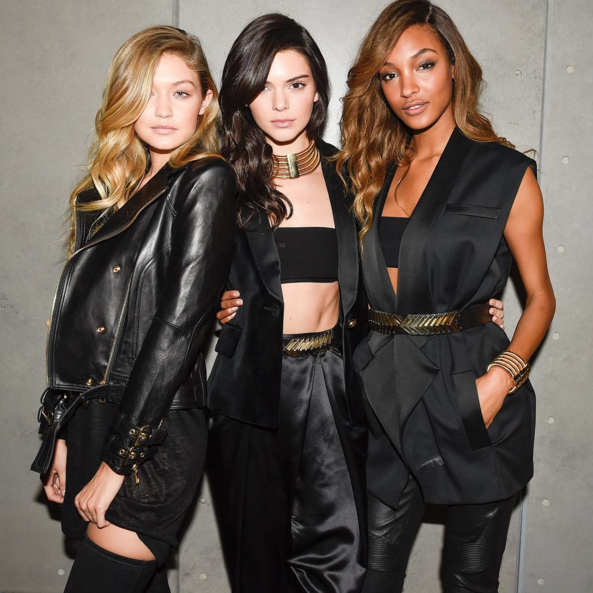 While Gucci had a standout 2015, creating custom 'it' bags and bringing Alessandro Michele to the forefront of fashion, Balmain was the year's social media superstar. Olivier Rousteing and his supermodel squad took over Instagram, H&M and red carpets, especially if a Kardashian was somehow involved. Look back at Balmain's 10 best social media moments in 2015 to prepare for even more leather and glitter in 2016.
The internet went insane over the H&M launch, whether it was commentary on Kendall Jenner's modern Macarena or the immediate sell-out of the collaboration.
The Backstreet Boys came back looking as chic as possible for former boy banders, redefining boys to men.
Jennifer Lopez, who seems to be Benjamin Button-ing, has worn many skin-tight Balmain dresses and body suits this past year. Mr. Rousteing made a splash on social media with his cleverly contoured cheekbones.
Every stylish brand needs hip youths to build its following and who better than the always on trend Smith kids?
Unless you're Taylor Swift, it's usually difficult to maintain such a famous squad. Unlike normals, these models probably look perfect in every group photo.
Jane Fonda proved that she's still a fashion queen in all white everything.
Cara Delevingne went ultra-feminine in this shimmery look that would be perfect on New Year's Eve.
Meryl Streep opted for a black jumpsuit that would be equally at home on a Kardashian.
This is what the kids are calling  "#squadgoals" these days.
Bad gal RiRi might not have released an album this year (although there's still time for an ANTI appearance), but she certainly rocked it style-wise.