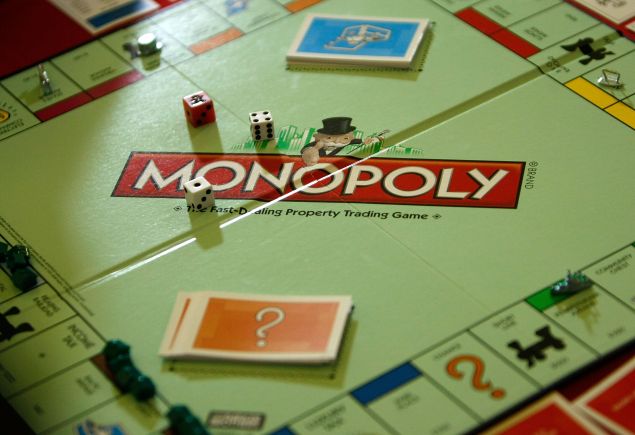 Today marks the 80th anniversary of the patenting of the board game Monopoly. To mark that occasion, the crossword constructor Ben Tausig took part in a bit of monopolizing himself. He has written four crosswords, all of which appear in various independent and mainstream publications this New Year's Eve—The New York Times, BuzzFeed, Brendan Emmett Quigley's website and Mr. Tausig's own weekly, subscription-based service, American Values Club.
"The puzzles are each totally different, of course, but they all refer to that anniversary," Mr. Tausig, 35, said in an email to the Observer. "The meta joke is that I've consolidated a monopoly on puzzles about Monopoly, which will be clear for those who solve broadly enough."
Mr. Tausig, who is also a professor of ethnomusicology, has been planning to publish the quartet of puzzles for about a year, and he hopes it will come as a surprise to puzzle hounds who like to solve across a large number of outlets. "To my knowledge, this is the first time anyone has planned simultaneous puzzle publications in multiple outlets on one day," he said, "let alone this many."
"There is also a sort of political angle to the puzzles as a set, though you don't need to know that to enjoy them," he added. "It's a kind of guerrilla art thing that allowed me to reflect on money, power, and ambition."
Mr. Tausig wrote in today's constructor's note on the Times crossword blog, Wordplay, that he has "been obsessing over Monopoly lately." His Times crossword asks solvers to "pass go" in every themed answer. "WAGONMASTER," for instance (the answer to the clue "sickly-looking overlord"), becomes "WAN MASTER" once "GO" is taken out of the equation, as Deb Amlen, the paper's crossword blogger, explains online.
Although Mr. Tausig spent a year thinking hard about Monopoly—which, he said, allowed him some sort of "poetic justification" for the barrage of puzzles and themes—he admitted that he isn't particularly into playing it.
"I actually don't enjoy it that much as a game," he said.