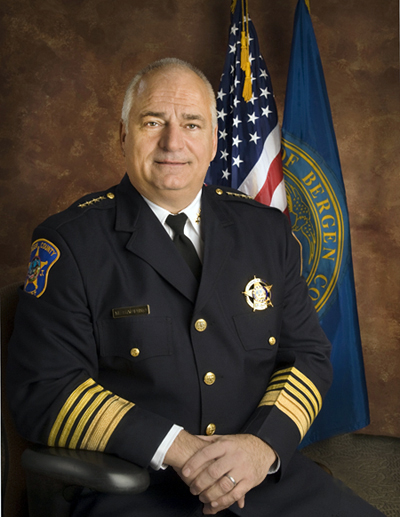 With the year winding down, eyes around the state are starting to turn to the 2016 election. In Bergen County, November will see Republican Sheriff Michael Saudino working to keep his seat.
This year, the Bergen County Democratic Party won big in the assembly and county races. They retained their majority on the freeholder board and decisively won LD38, a district initially perceived to be one of the most competitive in the state. Now, as Democrats prepare for next year, it is only logical that they will try to maintain that flood of victories and secure Saudino's seat for the Democratic Party.
However, Saudino, seems to be in the good graces of many of his Democratic colleagues. Last week, he was the only Republican at an event in Paterson where elected officials spoke out against anti-Muslim sentiment. Last year, he made waves when he endorsed Democratic challenger Jim Tedesco for County Executive over incumbent Republican Kathleen Donovan. He later rescinded that endorsement but Donovan eventually lost to Tedesco.
"I think I have shown that I am not a political guy," Saudino told PolitickerNJ. "I don't intend to change. I don't want to be a political guy. I understand that I am in an elected position but I want to keep politics as much as I can out of it. There is no place for politics in law enforcement. I try to maintain that attitude. To me, it is not about the party. It is about who the best people are, who has the best ideas."
Saudino said he hopes he can win in 2016 despite the number of Democratic wins in the county this year.
"I like to think that whether it is Democratic Party voters or a lot of he undeclared voters that they see what I am about," Saudino said.
Saudino said that he will pursue his reelection on a platform of fiscal responsibility.
"My biggest thing, and I hope it is my legacy—though I didn't vote for it, I was certainly in favor of it—is bringing the county police under the sheriff," Saudino said, citing cost savings created by the merge. "And I am pleased that I am the guy that is getting it done."
According to Saudino, that fiscal responsibility also extends to significant savings in the number of overtime hours served by police in Bergen County. However, the sheriff said he knows he will face opposition next year, despite what he feels has been a strong and cooperative record.
"They are obligated to put someone up against me," Saudino said of the Democrats. "My only hope is that people recognize what I have done and continue to do and allow me to continue along those lines instead of trying somebody new."
There has been little talk of who Democrats are positioning to run against Saudino but, according to a source, Saddle Brook Police Chief Robert Kugler may be interested.