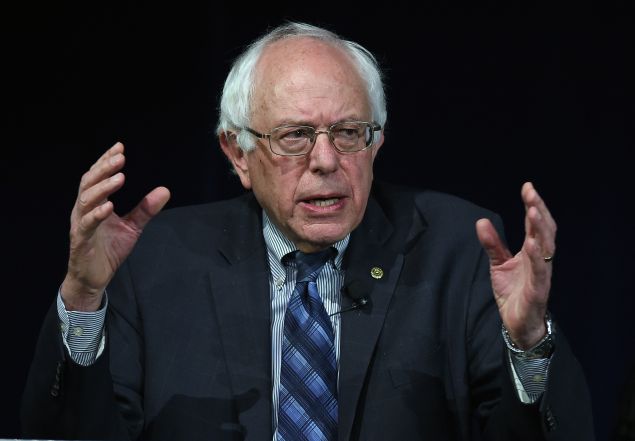 Citizens and politicians alike are calling for the Department of Justice to review the Chicago Police Department over the 2014 murder of unarmed teen, LaQuan McDonald. Officer Jason Van Dyke was indicted on murder charges for firing his gun 16 times at Mr. McDonald after a police chase. At the time of the incident, Mr. Van Dyke had two lawsuits filed against him and at least 20 previous complaints alleging misconduct. The Chicago City Council has agreed to pay Mr. McDonald's family a $5 million settlement, following the release of video surveillance from a Burger King near the scene of the shooting—but the video is missing 80 minutes of footage, raising additional suspicions of a cover up by the Chicago Police Department.
In a bold move unmatched by any other presidential candidate, Senator Bernie Sanders called for the resignation of any Chicago officials involved in the cover up.
"Any official who helped suppress the videotape of Laquan McDonald's murder should be held accountable," Mr. Sanders said in a statement released by his campaign. "And any elected official with knowledge that the tape was being suppressed or improperly withheld should resign. No one should be shielded by power or position."
Although Mr. Sanders did not mention the Mayor of Chicago, Rahm Emanuel, by name, the case has ignited requests for his resignation. As a means to save his own political career, Mr. Emanuel fired Chicago Police Chief Garry McCarthy last week, and eventually caved to support the Department of Justice probe into the Chicago Police Department.
Murders of unarmed people of color are all too common, and often pass by after a short stint in the mainstream media, with little-to-no action.
Such crimes are not anomalies, but are harshly indicative of the racism structurally embedded in American culture. From the institution of slavery to its poignant reminders in the form of mass incarceration, police brutality, and pervasive hate crimes towards African Americans, this parasitic social ill has existed since the founding of our country.
The responsibility bears no exemption for any American—especially white Americans of the dominant culture, in the north or south, Republican or Democrat. Manifestations of violence towards communities of color have been prevalent for centuries. Most Americans have very little knowledge of what slavery was, who did what to whom, and for what reasons the entire institution was created and perpetuated for hundreds of years.
"It has been said that the future of a people can only be illuminated when founded on the past," wrote Dr. Joanne Braxton, Director of the Middle Passage Project at the College of William & Mary in her essay entitled, On Making and Keeping Rituals of Remembrance. "In order to get well again as a people, whether as people of a common heritage or many peoples honoring a particular heritage, we must open the doors of the most private chambers of the soul and dare to engage a fragmented but collective past."
With the ongoing prevalence of unarmed people of color being killed in mass numbers across the country, this crisis demands a systematic analysis of racism in America. Americans must stop pretending to care for blips of media coverage while few solutions or reforms are rendered from these tragedies. LaQuan MacDonald, Jamar Clark, Sam Dubose, Michael Brown Jr., Eric Garner—the list goes on, as the record of victims is all too extensive.
"One wishes that Americans, white Americans, would read, for their own sakes, this record, and stop defending themselves against it. Only then will they be enabled to change their lives. The fact that Americans, white Americans, have not yet been able to do this—to face their history, to change their lives—hideously menaces this country. Indeed, it menaces the entire world," wrote James Baldwin in a 1965 essay entitled Unnamable Objects, Unspeakable Crimes. "For history, as nearly no one seems to know, is not merely something to be read. And it does not refer merely, or even principally, to the past. On the contrary, the great force of history comes from the fact that we carry it within us, are unconsciously controlled by it in many ways, and history is literally present in all that we do. It could scarcely be other- wise, since it is to history that we owe our frames of reference, our identities, and our aspirations."
Mr. Baldwin explained facing history comes with great pain and terror. Eradicating racism in America will be a difficult, arduous process. If we, as a country, can stop dismissing allegations of excessive force, police brutality, and racism, and stop trying to  fit these tragedies into neatly-packaged narratives where something other than racism is at the root of the cause, we can, as the great Harlem Renaissance poet Langston Hughes said, "Let America be America again."