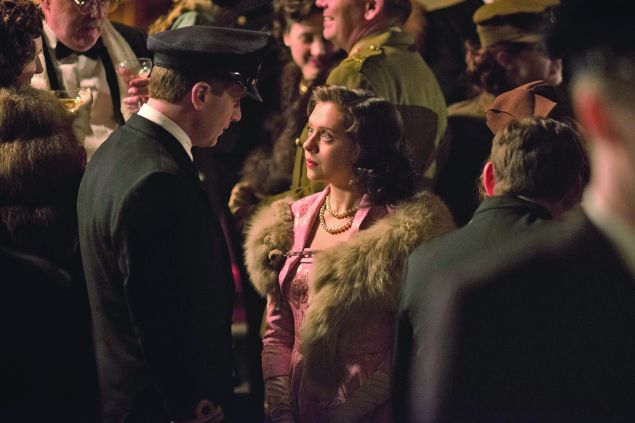 A fanciful, fictional imagination of what might have happened on the night of May 8, 1945, when Winston Churchill announced the end of World War II, if England's cherished royal teenage princesses—ladylike Elizabeth and her feisty sister Margaret—had joined thousands of ordinary revelers on an incognito excursion into Central London, A Royal Night Out is not another revelation on the historic order of The King's Speech, but it's hearty, good-natured fun anyway.
---

A ROYAL NIGHT OUT ★★★
(3/4 stars)

Written by: Trevor De Silva and Kevin Hood
Directed by: Julian Jarrold
Starring: Sarah Gadon, Bel Powley and Emily Watson
Running time: 97 min.

---
Outside Buckingham Palace, the crowds roar. Inside, the beloved stammering King (Rupert Everett) is preparing his famous VE Day speech while the Queen (Emily Watson) is preparing a rigid schedule of official duties for every member of the royal family to respect and honor as duty calls, but the two teenage princesses have plans of their own. They've been cooped up for six years of war like everyone else, and on this night of victory they want to join the crowds for some celebratory fun—incognito, of course. Elizabeth, 19, called "Lilibet," convinces her father that if she's in the crowd, she can much better assess what the honest public response is. Her 14-year-old sister Margaret, nicknamed "Princess 2," just wants to drink champagne and show off her passion for the Lindy Hop at the Ritz Hotel dance. Over their mother's stern objections, off they go with the benevolent blessing of the King, who is still called "Bertie," properly chaperoned by two officers from the Chelsea Barracks. This really happened in 1945, but from the time they leave Buckingham Palace it's highly doubtful that the rest of what occurs in this movie is anything more than coincidental.
In no time, they find themselves in a conga line at the Ritz, have no trouble getting separated from their escorts, or from each other, and Elizabeth loses her heel in the traffic while Margaret ends up in a raucous illegal gambling den where someone slips her a mickey and she naively falls in with thugs and "working girls," having the time of her life. On a nocturnal spree in search of her giggling, irresponsible sibling, Elizabeth is rescued by a working-class airman named Jack who has gone AWOL (played with magnetic brio by star-in-progress Jack Reynor, who also plays the doomed Malcolm, rightful heir to the throne in this week's Macbeth).
The movie moves vigorously through a variety of escapades, from the Ritz to Trafalgar Square, the Curzon Club in Mayfair, a vice den where one expects the Kray twins to show up at any time, and a romantic interlude watching fireworks over the city from a riverboat in the Thames. Director Julian Jerrold (Kinky Boots) captures the excitement of a liberated London after the Blitz in full patriotic splendor, from the chimes of Big Ben to the klieg lights of Parliament, not to mention the faces of courageous, resilient British people, young and old, celebrating the values they fought the Germans to reclaim for king and country. It's all enhanced by the beauty of the burnished cinematography of Christophe Beaucarne (Coco Chanel) and the glorious big band jazz of the period. Glenn Miller, anyone?
A Royal Night Out is a film of enormous charm, texture and good will, thanks largely to the three leads. Canadian actress Sarah Gadon makes a kind, wise and dignified Princess Elizabeth, revealing some of the qualities her character would later become famous for as England's next monarch, and as the giddy, flighty Princess Margaret, Bel Powley lives up to her praise in The Diary of a Teenage Girl. At the end of their remarkable adventure, their Royal Highnesses discover more about their subjects than they would ever learn behind the stately walls of a castle.
But it's the script that raises eyebrows of credulity, especially in the ridiculous final scenes. (Breakfast at Buckingham Palace with Jack demanding from King George VI the seven pounds he spent on getting Elizabeth home safely in the rain? I don't think so.) Jack is bitter about his war experiences and hates the British class system, but his bullheaded rudeness and lack of respect when he learns Elizabeth's true identity is entirely unconvincing. So is the happy ending in which the next Queen of England drives him back to his military base and convinces him to rejoin the Royal Air Force.
I didn't say it was flawless, but there's so much pleasure to be found here that you won't go away from A Royal Night Out feeling you've wasted your time. It fills 97 minutes nicely, with a few smiles to spare.