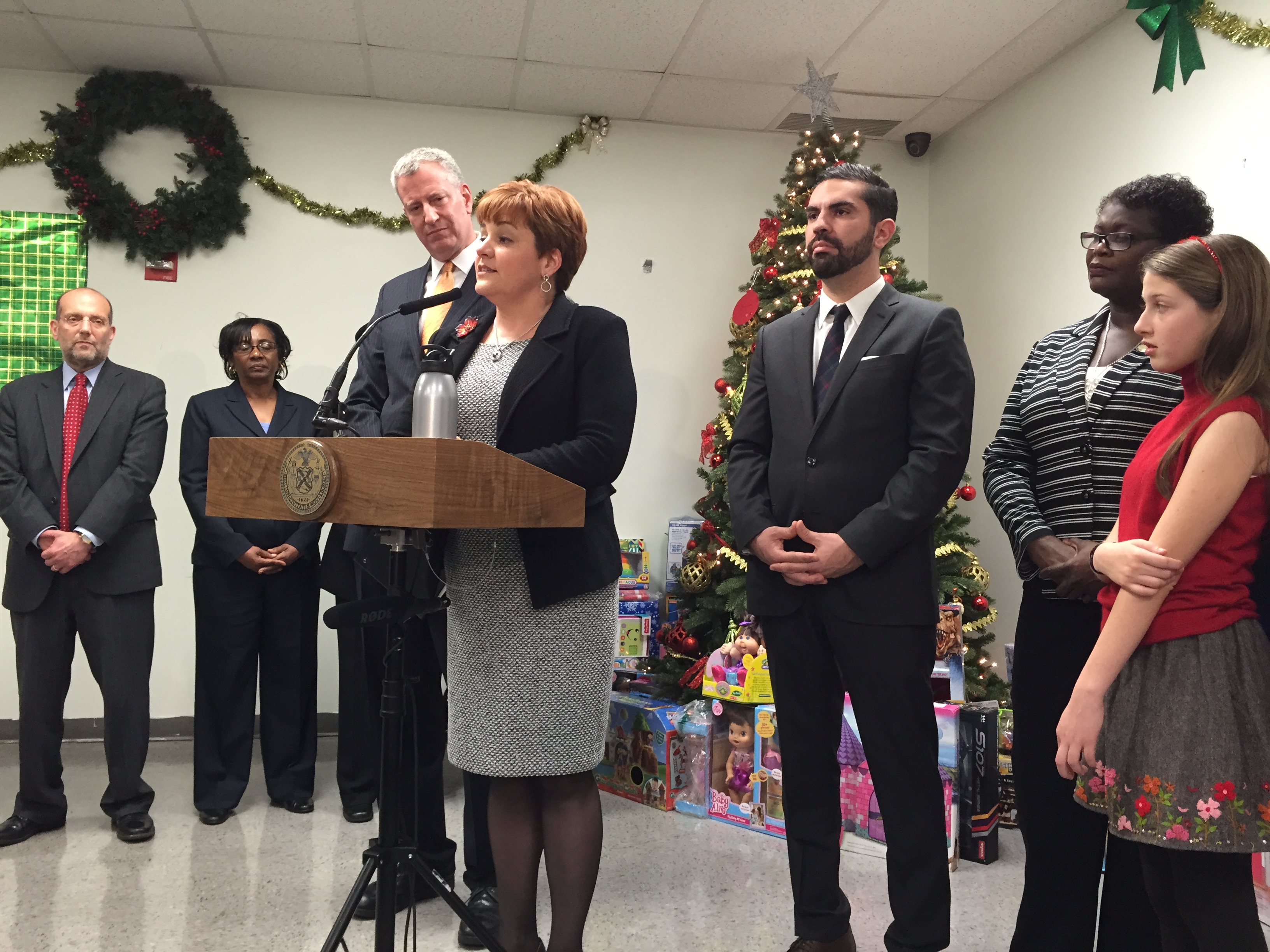 Mayor Bill de Blasio doesn't exactly subscribe to the Team of Rivals philosophy, but going forward, he's going to have plenty of input from one former rival on the issue of homelessness: Christine Quinn.
"Pushy? Somebody find a better word for it," Ms. Quinn, the former Council speaker, said today as she stood beside the mayor. "But that's what my job is, and I'm going to do it overtime."
Ms. Quinn is now the president and CEO of Win, or Women in Need, a nonprofit that provides shelter to homeless women and families, and was hosting the mayor today at a Win shelter in East New York. But in another universe, she might have been standing in Mr. de Blasio's place: she was, after all, the front-runner to win the Democratic nomination for mayor before she wound up finishing third to Mr. de Blasio. The two haven't appeared together in public since Mr. de Blasio took office, though Ms. Quinn has often stood beside one of Mr. de Blasio's other political rivals, Gov. Andrew Cuomo, for whom she worked as a special advisor.
But homelessness is an issue on which there's growing consensus, the mayor said.
"It absolutely should unite people," Mr. de Blasio said, noting they've known one another 23 years and worked together as members of the City Council.
It certainly hasn't united Mr. de Blasio and Mr. Cuomo. But Mr. de Blasio has, of late, been reconciling with some old foes—he had a joint event with Mayor Michael Bloomberg last month—and the holidays are certainly a time of reconciliation. Mr. de Blasio said he and Ms. Quinn had been looking for an opportunity to work together publicly on the issue of homelessness since she took her new position, and what better event than one where they handed out toys to children at a Win shelter on the eve of Christmas Eve?
But Ms. Quinn noted she'd been working with the administration more quietly over the last several weeks— she "could not work more closely" with them, in fact, and she'd "been given nothing but the highest level of access" to the people with whom she needed to speak.
She praised the 90-day review underway of the city's homeless services, being led by Human Resources Commissioner Steven Banks—the former head of Legal Aid Society who she said she's known even longer than the mayor—and said she'd offer her own input.
"You can rest assured he'll find me highly annoying over the next 90 days," Ms. Quinn said.  She later added she wasn't kidding: "There was no joke at all."
"Our job at Win is to serve those 4,700 families, those 2,700 children," she said, referring to the number of residents in the program's shelters. "Our job is to make it so they're not homeless anymore and so we break that cycle and they don't come back into a shelter."
That would require being pushier than she'd ever been before—a high bar, she said.
Ms. Quinn also joined Mr. de Blasio in scolding landlords who won't accept tenants who receive government assistance to pay their rent—and vowed to work with the city to punish them, sounding a bit more like a city official than the head of a nonprofit.
"If you think you can look a homeless family in the face and say there's no room at the inn for you, you're wrong and we will hold you accountable to the fullest extent of the law," Ms. Quinn said.
When the questions about homelessness came to a close, it was clear there were some benefits to being out of government office. As Mr. de Blasio prepared to take off-topic questions—on stop and frisk, raises for elected officials and other thorny topics—Ms. Quinn simply bowed out.
"Bye," she said, with a kiss and a hug for the mayor, who stayed behind.