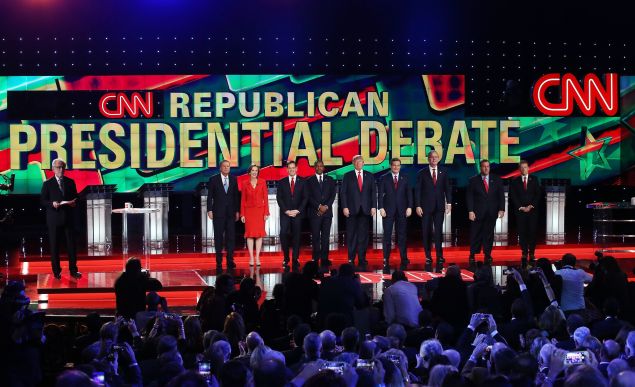 It was the final face-off of 2015 for the top-flight Republican candidates—real estate mogul Donald Trump, Dr. Ben Carson, Florida Sen. Marco Rubio, Texas Sen. Ted Cruz, New Jersey Gov. Chris Christie, Ohio Gov. John Kasich, former Florida Gov. Jeb Bush, former Hewlett-Packard CEO Carly Fiorina and Kentucky Sen. Rand Paul.
The battle in Nevada quickly broke into brackets, pitting two or three candidates against one another on a handful of issues.
Rubio vs. Cruz
The two Cuban-American candidates, the Tea Party favorite from Texas and the rising establishment favorite from Florida, butted heads first over the U.S.A. Freedom Act. The bill extended certain provisions of the Patriot Act but limited the intelligence community's ability to collect metadata from cell phones.
Mr. Rubio argued that "we need more tools, not less tools," to combat terror, while Mr. Cruz repeatedly accused his rival of not being honest about the legislation and its impact on the National Security Agency. The Florida senator ultimately said he couldn't discuss classified information on national television.
Moderator Wolf Blitzer set the two at odds again over U.S. support for rebels opposed to Syrian President Bashar al-Assad. Mr. Cruz called the purportedly moderate forces fighting the dictator's troops "mythical," arguing that true moderates are as rare as "a purple unicorn." The Texas senator was eager to connect his Sunshine State rival to the policies of Ms. Clinton and Mr. Obama, while the Florida lawmaker pointed to the strongman's ties to Russia, Iran and terrorist groups like Hezbollah.
After Mr. Rubio gave a long-winded answer trying to explain his work crafting the 2013 immigration bill with a path to citizenship for foreign nationals, he recalled the Texas legislator's past support for granting legal status of some kind to the undocumented. Mr. Cruz argued he "led the fight" against what he termed Mr. Rubio's "amnesty bill."
"I have never supported legalization, and I don't intend to," Mr. Cruz said.
All the while, Mr. Paul was in the background, relegated to largely echoing Mr. Cruz's critiques—not a positive for a candidate who barely made it onto the main stage.
Bush vs. Trump
But the most bitter exchange of the night was between the fallen front-runner and the man who usurped his place in the polls. The Florida governor ripped into the Queens-born builder as a "chaos candidate" who would be "a chaos president," in contrast with a "serious leader" like himself.
Mr. Trump started the evening with an uncharacteristically reserved opening statement and defense of his proposal for a moratorium on Muslim immigration—"we are not talking isolation we are talking security. We are not talking about religion, we are talking security." But he soon reverted to his past tactics, mocking Mr. Bush's precipitous fall in public opinion surveys, compared with his continued surge.
"I know you're trying to build up your energy, Jeb, but it's not working," he said. "You're a tough guy, Jeb, you're a tough guy."
The former governor in turn argued the current leader in the polls is "not a serious candidate."
"You're not going to be able to insult your way to the presidency," he said.
Other than his clashes with the billionaire developer, Mr. Bush failed to stand out from his younger, fresher competition. Mr. Trump himself had an embarrassing moment later when he rambled almost incomprehensibly about America's nuclear capabilities.
Mr. Trump curiously turned down the chance to double down on his claims earlier this week that Mr. Cruz is a "maniac," saying "he's just fine." The senator returned the favor, refusing the opportunity to take a swing at the front-runner.
Christie and Fiorina vs. the Senate
Mr. Christie showed an unqualified contempt for the U.S. Senate, home of three of his competitors. He claimed the feud between Mr. Cruz, Mr. Rubio and Mr. Paul made his "eyes glaze over," and argued he had attained experience fighting terror as a U.S. attorney and as New Jersey governor—rather than "spending your life as one of 100 debating it." He pointed out they had been in Washington, D.C. during the government sequestration and touted the "difference between being a governor and being in a legislature."
Ms. Fiorina burned Mr. Rubio and Mr. Cruz for their relative inexperience, calling them "first term senators who have never made an executive decision in their life." But it may have rang strange for someone who has only worked in the business world.
Christie vs. Paul
This was mostly a one-sided fight, since the Garden State governor showed little interest in duking it out with the Kentucky libertarian like he had in previous face-offs. The senator got in a solid jab after Mr. Christie vowed to shoot down Russian planes in Syria.
"If you're in favor of World War III, you have your candidate," Mr. Paul said.
But he got a mixed reaction from the audience when he mocked his fellow Republican for his "Bridgegate" scandal, in which several of Mr. Christie's aides allegedly used a fake traffic study to close off the George Washington Bridge as a way of punishing the mayor of Fort Lee for endorsing the governor's Democratic challenger—that is, "shut down a bridge because you don't like their friends."
The others
Mr. Kasich flashed his foreign policy sophistication, but despite his promise to "punch Russia in the nose," failed to distinguish himself from the pack. Mr. Carson, in decline in the polls, largely reiterated his rivals' proposals in much broader strokes. Like Mr. Trump, he showed a propensity toward vagueness studded with the occasional soundbite, but had none of the richer man's energy.
Disclosure: Mr. Trump's son-in-law, Jared Kushner, is publisher of Observer Media.