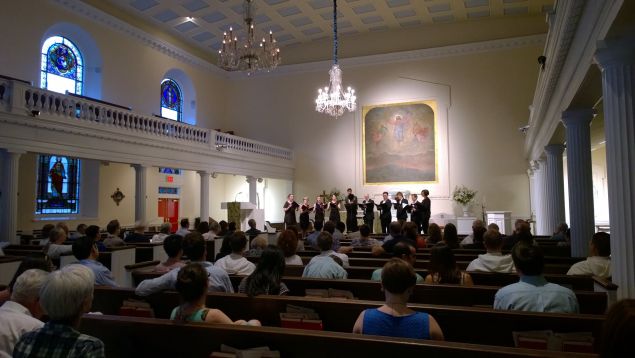 Santa Claus, Frosty, and Rudolph were absent from a Christmas concert recently presented by the Canticum Scholare at New York's historic St. Joseph's Church in Greenwich Village. Perhaps Santa Claus Lane, which is adjacent to Madison Avenue, was too far across town to make their attendance possible. They were not missed, however, because this superb vocal ensemble, as well as their rapt audience, was too deeply involved in the greater significance of the holiday. Christ's birth, after all, still has profound meaning for great numbers of people, and even for those who might not be religiously inclined, the idea of hope, the possibility of living in peace, and the essential goodness of humankind, is a welcome one in these troubled times.
The evening's program of a cappella choral music was made up of better-known works by Palestrina, Victoria, Byrd and other Renaissance composers, but the 20th century was represented, too, with pieces by Holst, Britten and Lawson, which more than held their own beside the earlier masters.
The nuts and bolts of the performance were all in place: perfect intonation, graceful phrasing, beauty of tone, clear diction, seamless ensemble, but beyond this, the absolutely necessary, but mysteriously unprovable element of sincerity was present, giving a sense that every word was pondered, understood and sung from the heart.
"…Star of the Sea, help your fallen people who strive to rise" rang true in the absolute stillness of the hall, where performers and listeners alike seemed to hang on that wish. This profound, palpable silence is an attendant characteristic of those rare concerts that are transformed by some unknown means, into a not to be forgotten, magical evening. It was no "merry little Christmas" celebration that night, but an expansive one, full of depth, wonder and first-class artistry.
Bravos to the conductor, Jin Krista Kang, and the members of Canticum Scholare, one of the brightest lights in New York's great early music tradition.
[bandcamp width=100% height=120 album=3600832019 size=large bgcol=ffffff linkcol=0687f5 tracklist=false artwork=small]
***
The founder of the New York Vocal Arts Ensemble, Raymond Beegle has taught vocal chamber music and vocal accompanying at the Manhattan School of Music for 20 years. He has performed with conductors such as Igor Stravinsky, Robert Craft, Lawrence Foster, Johannes Somari and Richard Westenburg, and collaborated with Licia Albanese, Zinka Milanov, Jennie Tourel, Marital Singher, James McCracken, and Theresa Zyllis-Gara.