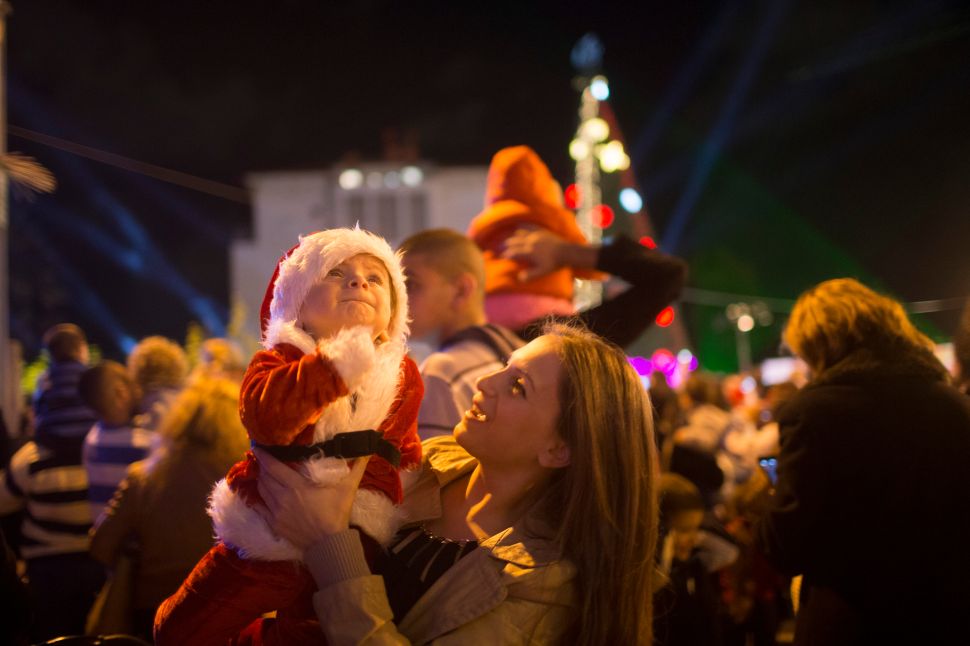 JERUSALEM – While Christians are being beheaded, tortured and forced to convert to Islam by ISIS, there is one Middle Eastern country where Christians can celebrate their holy day without fear. Israel is the only place in the entire Middle East where Christian practice has not only been tolerated, but flourished.
Christmas in Israel is unparalleled throughout the world, with Christians of every denomination coming together to celebrate in a variety of ways. Because of this, Christmas in Israel is not a one-day affair. Roman Catholics and Protestants celebrate on December 25, Orthodox Christians celebrate on January 6, and Armenian Christians celebrate on January 18. In fact, Jerusalem is known as "the city of three Christmases."
Nazareth is home to Israel's largest Christian Arab community. It recently held its annual Christmas market street fair, filled with arts and crafts as well as delicious traditional foods. Israeli singer Keren Hadar, along with the Upper Galilee Choir and Galilee Orchestra, performed at a combined Hannukah-Christmas concert on December 19. On December 24, the traditional parade through the main street of Nazareth drew an estimated 30,000 celebrants who made their way to the main plaza of the Basilica of the Annunciation. Later that day, observers were dazzled by the annual display of fireworks, sponsored by Israel's Ministry of Tourism.
In Jerusalem, there are numerous Christmas festivities occurring throughout Israel's capital city, from holiday-themed tours to caroling and lots of shopping. In the Old City of Jerusalem, Santa Claus beckons onlookers to buy a tree for the holiday, while the Jerusalem International YMCA hosted a Christmas Carols Concert and open-air bells concert.
The Christian population in Israel has grown five-fold, to about 158,000 Israeli citizens, since Israel's independence in 1948. This growth of Christianity is unheard of anywhere else in the Middle East.
Data published by the Central Bureau of Statistics reveal that 2 percent of Israel's population is Christian. Christian Arabs fare the best in terms of education in comparison to any other religious group receiving an education in Israel. In 2011, the number of Arab Christian students eligible for a high-school diploma stood at 64 percent, compared to 48 percent for Muslim students, 55 percent among Druze and 59 percent in the Jewish education system in general.
While the Christian community flourishes in Israel, the complete opposite is happening elsewhere throughout the Middle East. In a study published by the international Catholic charity Aid to the Church in Need, Christians face being wiped out from the Middle East within ten years as they are killed by ISIS or forced to flee persecution. Executive Vice President Elijah Brown told Fox News: "Last Christmas was the first time that bells did not ring out in the city of Mosul in 2,000 years."
However, the persecution of Christians in the Middle East is not limited to those under the dominion of ISIS. In Saudi Arabia, Christians are barred from becoming citizens and it is illegal to own, print or import Christian religious materials. In Lebanon, a once majority-Christian nation, the Islamic radicalization of the government and Iranian sponsorship of Hezbollah has led to a large-scale exodus of Christians from the country over the years.
Then there are the Christians under Palestinian rule, whose numbers have dwindled from 15 percent of the population in 1950 to less than 2 percent today. Cities rich in Christian history, such as Bethlehem, are now under the control of Muslims and almost completely devoid of Christians. This Christmas in particular, the Palestinian Authority limited Christmas celebrations in the West Bank, much to the disappointment of the local Christian population.
Israel stands as a haven for Christians who seek to rejoice and observe their faith, in stark contrast to the rest of the Middle East. Perhaps this Christmas, we should not only celebrate this fact but not forget those other Middle Eastern Christians who are not fortunate to be living within Israel's borders.
Bradley Martin is a Fellow for the Haym Salomon Center and a Research Assistant for the Canadian Institute for Jewish Research