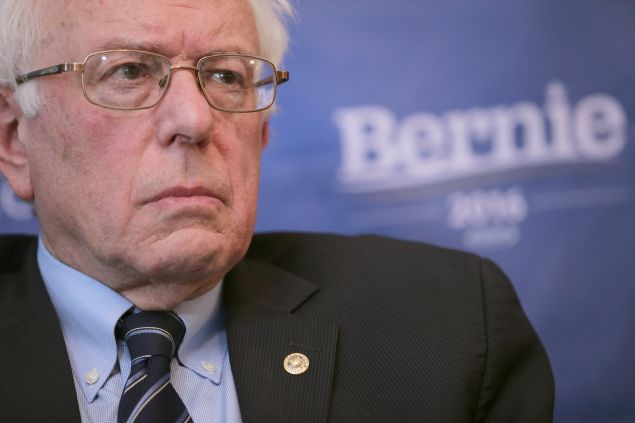 "What has to be done to win bipartisan support (for immigration reform) is to develop a very strong grassroots movement—what I call a political revolution. And what a political revolution is about is working to make sure our government represents all of the people and not just wealthy powerful special interests," said Senator Bernie Sanders during a Families First Dreamers Telecast on December 7. "I believe that when millions of people better understand the plight of undocumented people and the impact the exploitation of undocumented workers has on their lives, we can raise consciousness and move forward to pass comprehensive immigration reform. That is the goal. We want legislation passed. That is long term. My promise is that I will use the executive power of the presidency to the greatest degree that I can. I much prefer legislation, but if we cannot gain legislation, I will use the executive power."
Immigration reform has emerged as one of the biggest issues in the 2016 presidential race, as legislation has been in gridlock since the DREAM Act was first introduced to the Senate in 2001 by Orrin Hatch (R-UT) and Richard Durbin (D-IL).
In November 2014, President Obama attempted to expand the Deferred Action for Childhood Arrivals (DACA) and add exceptions to Deferred Action for Parents of Americans and Lawful Permanent Residents (DAPA), to protect to an estimated 4.3 million unauthorized immigrants. An injunction was imposed following a lawsuit filed by Texas and 25 other states, and the case is expected to be ruled on by summer 2016, before Mr. Obama's term as president ends.
"We are confident the executive actions the president took in November 2014 are based not only on the constitution, but they have Supreme Court precedence," said Cesar Vargas, co-founder of the Dream Action Coalition, an advocacy organization for immigration reform and a voice for the rights of undocumented immigrants in America.  "It's a power presidents have exercised throughout history since Eisenhower. Both Republicans and Democrats have taken similar action. It's no surprise Republicans literally chose one of the most conservative states—Texas—to lead this case. It's an instance of shopping to make sure they select the forum of the court most amenable to their claims. At the end, I know the administration is getting support in court. We have community support throughout the country. Cities and localities are coming out in support, including New York State and New York City. In the end, I think we'll definitely see we are on the right side of the law, but in the meantime we know Republicans are continuing to play political games with this issue."
'You have a candidate who is there to score political points and you have another candidate who is sincere and genuine about his commitment to immigration.'
This October, Mr. Vargas joined Mr. Sanders' campaign as a Latino Outreach Strategist. The prominent undocumented activist emigrated to the United States at the age of five from Mexico. He graduated with honors from St. Francis College with a major in Philosophy and subsequently attended City University of New York School of Law. Upon graduating in 2011, he passed his bar exam on the first try, but was unable to practice due to his undocumented status. After spending several years in court, Mr. Vargas' application to the state bar was approved by a New York Appeals Court this past June, making him the first undocumented lawyer in New York State history.
Mr. Vargas explains why he trusts Mr. Sanders to champion immigration reform in Washington DC. "He has been one of the most consistent candidates out there, especially with his long record as a senator. Most importantly on immigration, he has been consistent in making sure that families are protected and this is reflected in his new immigration platform, one of the boldest he's introduced. While congress won't do or can't do anything, he'll take leadership to protect families." Mr. Vargas first realized how genuine Mr. Sanders was about immigration reform and the plight of undocumented immigrants while he protested in Iowa in 2014 when both Mr. Sanders and Hillary Clinton were in the state. Mr. Vargas and his girlfriend, Erika Andiola—who also co-founded the Dream Action Coaltion and works on Mr. Sanders' campaign—gained national attention when they confronted U.S. Senator Rand Paul (R-KY) and U.S. Rep. Steve King (R-IA). Mr. Paul scurried away mid-meal while Mr. Vargas and Ms. Andiola discussed with Rep. King his efforts to end DACA.
"I was in Iowa in August before the president took executive action in November," said Mr. Vargas. "We were there to confront—before I joined the campaign—all of the potential presidential candidates. At one event in Iowa we approached Hillary Clinton, and asked, 'Secretary Clinton, do you agree with the fact that the president delayed the executive actions the president should be taking?' She gave us very political talking point answers, 'Oh we just need to elect more Democrats and yay dreamers.' It showed us she doesn't understand our concerns, and that she doesn't understand we would no longer tolerate partisan games just for the sake of an issue."
On the same day Mr. Vargas attended another event and posed the same question to Mr. Sanders. Mr. Vargas continued," He was very upfront, he said, 'You know what? I disagree with the president—he should have taken immediate action, and we should protect families right away.' That was a very clear night-and-day moment where you have a candidate who is just there to score political points and you have another candidate who is sincere and genuine about his commitment to immigration and overall issues in the community."
Mr. Vargas has also expressed concerns regarding large donations from private prison corporations such as GEO Corp and the Corrections Corporations of America to the Clinton Foundation and Hillary Clinton's 2016 campaign. For profit prisons make millions of dollars annually off of the detainment of undocumented immigrants in the facilities they manage. "It's very clear Hillary Clinton has taken donations from lobbyists from private prisons and for us its alarming, especially from a person who claims to be a champion on immigration," added Mr. Vargas. "It's a little contradictory when you are actually taking money from people who are profiting from the detainment and separation of immigrant families."
Mr. Vargas contrasts this to Mr. Sanders, who has literally raised millions of dollars from everyday Americans—the only candidate who is not raising campaign funds through a Super-PAC. "It definitely shows the power and energy behind this campaign that is funded by the people, not corporations."