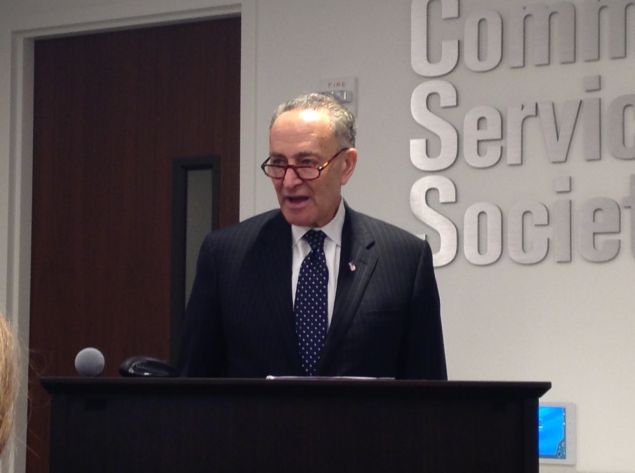 Republican front-runner Donald Trump has come under fire from Democrats for his comments about Latinos, Muslims, African-Americans and Jews—but that's not enough to make Sen. Charles Schumer want to give back the thousands of dollars he and the Senate Democrats have gotten from the real estate magnate.
New York's senior senator said he had no intention of returning the $8,900 he has received from the GOP candidate in his career, nor would he support reimbursing the Queens-born mogul the $116,000 he showered on the Democratic Senatorial Campaign Committee, which Mr. Schumer chaired from 2005 to 2009.
"Bottom line is, those were years and years ago. We ought to move forward," Mr. Schumer told the Observer when asked about the contributions at an unrelated press conference today.
Records show Mr. Trump's most recent contribution to Mr. Schumer was $4,000 in 2010. His last donation to the DSCC was $30,000 in 2008, during Mr. Schumer's tenure.
Mr. Schumer had refused to answer the question when a different Observer reporter put it to him at an event in Midtown this morning. Mr. Trump has changed his party registration several times and has defended his generosity to Democrats by highlighting the party's near-complete dominance in New York.
Mr. Trump has attracted controversy since he first kicked off his campaign at his eponymous tower in Manhattan in June, where he argued undocumented Mexican immigrants are "bringing drugs" into the country and are "rapists." He has recently drawn criticism for retweeting fabricated statistics on black crime rates, for indicating he supported profiling Muslims to combat terrorism and for seeming to indulge in a number of stereotypes at a Jewish Republican group's convention last week.
Nonetheless, Mr. Trump has dominated the GOP field for months, with the latest polls finding him anywhere from 12 to 20 points ahead of his nearest rival.
Disclosure: Mr. Trump's son-in-law, Jared Kushner, is publisher of Observer Media.