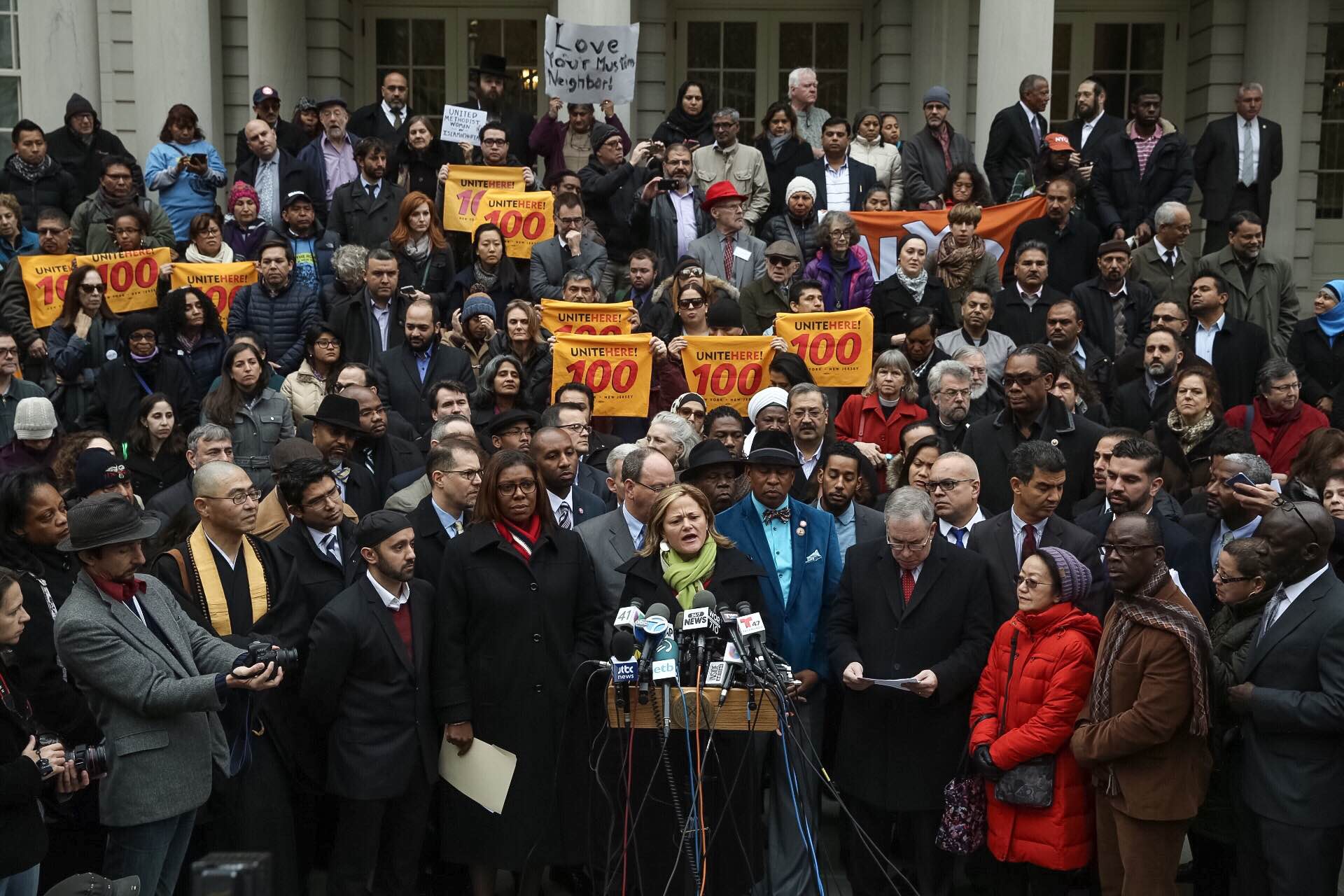 After Republican presidential candidate Donald Trump called for banning Muslims from entering the United States, a slew of city politicians and clergy took the steps of City Hall to slam his rhetoric as dangerous and xenophobic and say it is unwelcome in Mr. Trump's native New York.
"There is nothing left to say about Donald Trump except he is a disgusting, racist demagogue who has no business running for president period," said Council Speaker Melissa Mark-Viverito, who headlined the rally.
Despite Ms. Mark-Viverito's pronouncement, there was plenty left say about Mr. Trump. Speaker after speaker took to the podium to take their chance knocking Mr. Trump in front of more than a dozen television cameras—sometimes saying the media should stop covering his divisive comments, even as they spoke about Mr. Trump at a press conference.
In response to the rally, Mr. Trump said Ms. Mark-Viverito should focus on the city—and took another opportunity to bash Mayor Bill de Blasio, who was not in attendance.
"Perhaps she should focus on taking care of the filthy conditions of New York City, the ever expanding homeless population and lowering taxes, along with Mayor de Blasio, widely considered the worst Mayor in the United States," Mr. Trump said in a statement emailed to the Observer.
The event lacked the wild crowd that has come to mark Mr. Trump's events, but it did have something in common with the Republican's campaign rallies—a heckler, who said her name was Rose Rosenberg. Ms. Rosenberg first yelled out when Ms. Mark-Viverito reference Mr. Trump's claim that Muslims were celebrating in the streets of Jersey City, insisting "In Israel they were dancing in the streets." When Ms. Mark-Viverito referenced recent jokes Mr. Trump made about Jews as harmful stereotypes, Ms. Rosenberg said more quietly, "He didn't mean anything, you make it all blow up about it." When the crowd began to chant "Enough is enough," she began chanting "Love is Trump," saying she loves Muslims, too.
"Long live Donald Trump, he's a very peaceful man," she said, before being out-shouted by the crowd and eventually escorted out of City Hall. "I love Muslims too, depending on who they are."
Ms. Mark-Viverito said in her remarks she wanted to assure Muslims and all New Yorkers "that harassment and bias attacks have no place in our diverse and beautiful city." The event featured imams, rabbis and pastors speaking about the need for unity and deploring Mr. Trump's rhetoric.
Mr. Trump's call to ban Muslims—including U.S. citizens—from entering the United States is just the latest thing he's said to outrage a varying group of racial, ethnic and religious groups. Public Advocate Letitia James summed up the list when she began her remarks.
"I am African American, but today I am Muslim. I am Jewish. I am disabled. I am a Mexican. I am a veteran. I am a refugee," she said. "Because today we are one."
Mr. Trump kicked off his campaign with a speech in which he said criminals and "rapists" were coming over the border from Mexico. He disparaged Sen. John McCain for being captured during the Vietnam War, saying he likes soldiers who aren't captured. He was recently accused of mocking a disabled reporter.
Comptroller Scott Stringer asked how the Republican party had come to be the party of Mr. Trump, and said history would judge those in the party along with Mr. Trump on how they respond to his rhetoric.
"Did you stand up and reject this hatred?" he asked. "The future of their party depends on it."
City Councilman I. Daneek Miller, the only Muslim member of the Council, said the goal of the event was to remind people "we are one community."
"We are going to stand up to the ignorance," he said. "His ignorance is only surpassed by those who will follow him."
The diversity of the council was on display—Councilman Fernando Cabrera, a socially conservative pastor from the Bronx, spoke about religious liberty; Councilman Carlos Menchaca said he was Mexican and gay but not a criminal or rapist; Councilwoman Margaret Chin, who is Chinese, spoke about laws that barred Chinese from the United States and internment camps for Japanese Americans during World War II; Councilman Andy King, who leads the Black Latino and Asian Caucus, spoke of racism, saying there was a bigotry bus going down Broadway to dump its contents out in the river.
"Tell Massa'," he said, an apparent reference to Mr. Trump as a slave owner, "tell Mr. Trump not to miss his ride."
All of those members are Democrats; none of the council's three-man Republican caucus spoke at the event or attended.
But there was a brand new member, Barry Grodenchik, who spoke for Mr. Trump's home borough of Queens.
"He is an embarrassment to the people of Queens county," Mr. Grodenchik said.
This story has been updated with comment from Donald Trump.
Disclosure: Donald Trump is the father-in-law of Jared Kushner, the publisher of Observer Media.